By Bob Cunningham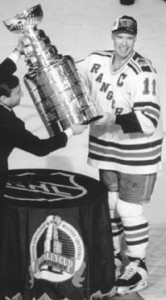 ©BBS
Being an NHL superstar as long as he has, Mark Messier would certainly have the right to harp on personal achievements when asked about the secrets of his success.
But Messier, who has been a member of six Stanley Cup championship teams during his career, most recently with the 1994 New York Rangers, does not. Instead, he focuses on the importance of working well with teammates at both ends of the ice, making whatever sacrifices are necessary for the good of the team, and achieving the only goal that matters: winning.
"The formula for winning is really pretty simple, but most teams don't get it," Messier said near the end of last year's regular season.
"It" is in many ways one of those oft-cited intangibles, which makes it unusual fodder for this column. But Messier had a game plan in mind prior to last year's Stanley Cup playoffs, and through actions rather than words he imparted that plan to each and every other member of the Rangers. So what exactly was it that let Messier silently express such a powerful message of unity to his teammates?
"Five Cups," replied all-star defenseman Brian Leetch.
Considering others
Leetch was a key figure in Messier's scheme. Regarded as one of the NHL's finest defensemen at both ends of the ice, Leetch's individual success would go a long way toward determining the fate of the Rangers, and Messier knew it.
So in this case, Messier—at forward—considered the success of his team's key defenseman in forming his own approach to the game.
"I'm one that tries to help my teammates through my own hard work," said Messier. "If I'm focused on doing my job, whether that be scoring goals or setting up the attack, I'm taking pressure off everyone else. That's the way I've always viewed it.
"Brian Leetch is a tremendous competitor, and probably the most important guy on our team," he added. "I really believe that. He was our defensive leader, so I've taken upon myself to go out of my way to complement his game."
And Leetch has taken Messier's example to heart, as well. "He's a star," said Messier, "because he has the same attitude (as I have) toward the forwards on our team."
Don't play for the moment
Messier explains that everything he tries to accomplish on the ice has an ulterior motive. Perhaps one of the main reasons for his long-term success, both on individual and team levels, is bred from his ability to see into the future—to anticipate.
"I try to anticipate what's going to happen, help see what my teammates might need in certain situations," he says. "But I think all good hockey players do that. You can't just play for the moment."
While anticipation is usually a sign of sound instincts, Messier doesn't think it's a case of the "have's" and the "have-nots." He insists that a player can literally "teach himself" to predict the future.
"You make it a practice (if you're a young player) to observe the result of certain situations, so that you can recognize it when the time comes again," he says. "That can be certain plays a team makes, or trends by a specific player, or whatever."
Getting to kiss the Cup isn't quite so simple, however. Messier chuckles at the thought of giving tips on how to win championships.
"It's not that (winning Stanley Cups) just happen, because I've worked very hard for the success I've had," he says. "But I've been fortunate, playing with guys like Brian and Mike Richter and, oh yeah—Wayne Gretzky has had something to do with it, too."
"It's a team game"
Dedication to a common goal is everyone's job, Messier says, but forwards—specifically, centers—tend to be viewed for their individual contributions to a game, much like a quarterback in football.
"A lot of people, including a few guys I know in the NHL right now, believe that if you're the center it should fall on your shoulders," Messier explains. "But obviously, it's a team game. The best advice I can give, I think, is for a player to always remember that, regardless of what level he plays on."
Messier points to several NHL forwards—he wouldn't name names—that simply refuse to do anything that goes beyond the classic job description for their position.
"There are certain times over the course of a season, or of a game, where you're called upon to do things you're not accustomed to, or expected to do," Messier says. "Every time I throw a check, my coach cringes because he wants me to stay away from the rough stuff. But if I have to risk getting hit in order to protect the puck or to create a turnover that gives us a scoring opportunity, that's what I'm going to do.
"The day I stop thinking that way is the day I hang up my skates."
Bob Cunningham is a Southern California-based freelance writer who contributes to several sports publications throughout the U.S. and Canada.
This first appeared in the 01/1995 issue of Hockey Player Magazine®
© Copyright 1991-2011 Hockey Player® and Hockey Player Magazine®