By James Baxter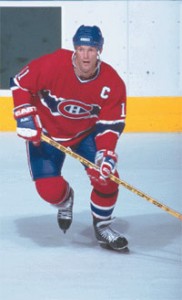 ©BBS
Under the blazing hot glow of the arena's mercury lights, Kirk Muller has always lurked in the shadows. The man Montreal Canadiens brass admits may be the least appreciated player in the National Hockey League has made a career for himself in those shadows.
Muller is probably the best player never to win a major NHL award. And it's nothing new, either. Junior hockey accolades were also sparse for the player selected second overall in the 1984 NHL Entry Draft, perhaps because of who went first—Mario Lemieux. But even since then, little has changed.
Until this season.
As an NHLer, Muller has been a dominant scorer, but never the dominant scorer on his team. The same holds true for his defensive play. Like Doug Gilmour of the Toronto Maple Leafs, Muller can rule at both ends of the ice. However, one key difference is that Muller rules with a 6', 205-pound frame, allowing him to throw devastating bodychecks along the way—something the slight Gilmour usually leaves to his teammates.
Fans and hockey gurus agree that Muller may be one of the "greatest good players" ever to play the game. He has played in six All-Star games, but has never been selected as a post-season All Star. While he has the respect of his peers, there have been few accolades and no NHL awards.
"It really doesn't bug me," says Muller, his war-torn shoulders shrugging gently. "I just want to play as much as I can, when I can. I love this game."
It is this affable, "just-put-me-in, coach" approach that has endeared Muller to the ever-demanding fans in Montreal. His effort and desire to win are beyond reproach, and Muller was an integral force in bringing a 24th Stanley Cup to the Montreal Forum in 1993.
Yet somehow, under the oppressive fan- and media-magnifying glass that is Montreal, Muller is one of the few Canadiens players who has found a shadow on the Forum ice. Muller is far from anonymous in Montreal; he's just underappreciated. But, until now, Muller said he preferred to just be one of the team rather than be singled out—one way or another.
Third fiddle?
"It definitely helps that Patrick (Roy) is the real star here," says Muller, who would not go as far as to say that the notorious French media who roam the rafters in hockey's "shrine" can make life miserable for Montreal players they choose to excommunicate. "And when it's not Pat, it's Vince (Damphousse). I'm not really even second fiddle here, I guess," jokes captain Kirk.
"The media here can be quick to make you a star and just as quick to take it away," observes Muller. "They have always treated me well."
Indeed, Muller was the team's Molson Cup winner in 1992-93, which is based on three-star selections made by the media throughout the year. He simply doesn't get much ink or air time otherwise.
The fact that Muller generally escapes the praise or wrath of the fickle local media is of little concern to the 29-year-old Kingston, Ontario native. What does matter to Muller is that his dogged play and selfless nature hasn't been overlooked by his teammates and coaches. His leadership and hard work made Guy Carbonneau, the Montreal captain and three-time Selke Trophy winner (as the NHL's best defensive forward) expendable, and the Canadiens dispatched the aging and moody Carbonneau to St. Louis over the summer.
The truth was that Muller had begun taking over from Carbonneau the day he arrived in Montreal in a trade that sent Stephane Richer and Tom Chorske to New Jersey. Unlike many players from US-based teams who complain when traded to a team in Canada, Muller was genuinely thrilled. This was in stark contrast to Carbonneau, who was threatening to bolt the Canadiens at his first free-agent opportunity. While Carbonneau's defensive play was spectacular in the Canadiens run to the '93 Cup, it was Muller who was clearly working the hardest—next to Patrick Roy, of course.
Last season, Muller suffered a massive separation of his left shoulder during the first game of the exhibition season and reinjured it seriously while trying to return to the ice too quickly. In the end, Muller—an ironman who had previously missed only six regular-season games over a nine-year NHL career—sat out just eight games, and played in pain for nearly half the year.
Selfless inspiration
"I definitely came back too quickly," says Muller, somewhat sheepishly. "It was a very serious injury. It was also my first real injury of my career, and I think I pushed too hard and did a lot of damage. It really didn't get better until February, and is only now really getting back to what it was like before."
But Muller's selfless attempts to return to the ice proved inspirational to the rest of the team, especially the younger players. The Canadiens ultimately decided that it was time for Muller to assume the role of top dog among the players.
"Personally, I know we'll miss (Carbonneau) and I was sad to see him go," says Muller, who was named the team's new captain just days before Training Camp One opened last August. "Carbo is a great hockey player, not just a great defensive hockey player. We will miss him on the ice and in the room."
Homage paid and received, Muller looks at the challenge ahead and the team he will have to lead into battle. "We have a great, young team," says the captain, noting that Brian Bellows is the only player on the squad who's over 30 years old. "We have a lot of young guys and some of them are going to have to step up and come through with big years for us."
Coach Jacques Demers isn't so sure he can count on his younger talent, so he has put Muller, Damphousse and feisty veteran winger Mike Keane on notice. "I don't know precisely what he told Vince and Mike, but he told me to expect to play between 30 and 35 minutes per game," says Muller, who carried a similar workload under coach Jim Shoenfeld in New Jersey. "I'll have one of the top two lines to center, as well as the power play and some penalty killing. I can't wait."
Muller's boyhood hero was Philadelphia's hard-nosed Hall-Of-Fame captain Bobby Clarke. And Muller, who considered himself nothing but a scorer in minor hockey, credits having been drafted by an expansion Junior team, the Guelph (Ontario) Platers, for making him one of the best two-way players in the NHL.
"For the first few years (in Junior), I was one of the only guys they had up front. I had to do everything. The coaches were also the kind of guys who believed that the game needs to be played hard at both ends of the ice. They taught me to put as much emphasis on the defensive aspects of my game as I did on the offensive end."
A chance to be like "those guys"
That fits right in on St. Catherine Street, where the motto "From failing hands to thee we pass the torch. Be it yours to hold high" is prominent in the Canadiens locker room. It's an inspirational message written just beneath the faces of every Canadiens player or coach who now dwells in the NHL Hall Of Fame. A few of the faces, Bob Gainey's in particular, seem to have an extra impact on Muller, especially just before games.
"Every one of those guys was a great hockey player," says Muller, quietly noting that the best measure of greatness is the number of championships they won. "Each one had a great talent and gave a lot to this team. What Jacques (Demers) has given me is a chance to be like those guys (on the wall)."
If his own playing duties were not enough, Muller has taken on the task of helping former linemate John Leclair to emerge as the Canadiens "other" center. Leclair, a bruising product of the University of Ver-mont, emerged as a potential star in the Montreal roll toward the 1993 championship. However, his development as a Cam Neely clone stalled last season, and Demers decided that Leclair's future was at center rather than on the wing. Relearning a position at the NHL level is never easy, notes Muller, so he decided to help Leclair in any way he could.
"We need Johnny to have a big season for us to be successful," says Muller. "In my mind, he is one of the two key elements in whether we will have a good year. The other is some of our rookies have to come through. Turner Stevenson and Brian Savage do, in particular. I wouldn't be much of a captain if I didn't do what I could for the guys on the team."
Does that mean he is ready for the spotlight?
Muller pauses, and then answers, "Sure."
With his "Bleu, Blanc et Rouge" number 11 coming out of the NHL shadows, Muller is preparing himself for life at center stage…er, ice. He spent the summer and most of the recent NHL lockout learning to speak French. Though never one to shun the cameras before, Muller now seeks them out, especially when it is time to face up to a bad game. He still squints a little when he emerges from the shadows, but he knows it is time for him to face the heat.
"This is what a player should dream of," says Muller, allowing himself to enjoy saying "captain of the Montreal Canadiens."
"A player should want to—should strive to—be asked by his coach to step up and take on these responsibilities."
Special players like Muller always do.
This first appeared in the 04/1995 issue of Hockey Player Magazine®
© Copyright 1991-2011 Hockey Player® and Hockey Player Magazine®