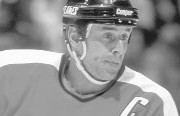 At forward with Joe Nieuwendyk
By Bob Cunningham
Oct 30, 2001, 07:23
©BBS
It would not be revealing a big secret to say that any player who reaches, and stays at, the National Hockey League level knows how to play the game. In this column, we routinely share the tangible strategies and techniques of those professionals in order to assist aspiring centers and wings across North America in taking their own game to the next level.
But this month our focus is on an aspect that can only be described as an intangible—the mental aspect of the game.
A valuable player can be described as one who gets widespread respect not only for his productivity, but also for his unselfishness. A guy who's not always mentioned in the same breath with the game's greatest players and, yet, you kick yourself when you forget about him.
Enter Calgary Flames center Joe Nieuwendyk. Drafted in the second round of the 1985 draft, the 6'1", 195-pounder has averaged more than 40 goals per season over his career. Typical upper echelon, multiple all-star qualifications.
But there's one factor that distinguishes Nieuwendyk even more than his having become just the second rookie in NHL history to surpass 50 goals, a feat he accomplished in 1986/87 fresh off a three-year college career at Cornell. And that's his ability to focus when all the marbles are on the table—at playoff time.
A master mind
Nieuwendyk is one of those few players who can, subconsciously or otherwise, increase his effectiveness under the do-or-die format of the Stanley Cup playoffs. He is a master at mind control; at intensity tempered by discipline. It's an absolute must, he says, in order to be at your best when the team needs it most.
"You have to remember the things you can do, and not be unrealistic about things maybe you don't do so well," Nieuwendyk says. "That's what (players) should be focusing on as the playoffs approach."
With Calgary having clinched the Pacific Division title relatively early on, the Flames knew that they were playoff bound. And so begins the mental preparation, which will eventually be followed by the physical execution. For all his physical skills, Nieuwendyk's mental stability is one major reason why the Flames are regarded as a cerebral squad.
But how does that translate to on-ice effectiveness? Any NHL player or coach will tell you that the game is "different" in the playoffs. There's more caution, perhaps a bit more mutual respect, and a lot more desire.
Nieuwendyk doesn't consciously alter his style of play based on a game's importance, but with the better players things have a way of evolving.
"I think it's important that you keep it simple," he says. "That's what we'll try to do (in the postseason). You get to this point playing well, so there's no reason to try and change anything just because it's the playoffs.
"But at the same time, you have to realize what the situation is. It's time to get focused on the playoffs."
Vets show the way
Nieuwendyk believes it's important for veterans like himself to show the way and keep things under control. Even for forwards, he says, aggressiveness must be maintained on the defensive end, too.
Especially, as is the case with the Flames, when a young goaltender is being asked to excel in the playoff pressure-cooker.
"We have a good situation with Trevor Kidd. He's been doing the job for us all year; that's no problem for us," Nieuwendyk says. "The big thing for us is to keep the puck away from the crease."
Unlike a hot shot goal scorer who seems absent when it comes to full-length hockey, Nieuwendyk has earned the kudos of his peers for his total presence. The secret to his success, he maintains, is his willingness to follow the play regardless of where it takes him.
"We've got a lot of quality players on this team, and we play well together. Everyone is willing to help out everyone else," he says.
For all his unselfishness, however, Nieuwendyk also knows how to determine when its time for him to step up and assume a larger role. His first major task for the Flames is scoring goals—he's scored at least 30 in all but one year of his NHL career—and he knows that the team will always look to him for offense. After all, he's one of the league's highest-scoring centers.
"Whether it's the playoffs, or a preseason game. You want to do whatever you can to help your team win," he says. "For me, its offense."
Most players want to be regarded as leaders, but for Nieuwendyk the key is to be willing to take on that role without forcing it. When veteran defenseman Al MacInnis, now with the St. Louis Blues, left the Flames during the offseason, it became clear that Nieuwendyk (and teammate Theo Fleury) would be even more heavily relied on.
He hasn't disappointed.
"He's a vital part of our hockey team, not just for the scoring he does but for the intangibles," Calgary coach Dave King says. And first among those intangibles come playoff time is focus.
"I'm just one player on this team," says Nieuwendyk. "You can only do so much. The big thing is to focus on your own job and make sure you do the best you can at that aspect."
— Bob Cunningham
This first appeared in the 07/1995 issue of Hockey Player Magazine®
© Copyright 1991-2001 Hockey Player® and Hockey Player Magazine®