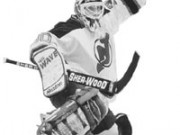 Interview: Martin Brodeur
By Stan Fischler
Jun 9, 2006, 13:01
©BBS
Martin Brodeur is the quintessential chip-off-the-old block. His father, Denis Brodeur, was a first-rate professional goaltender who starred on several minor league teams, and also played for Canada's 1972 bronze-medal Olympic club. After his playing days ended, Denis became the team photographer for the Montreal Canadiens. Thus, young Martin grew up exposed to the professional hockey life from a young age, and began a goaltending career that eventually landed him in the Quebec Major Junior Hockey League.
Brodeur played so well in Quebec's top Junior league that he was selected by the New Jersey Devils in the first round of the 1990 Entry Draft. Since the Devils were blessed with solid goaltending at the time, everyone expected Brodeur to remain in the minor leagues for several years. But when Peter Sidorkiewicz arrived at the Devils 1993 training camp with a serious shoulder injury, coach Jacques Lemaire decided to gamble on Brodeur as the back-up to No. 1 goalie Chris Terreri.
Brodeur excelled when given the chance to play, and soon found himself getting more and more opportunities. By mid-season it had become apparent that Brodeur was not only a bona fide rookie-of-the-year candidate, but also a legitimate threat to dislodge Terreri as the Devils primary goaltender.
Eventually, the youngster from Montreal accomplished both feats. He won the Calder Trophy as the NHL's top freshman, and got most of the starting assignments during the New Jersey's run to the 1994 Stanley Cup semi-finals.
In this month's interview, Martin Brodeur reflects on his life as a player, and his maiden season in the NHL.
When did you start playing hockey, and have you always been a goalie?
I started playing when I was three years old. At first they had me playing up front and I was very good. As a matter of fact I probably would have remained a forward but one day our regular goalie didn't show up so I decided to try going between the pipes. Ever since then, I've been in the net.
Needless to say, I wouldn't have stayed there if I didn't play well, but I took to the new position. When our coach asked me, "Do you want to be a goalie or a forward?," I had no hesitation answering. I said "I want to be a goalie."
Did your father influence your decision?
I was so young at the time that I didn't even know about what a terrific goaltending career my father had. (But) this much is certain—whichever position I decided on was okay with my father, because the primary thing was that he wanted me to play hockey. He wanted me to play just for the fun of it. He never pushed me. In fact, I never went to a hockey school in my life. Maybe if I had, I would have gotten tired of hockey and not stuck with the sport the way I did.
Once you became a goalie, did he give you any advice?
He would observe me a bit more carefully. It was interesting because, despite his professional background, he never gave me a hard time if I played badly, but he would ask me questions about what I was doing. And when he would ask me questions, I would come right back and ask questions of him. That's when I began learning more about his background and what the bronze Olympic medal was all about. Up until then, I had never made the connection.
Tell us about your days in youth hockey.
I went from one league to another—Bantam, Midget, on up—until I reached Juniors. I did well, although there's one incident that still sticks out in my mind. I was playing in a Midget tournament, and one that I really wanted to play well in, and there was this one situation when the opposition forward was coming down on me and the puck was out between us.
I took a gamble and rushed out, trying to poke check the guy at the blue line, but I missed him completely. He just went around me and put the puck into the empty net. To this day, when friends want to bug me, they'll phone up and say, "Hey, do you remember that poke check you missed in Midget?" The funny thing is that it's one of the few things I remember from my youth hockey days.
What do you like best about being in net?
The pressure. That you can always make the difference in a game. Even if a goalie doesn't have a great game, he can make the big save that will make the difference between winning and losing. I like making the difference in a game, and the goalie is the best person to do that.
You mentioned pressure. How do you react to a bad goal?
From time to time every goalie lets in a bad one, and when that happens you just try not to think about it. When it's a tight game I have to really concentrate and look at the puck all the time. If I lose sight of it, that's when I get into trouble. A bad goal is damaging to your confidence. If it's a good goal, I say to myself, "Well, I did my best," and that's it. Just like that, you erase it from your mind.
(But) you have to do that even if its a bad goal because the next one could be even more important. Hockey is a mental game. If you're strong mentally, everything will go right.
For example?
I had a big mental test early in (the) season. It was December 8, 1993 when the Devils played Montreal at The Forum. Jacques Lemaire told me that I would be in goal that night. It was quite an occasion and, as you would expect, the media made quite a big deal about it.
I must say that it was the first time that I ever experienced such an exciting feeling as I did that night. Usually, I'm not a nervous guy at all but on this night I was pretty nervous. (But) once the anthems were over and the game started, the Canadiens took their first shot and my nervousness went away—just like that!
We beat the Canadiens, and the next day I had 20 calls on my answering machine with people congratulating me. It was great.
A lot of players have game-day rituals. Do you?
It's very important that I watch my favorite soap opera, Days of Our Lives. After that, I have to take my nap—but not more than two hours sleep. If I sleep more than that, I'm too tired for the game. Then I eat a little snack, like a banana or chocolate bar, and I'm ready to go. The main thing is my soap and my sleep, that's it.
The problem is, when I play on weekends Days of Our Lives is not on the air and that presents a problem. What I try to do is find something else on the tube that catches my attention, but nothing can match my soap. What it comes down to is being in the best frame of mind for the game.
Do the coaches work with you a lot, or pretty much leave you alone?
I do everything I can to help myself, but there's always my goalie coach, Jacques Caron, available to help. He's always talking to me in practices and between periods during the games. He wants me to watch the puck, look at the puck everywhere on the ice, all the time. He wants me to stay on my feet as much as possible. I'm a big guy, so if I stay on my skates I cover a lot of the net.
When I got to the NHL, I knew that I had the talent. But Caron's instruction has helped me improve on what I originally brought to New Jersey. My work ethic is very good. I love playing hockey. For me, being a professional goaltender is not a job. When I go to a practice, I could usually stay at least another hour after we have to leave. That's how much I like what I'm doing. Usually, I'm the last person to leave the rink.
Was your rookie season everything you expected?
My rookie season was funny. When I got to New Jersey and made the big club, I figured that I'd play a couple of games here and there, and that would be it. The next thing I knew, Jacques was playing me every two games, which was really good. It gave Chris a rest, and me, too. That left us more sharp when we had to play.
What made it even easier was that Jacques' system emphasized defense, and our defense played very well. When your club is good defensively, you don't need so many goals to win a game. When we would get a lead of two or three goals, we knew that we could keep the lead and win the game.
What about the atmosphere in New Jersey?
I like being a Devil. I go back to the day that they drafted me in Vancouver. Everyone said that I would be picked in the middle of the second round, maybe 30th overall, so it was a surprise and an honor to be picked in the first round. When my name was called out, it was hard to believe. And then moving up to New Jersey at the age of 21 and being so close to New York City!
Some players find that the big city is a distraction to them. I figure if you want to make it a distraction you can, but I'm not the kind of guy who's going to go out and party. I always have to keep in mind that my primary purpose is goaltending and I must do everything I can to perfect my job.
How do you stay ready, night after night?
I know that I don't have to be as strong as a forward, but I do need stamina and I try to be very well-conditioned. I bike and run—constantly work my legs. Hockey is also a mental game, so I'm always thinking about that. Your mind is like your body: it has to work and work and work. Part of that work is communicating with teammates, especially the defensemen.
When one of my defensemen goes into the boards for the puck, I have to be sure that he doesn't get hit from behind. I talk to them as much as possible because I found that some goals just happen because of a lack of communication. A team with good communication is going to be a very strong defensive team.
Was it tough making the jump to the NHL?
As the 1993-94 season progressed, I developed more and more confidence. Part of it came from just looking around the league and seeing how former teammates of mine were doing. Felix Potvin was the starting goalie for Toronto and he had been a teammate of mine in Midget hockey. Stephane Fiset had made the big club in Quebec and he, too, had been on our Midget team. Not bad, eh?
Which is not to say that it was easy. There are too many good shooters in the league—guys like Mark Messier, Wayne Gretzky, Brett Hull. The way they score is unbelievable. Everything they do seems to create a goal or go in. It's unbelievable.
I also got a lot of help from my teammates. Bruce Driver talked to me a lot, and anytime I got scored on Claude Lemieux would come up to me and say "Come on, kid, don't worry about it." The Devils took good care of their rookie.
Did your teammates believe in you right from the start, or did it take some time?
I guess they started getting confidence in me when I won my first NHL game against Boston. I beat the Bruins, I think 4-2 and then 5-2 over Quebec. In my first game, I was picked the first star. That was some kind of blast for me.
You mentioned some of the good shooters. Do you ever worry about getting hurt?
I'm more afraid in practices than in an actual game. In games, a goalie doesn't have time to be afraid. I just try to stop the puck any way that I can. If I had to stop it with my mouth, I would do it. I'm not afraid of the puck—not in a game. If you're afraid, you can't play the game. We're well protected, and when it's going to hit you, it's going to hit you.
When my dad played, goalies didn't even wear face masks. As a result, my father had about 114 stitches taken in his face. I can't imagine what it would be like playing without a mask in today's hockey.
What will you remember about the 1994 playoffs?
I learned a lot from the experience. One lesson came from playing New York during the regular season. I didn't do well against the Rangers during the regular games, but what I came to realize after the playoffs was that it doesn't really matter what happened in the past. You can only control what will happen in the future. Another lesson is that you can't let yourself get too down or too up.
Give us your impressions of the Game Six marathon against Buffalo.
That was the one that was 0-0 after regulation and then we played into a fourth sudden-death period. It's difficult to explain what it was like to be part of an experience like that. When I was playing, my concentration was so intense that all I was thinking about was finishing the game—getting it over with. Granted that Buffalo got the only goal, but I was still proud to be part of such a classic.
After the game, I was more mentally than physically tired. Actually, in the last two sudden-death periods, the skaters were so tired that neither team had that many shots on goal, so I had to work more with my mind than anything else.
What was it like facing the Rangers, knowing you were only one win away from playing for the Stanley Cup?
When we went up against the Rangers, I felt very good about myself because the coaches, in starting me, gave me a lot of confidence. I went into the series really open-minded and played my heart out. In the seventh game, I gave up one goal in regulation and so did Mike Richter for the Rangers. I can't get down on myself for giving up the other goal in the second period of sudden-death. But it was really hard to take, because when you play a close game like that, and you're so close to winning, you feel sorry and bad.
But there were so many happier moments in my rookie year. Winning the opening series against Buffalo was very important. When the coach picked me to start, a lot of people were saying, "Well, we'll see what the kid can do now." There were a lot of skeptics who thought a rookie couldn't hack it in a pressure situation like that. I showed them that I was capable of handling playoff pressure.
To what do you credit your playoff success?
It all happened because early in the season the coach played me a lot, and that gave me experience and confidence. Playing in Montreal and beating the Canadiens, (then) playing me in the playoffs against Boston. Especially when Chris won the two games in Boston to tie the series at two and then Jacques came right back with me in Game Five at home. Things like that are what I'll never forget.
Rookie of the Year. How does that sound?
The Calder Trophy really made me feel good. I was thinking that the year before Teemu Selanne won it after scoring 76 goals for Winnipeg and then they voted for me the following season. Well, that's some honor because, to me, the Calder is the hardest trophy that you can win. You only have one chance at it in your entire career. So now I have to build on that.
But anytime I see a problem coming, I'm going to think about 1993-94 and what I accomplished that season.
Stan Fischler writes regularly for several major sporting publications.
This first appeared in the 10/1994 issue of Hockey Player Magazine®
© Copyright 1991-2001 Hockey Player® and Hockey Player Magazine®