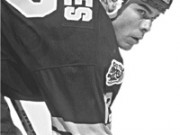 Adam Oates: Center of attention
By Stan Fischler
Nov 5, 2001, 19:49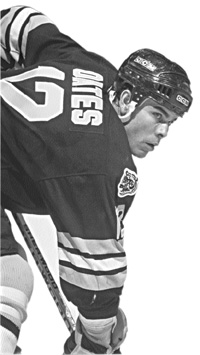 ©BBS
"Class" comes in assorted shapes and forms in the NHL.
There are classy players on the ice whose form lifts them above the masses because of their sheer ability. And there are classy players off the ice who converse and cooperate as if to the manner born.
But there are precious few who fulfill both ends of the classiness scale. One of those few happens to be Boston Bruins center Adam Oates, who has demonstrated that his class transcends the hockey rink, the dressing room and the television studio.
"I miss him immensely, " says Brett Hull. "I really do, and it's not just on the ice. It's away from the ice as well, especially when you're as close as we were. It was fun to go to the rink together, fun to go on the road together and be roomies. We had a tremendous amount of fun together."
The Bruins—Cam Neely and Ray Bourque in particular—are no less appreciative of Adam. For the past three years he has been the balance-wheel of the Bruins attack. Last season, despite a nagging hand injury, he totaled 12 goals, 41 assists for 53 points in 48 games. He has since been repaired, and Oates is looking to 1995/96 in the hopes of repeating what he did in 1992/93 when he reached a career high 142 points.
In the following interview, Oates offers his thoughts on a variety of topics, starting with his youth.
Tell us about your family, your brothers and sisters.
I have an older brother and two younger sisters. They all live in Toronto, where I grew up. My parents still live there. My older brother played hockey growing up. He was a good athlete. He got into education more than sports as he got older. He works for the government now. One sister is a teacher and the other is in school.
Did your brother have much influence on your playing hockey?
Very much so. He really influenced me a lot. You go to your older brother's games and you play with his buddies, and obviously the talent level is better and (you) get to kind of keep rising in the ranks. I was always the guy who got to tag along, and in that sense I was really a rink rat growing up.
Do you remember your first pair of skates?
I remember that I was four-years-old when I got them. I am sure that my dad bought them for me. I don't remember much more about them.
What kind of a kid were you?
I played lacrosse in Canada growing up. I played a lot of hockey in the winter (and) lacrosse in the summer, so I was busy all the time. I played every sport—basketball, football, whatever. I was very active. I actually love both (hockey and lacrosse), but hockey is obviously the way to go. I did an assortment of different things while growing up. I worked as a landscaper. I worked at a gas station. The usual odd jobs. A hockey player is really all I ever wanted to be. That's what I still want to be.
What was your favorite team growing up?
The Chicago Blackhawks. Bobby Hull and Tony Esposito were my favorite players. I liked Toronto—I liked to watch Darryl Sittler—but Chicago was my favorite.
Talk about your first organized hockey game.
I don't remember too much. I played for a team called Burt Robinson's Flyers, which was a city team in Toronto. I was four years old. It was like seven in the morning and my dad tells me he dressed me at home and I'd sleep in the car on the way to the rink. I don't know how he did it. I don't know how any fathers do it. That's all I remember.
What was the best team you played on growing up?
That's a tough decision, because when you grow up in Toronto you play for so many different teams. A couple of years I played for a few teams at the same time. It's not like it is in the States where you play for a high-school team and then a college team. A team I played for, the Toronto Kings, when I was still a pee-wee was a very good team. We went to a famous pee-wee tournament. We did very well there, but lost in the finals.
When did you think that you had the potential to play in the NHL?
Well, I never thought about it until we made the finals at RPI and then all of a sudden people started talking about it and I was surprised. I was really exited. Then we won the title and all of a sudden it turned into a whirlwind.
Were you scouted at all?
Yes, but I was the epitome of a late bloomer. I didn't get drafted until Major A. I was really slow, and I played in a lot of leagues where no one ever got drafted. I played in Tier II, but by then I was too old. You get drafted when you are 18, and I was 19 playing in that league. I played with Steve Thomas, who plays for the Islanders. Both of us were in kind of the same boat and never got too much attention. Fortunately for me I got a chance to go back to school. I never had played high school hockey.
After college which teams approached you?
After we won the NCAAs about 15 teams—because I was a total free agent. So just about everyone was an option. I kind of wanted to sign with the Rangers, but it didn't work out. I was really happy to go to Detroit. I felt at the time that I had a good chance of making the team and playing.
Why do you think that you weren't drafted?
I grew late. I was slow. I never really got the exposure. I was never really an attractive player to scout. I wasn't surprised that I wasn't drafted. I kind of understood it. But I did score a lot of points on every level I played on. In the ten rounds in the draft teams always take a lot of gambles; I always thought that I would have been a good one.
How did you end up signing with Detroit?
It was pretty wild because it was kind of like an auction. It got down to five teams; both New York teams, Washington, Minnesota and Detroit. At the last second Detroit kind of sweetened the pot. It was pretty cool. It all came down to money. All the years of hard work, and then all of a sudden…this.
What do you remember about your first NHL game?
My first game was about the only good game I played in six months. Camp was very tough, though I learned a lot. The first game I played in Minnesota, I didn't play that much. I played with John Ogrodnick and Ron Duguay. In the second period I scored the first goal of the season for the team. We were on the power play and I put in a rebound.
About five minutes later I sent John Ogrodnick in on a breakaway and he scored. So I had two points in my first three shifts. I didn't play much the rest of the game, and we tied like 6-6. So for a debut it was a good game.
What problems did you encounter in your first year?
I didn't really get along with coach Harry Neale. He was actually a nice guy—we got along personally. As a player, however, our team was struggling and he really didn't like me too much as a player. I wasn't playing that good, necessarily. I am a guy who needs ice time; most finesse guys do. I didn't get to play too much, and the team was playing awful. That was the year that the Wings ended up with like 40 points.
There were many games where I sat on the bench and I didn't even get to play at all. But I learned a lot that year. They sent me down in the middle of the season and I got my confidence back. Then they fired Harry Neale and replaced him with Brad Park. Parkie liked me and I got a lot of playing time after that. My last twenty games I had like 20 points, and I played really well.
How did you feel about getting sent down to Adirondack?
I saw it coming for a while. I hadn't played in a couple of weeks, and the club was losing. We lost like three in a row to the worst teams in the NHL. A few nights later we were embarrassed by our rival, the Toronto Maple Leafs, by a 9-2 score. After practice the next day they sent me down. I think that it was for the best to be sent down because I didn't really play (with Detroit) for three weeks. I lost my confidence and was out of shape. So it was good to go to the minors and play a lot of hockey.
Were you sorry that you were traded to St. Louis?
Our team was upset in the playoffs by Chicago, and they kind of had to make a move and I became the most likely candidate. I was devastated. I couldn't believe it at all. It made no sense at all. I loved Detroit so much, but I think that it really helped me as a hockey player.
Brett Hull speaks very highly of you. How was your relationship with him, on and off the ice?
It was as good as it can get. You don't get to spend that much time with one of your best friends when you get older. People get jobs and move away and that sort of thing. It was just great. Going out every night and having a blast. Unfortunately, Hullie was getting paid and I wasn't. As much fun as it was, you have to think about your future. I wanted a piece of the pie and they didn't want to give it to me.
We both helped each other's careers out tremendously, and he's the best goal scorer in the NHL. Obviously goal scorers are paid more money, that's no question. However, (St. Louis) had made me a promise that they didn't keep.
What was management like in St. Louis?
St. Louis was going through some hard financial times then. Nobody really knows. They've done some weird deals. The Scott Stevens deal was weird. They treated me very well over there until my last contract. Trouble seems to follow them.
Did you like playing at the Boston Garden?
I loved it. It was absolutely fantastic. It was my favorite place to stay. The atmosphere was so unique and traditional. I think that the Boston fans are very special and unique. It's been a lot of fun to play here. I'm very lucky.
Did you want to come to Boston?
Yes, Boston or Los Angeles were the two cities that I wanted to go to. I always wanted to come here and play with Cam Neely, or go to Los Angeles and play with Wayne Gretzky.
How do you feel about fights in hockey?
I got into a couple in the minor leagues. I'm not a fighter, and I don't pretend to be. I'm not big enough. I got beat up once by Daryl Stanley. In the NHL I fought Charlie Bouchina. He was a real big guy. It was more out of frustration than anything. I got killed.
What was your most memorable game?
I guess that would be in college. In the semi-finals I got five assists and we won in triple overtime. It was a wild game. We tied it up in regulation with 10 seconds to go. We beat Minnesota-Duluth.
Who would you say was your best coach?
Brian Sutter. I feel lucky because I think that Brian has turned into a really good coach. I think that its tough to play for a coach for six years and still have a great rapport. He's a serious guy and I'm a serious guy. He's ready every night, and he's intense.
What accomplishment are you most proud of in hockey?
I was close to getting 100 assists in a season. I think that I'm also the only guy to play with two 50-goal-in-50-game scorers. Hullie had 50 in 48, and Cam got it in 40 or 42. I don't think that any one else has done that.
This first appeared in the 11/1995 issue of Hockey Player Magazine®
© Copyright 1991-2001 Hockey Player® and Hockey Player Magazine®