Jacques Laperriere: Secretary of defense
By James Baxter
Nov 6, 2001, 20:12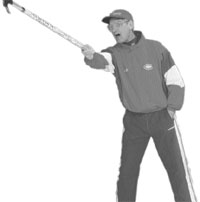 ©BBS
David Wilkie, one of the top blueline prospects for the Montreal Canadiens, watched anxiously and looked for hints as the rest of the team's defense corps went through its paces. Sidelined early in training camp by ligament damage to his right knee, Wilkie was doing his best to learn whatever he could before he was sent back to Montreal's minor-league affiliate in Fredericton, New Brunswick.
Standing in a doorway leading out to the ice at the Montreal Forum, his leg encased in a massive hip-to-ankle knee brace, the 21-year-old listened and learned as Jacques Laperriere, the Hall-Of-Fame defenseman and now-assistant coach, strove to teach the relatively new crop of Canadiens defensemen all he knows.
"He is an unbelievable teacher," says Wilkie, who bases much of his assessment on the simple fact that Canadiens defensemen can be found all over the NHL. "It may sound like common sense, but Jacques knows how to harness your strengths and teach you how to play in your own end."
Laperriere's success and knowledge has its roots in his own stellar playing career. Tall and skinny, Laperriere anchored the Canadiens defense for most of his 12 seasons in the league, during which he won six Stanley Cups. He also won the Calder Trophy as the league's best rookie in 1964 and the Norris Trophy as the league's best defenseman in 1966. While still a brilliant player, his career was ended at 33 after he suffered a badly broken leg in 1974. But Laperriere never forgot the lessons he learned in the days of the Original Six, and in 1983 he joined the Canadiens coaching staff as an assistant. Since then, there have been five head coaches of the Canadiens, and all have seen fit to keep Laperriere as their unassuming deputy.
Consistency pays off
It must be said, however, that his role as deputy is very much self-styled. Laperriere would certainly have entered the head coaching ranks long ago were it not for his intense dislike of dealing with the media. For while he is delighted to share the wisdom of his experience with his defensive charges, he is loathe to put himself in the public spotlight. And that's a philosophy one can see in his teaching: if you don't notice the defensemen at work, they're probably doing a good, Laperriere-like job.
At any rate, Montreal's confidence in Laperriere and the consistency he has provided have paid off. Thanks to Laperriere, the team has an unparalleled record in developing young defensemen. Over the past 10 years, the Canadiens have produced more than a dozen top-notch defensemen, many of whom have gone onto be stars on other teams. Some of the notables include Chris Chelios, Craig Ludwig, Tom Kurvers, Sylvain Lefebvre, Petr Svoboda, Mathieu Schneider, Eric Desjardins, Kevin Haller, Mike Lalor, Jyrki Lumme, and Donald Dufresne.
The young Wilkie says he hopes to be in the Canadiens organization for many years to come, but no matter what happens in Montreal, he knows his best chance of having a long career in the NHL is to listen to "Dr. Defense." Laperriere has made a science out of the art of playing defense, and he spends countless hours per week in the Canadiens video room studying the traits of his own defense, and opposition forwards. His theory: if he can keep one more shot from being fired on the net, that is one less chance for the other team to win the game.
"He makes the game very easy to play," says Jean-Jacques Daigneault, who has been one of Laperriere's regulars for the past six years. "It is really a matter of knowing your own limits and playing within them all of the time."
Daigneault, an offensive star at the Junior hockey level and a first-round draft pick (10th overall) of the Vancouver Canucks in 1984, landed with the Canadiens in 1988 after disappointing stints in Vancouver and Philadelphia. Daigneault's offensive output was too low for him to be considered an offensive threat, but his defense was inadequate to keep him in the NHL. Physically similar to Daigneault, in that they were both undersized defensemen, Laperriere harnessed Daigneault's exceptional skating ability and taught him the intricacies of defending his own end of the ice.
Positioning is everything
"The trend in the league is toward big and strong defensemen," says the 5'10", 185-pound Daigneault, "but a guy my size can still be effective if I play my position well. Jacques knows how to teach that."
"Jacques takes the view that defensemen are like quarterbacks in football: sometimes you have to make the pass; if there's no pass available, then you have to run with it; and if that is not possible, you just have to get rid of the ball and make sure you don't make a mistake."
"Lappy doesn't talk much about what you do once you are across center," says Daigneault, who denies that Laperriere's style can stifle offensive-minded defensemen. "The only rule is that good defense should never be sacrificed for the sake of an offensive chance."
While goaltender Patrick Roy has had much to do with the Canadiens' success over the past 10 years—during which he has posted an amazing 2.72 goals-against average in 529 games—much of the overall team stinginess relates to Laperriere's ability to craft three solid defensive pairings for every game—usually with one or more capable defensemen in reserve.
The Canadiens current blueline crop, while relatively new to Montreal, boasts a veteran corps which, after some time under Laperriere's tutelage, is expected to come together as one of the league's stronger units. Veterans Vladimir Malakhov and Stephane Quintal, both recently acquired in trades, are quickly learning "Laperriere's Way," and are expected to anchor the defense. The rest of the squad consists of Lyle Odelein, Peter Popovic, Patrice Brisebois and Daigneault, along with rookie Marko Kiprusoff—all of whom developed in Laperriere's classroom. NHL veteran Yves Racine, who has been slower to learn Laperriere's simplified defense, is also available when called on. For Wilkie, his only hope of cracking the Canadiens lineup this season is to become Laperriere's best student and render one of his above-mentioned teammates expendable.
That is exactly what has repeated itself a dozen times over the past decade, with Schneider replacing Chelios, Odelein replacing Ludwig, Desjardins replacing Svoboda, and Brisebois replacing Haller. And when they go—wherever they go—the former Canadiens often find themselves earning more game time with their new clubs.
"Lappy had a great affect on me," admits Haller, who now mans the Flyers blueline after a four-year stint with the Canadiens. "When I came here (to Montreal, via a trade from Buffalo), I really hadn't learned much about playing defense in the NHL. Lappy taught me a solid, no-nonsense approach to defense and taught me how to play with confidence in my own end.
"He is really helpful during games," Haller continues. "He studies the other teams so much and will give you pointers on the bench that, because he does it right at that time, make total sense. If he waited to tell you the next day at practice, I don't know if you would remember the circumstances the same way with the same detail."
Calm and controlled
For Haller, Laperriere's strength lies in his professorial approach. "He never yells or gets upset during games. If you make a mistake, he knows it and will talk with you about it when you come off the ice. It's nice to know that you are not going to come off the ice and be screamed at."
Desjardins, Haller's teammate on both Montreal and Philadelphia, is another former Canadiens defenseman who learned the art of defense from the master.
"He took defense very seriously," says Desjardins, who, like all of the others, admits that being coached by a Canadiens Hall-Of-Famer is an intimidating prospect—at least at first. In 1988, when Desjardins arrived with the Canadiens, speaking only French, he sat under Laperriere's picture and only a few feet from Larry Robinson, who was still a team leader at the time. "When you see (Laperriere's) picture (on the wall of the Canadiens dressing room, along with the Canadiens 39 other Hall of Fame players), it immediately gives him respect and credibility. He never asks for it; he has earned it already, both as a great player and a great coach.
"Montreal is a great place to learn to play defense," Desjardins says. "There is a lot of pressure here not to make big mistakes. The fans know it, and so do the coaches. Jacques did an excellent job of explaining defense to all of us. He would stay after practice and work with me for as long as I wanted. We would work on 1-on-1's, 2-on-2's; always studying the right approach to every situation in your zone."
"You have to learn quickly in Montreal, but the faster you learn the more he will teach you," says Desjardins, who admits he still hears Laperriere's lessons in his head as he plays in Philadelphia. While some have said that Desjardins is enjoying a newfound offensive freedom with the Flyers, Desjardins disagrees. "For certain, I have more chances to join the offense, but that is only because we have a better offensive team that makes more chances. (Fundamentally) I still play the same way I was taught to in Montreal."
With Serge Savard, another Hall-Of-Fame defenseman, in the boss's chair, the Canadiens will continue to build their future on solid defense. Though the current crop is a little raw for Canadiens fans to be comfortable going into this season, there is a sense that with prospects like Kiprusoff, Wilkie, Brad Brown and Rory Fitzpatrick, the future for the club is bright.
Below the pictures of the Canadiens legends in the Montreal dressing room are written the famous lines from John McCrae's poem, In Flander's Field: "To you from failing hands we throw the torch; be yours to hold it high."
In that sense, Laperriere is the keeper of the flame.
This first appeared in the 12/1995 issue of Hockey Player Magazine®
© Copyright 1991-2001 Hockey Player® and Hockey Player Magazine®