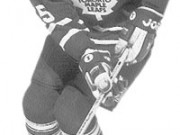 Larry Murphy: To the hall of fame quietly
By Sam Laskaris
Murphy's Law—you know, "Whatever can go wrong, will go wrong"—certainly doesn't apply to Toronto Maple Leafs blueliner Larry Murphy. Since breaking into the National Hockey League with the Los Angeles Kings in 1980, Murphy, who was born in Scarborough, a city just east of Toronto, has been one of the most competent and dependable defensemen around.
Murphy, who is closing in on 1,000 career points this season, will probably be inducted into the Hockey Hall of Fame one day. Somewhat surprisingly, however, he's only participated in one All-Star Game, in 1994. Yet Murphy, who has also spent time with the Washington Capitals, the then-Minnesota North Stars and the Pittsburgh Penguins, continues to be regarded as one of the league's premier players. Now in his 16th NHL season, he trails only Paul Coffey, Ray Bourque and the retired Denis Potvin in career points by a defenseman.
A power play specialist, Murphy, 34, played an instrumental role for the Penguins when they captured back-to-back Stanley Cup championships in 1991 and 1992. The Maple Leafs, who acquired Murphy this past July in exchange for Russian defenseman Dimitri Mironov and a 1996 second-round draft pick, are now hoping this suave veteran helps them win hockey's most coveted trophy.
Murphy, an amicable and well-spoken individual, offers his thoughts on numerous subjects in the following interview.
You began your NHL career in California with the LA Kings. Are you surprised at how hockey has taken off there, and that there are now three NHL teams in the state?
It's definitely a lot different now than it was then. There was always a core of fans, but obviously not the numbers needed for a franchise to really thrive. It was an enjoyable experience and I think it was really good to start there because you weren't under the microscope and it gave me a chance to get established. I'm glad I started there and I enjoyed every minute that I was there.
You also played in Minnesota. What are your thoughts about the league possibly returning there via the relocation of the Winnipeg Jets?
It's a surprise hockey doesn't do better in Minnesota. Maybe with a new (ownership) group coming in with a fresh start, things will change. It's big with the kids; high school programs are extremely popular and state tournaments are huge—they're televised on TV. And university teams are doing well. It's a very popular sport, but the pro game didn't reflect that. With a new philosophy maybe it will go a lot better. How can the National Hockey League not have a team in Minnesota? It just doesn't make sense.
What are your thoughts on the new obstruction rules in the NHL, and how do they help or hinder a defenseman?
It makes for a much better game. It changes the approach for a defenseman. You're very conscious of your positioning. You don't have the opportunity of reaching in and holding somebody up. You have to make sure you're in the right spot. You play more positionally. You can't really afford to play guys as tight or as hard as you'd want to just because of the fact you might get out of position. If somebody gets half a step on you, you've got no way to get back into the play. It's tough on the defense, but I think it makes for a better game.
What are some of your earliest hockey recollections?
I started playing when I was five years old. I just went one day to a local program with short kids. They were actually starting with six-year-olds but they opened it up because they needed some more kids to fill the teams. My dad took me down even though I had never skated before. My first year I loved the game, but obviously didn't do too much.
I was fortunate though because in the winter time my dad started putting a rink in our backyard. We were able to keep the ice in at least two months a year and I skated on it every day. In a while, I was able to compete. The most important thing was the rink in our backyard and being on skates every day.
How do you like the makeup of this year's Toronto team?
I'm excited about our personnel. I think we have the players to do well. It's going to take a lot of hard work. It's going to take improvement throughout the season. But I like the base we (started) with. It's definitely something to build on.
You're 34 now. Is it a lot tougher getting and staying in shape now than it was when you were 24?
It's interesting; I'm trying to think back to what it was like 10 years ago. It doesn't seem that different. I think the older you get, though, the more conscious you are of looking after yourself. You eat better and you make sure you get your sleep. It's small things like that you're more conscious of. But when I'm out there (on the ice), I feel as strong now as I did then. Is it because I'm looking after myself better or it is because there is no difference at all? I have no idea.
I feel good though, and I feel a lot of guys are in the same situation because the league seems to be getting older and the guys are lasting longer.
Are you off-season preparations any different now?
What you do the year before influences what you do in the off-season. If the team goes all the way to the Stanley Cup, then that makes for a short summer so it's important to give your body a break. If you've been at it so long, the rest helps. But if you're in a situation where you don't make the playoffs, then you've got to start sooner in the off-season and you try to build up. You have more time to build up and come to camp in really good shape.
You're closing in on a 1,000 points in the NHL this season. That's obviously got to be a big milestone for you.
I try not to think about it. I know it's there. Hopefully it will come. But it's not a case of counting down. I think it would drive me crazy if I did that. I hope it comes because I would cherish that. It would be an accomplishment I never dreamed of achieving when I started in the National Hockey League. I just got into the league and was happy to be playing. I just took it one season at a time and all of a sudden, I'm in my 16th season.
You've been around for as long as Ray Bourque and Paul Coffey. Do you feel you get as much recognition as them?
I get a fair share. Those names you're using, they've had tremendous careers so they deserve the recognition they get. For myself, I get (my) just due. I have no complaints. I've received Norris Trophy votes at the end of the season, which I appreciate. I'm fine with that. It's not an issue at all.
Are you upset you haven't played in more than one All-Star game?
No. It's really funny (that) every year there's always been a circumstance why I haven't played. I was jinxed every year for one thing or another. One year they didn't have the All-Star game, they had the Rendez-Vous (with the Russians). That year I was leading our team in scoring. And last year's game was canceled. Other times I'd play on a weak team where somebody (else) was having just a tremendous year. If you have a weak team, they're only going to take one player from the team to go to the game. When my time came, I'm glad I did it.
Who's the greatest player you've played with?
That would have to be Mario Lemieux, without a doubt.
What's been your biggest thrill in the league?
Winning the Stanley Cup, both times. The first one is the first one, so you can't take that away. But both times we won (it) was just as exciting. The moment the game was over and we had won the Cup was just so exhilarating. I'm glad I'm not going to go through my career without having the opportunity of hoisting the Stanley Cup. It's something I'll always cherish. It's what this is all about. It's why you're knocking yourself out every day.
You've played for several different teams. What is it like being traded?
I never want to get traded. It's very difficult, whenever you get traded, on your family, your life and yourself. It throws your life into turmoil. The hockey part of it is easy, you're just coming to a new team. It doesn't take long to adjust. But it's the personal stuff that is really hard.
Even though you were coming back to your hometown, when you were traded from Pittsburgh to Toronto, you originally didn't want to comment on the trade. Why was that?
I was just thinking to myself, here we go again, another three months of stress and trying to get reestablished. It wasn't something I was looking forward to. It's better (not to talk) until you settle down and think things through on what you have to do. That way you're not so overwhelmed and it's easier to discuss what's going on.
How does being traded affect your family?
It's tough on them. Once I get traded (the kids) have their friends and their life to think about. It's easy for me because I understand what's going on and what to do to start over again. But for them, if they've only known one house and they have to move, it makes it difficult for them.
Who's the best coach you've ever had?
You can't ask me that question, it's not fair. Of course now I'm going to say to you (my current coach) Pat Burns is the best coach I've had. That is the most difficult question. And I say this on the record: the most difficult question is if somebody asks me to compare which coach is better. It's the question I dread the most.
What advice would you give to young players who aspire to play pro hockey?
For anybody that wants to play the game, it's a case of how much time you spend on the ice. You'll see improvement with the more time you spend actually skating.
What about some tips for working the power play?
The key is not to force, just to make the play that is there. Try not to create something that's not there—that's when you run into trouble, when you try to force things. Just make the play that's in front of you. If there are a couple guys in front of you, just get the puck on the net.
Would you say 5-on-3 power play opportunities are more or less difficult?
The pressure is a little greater because you're expected to score. It's obviously easier because you have less opposition out there, but the pressure is greater. The trouble you run into on a 5-on-3 is you try to make the play too perfect instead of just getting the puck to the net. You should just make sure you move it quick. The pressure is there because you're expected to score every time you're out there. (But) no matter how well you do, you know you're not going to score every time.
Having already won the Stanley Cup twice, is the hunger still there to win it again?
After winning it, you know every season what you're missing out on if you don't win again. So it's a lot harder. Once the season ends now and you haven't won the Cup, it's a lot harder to take.
Do you think you can win another Stanley Cup with the Maple Leafs?
I wouldn't predict anything. But I'd be more than happy to get my hands on it again.
Recently there's been talk about the NHL switching to a halftime instead of two intermissions and three periods. Are you in favor of such a move?
I think it's a horrendous idea. I think the quality of the ice is so bad by the end of the periods (that) I'd hate to see what 10 more minutes on that ice before they resurface would be like. It would sacrifice the product just so they could put on a halftime show.
This first appeared in the 01/1996 issue of Hockey Player Magazine®
© Copyright 1991-2001 Hockey Player® and Hockey Player Magazine®