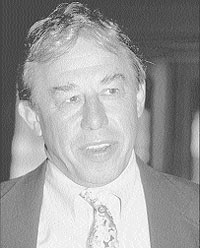 Jim Roberts. ©BBS
On July 17, 1996, Jim Roberts took the position of assistant coach for the St. Louis Blues, joining Roger Neilson in helping head coach Mike Keenan. Roberts brought plenty of coaching experience with him. Starting his 14-year coaching career as an assistant coach with the Buffalo Sabres (1979-84), he took over as the Sabres head coach for a period in 1981-82. He was an assistant coach for the Pittsburgh Penguins (1984-87) and then went to the American Hockey League as head coach of the Springfield Indians, where he took Springfield to the Calder Cup Championships two consecutive years (1988-89). Roberts returned to the NHL in 1991-92 as head coach of the Hartford Whalers. He spent 1993-1995 as the GM and head coach of the St. Louis Blues minor league affiliate, the Worcester Ice Cats. Now, he's back in the NHL.
Perhaps it's Robert's history as a player that has helped him the most as a hockey coach. He played in the NHL from 1963-78, primarily with the Montreal Canadiens and the Blues, earning 320 points and five Stanley Cup Championship rings. Roberts claims these years gave him an understanding of how to deal with today's players.
"Being a player myself, I respect the players and I hope they respect me." Respect, Robert says, is vital when coaching any level of hockey: respect and honesty. Players look to their coaches for advice in all kinds of situations. Coaches need to level with their players.
"I show honesty to players," Roberts continues. "There are some pretty important questions that players ask you that need some honest answers. Over the years, I've found that honesty is the way to get the respect of the players and not cause any problems down the road."
Quickness key
Having coached in the minor league as well as the NHL, Roberts has had a chance to compare athletes at different levels of play. Roberts offered his estimation as to where many younger hockey players need a bit of improvement or focus.
"They need to adjust to the quickness of the game. They have to adjust to the speed at which things happen on the ice. Every level you move up, things happen a little quicker. As a fan sitting there watching it, you wouldn't notice it much. However, there's an elevation in the speed and intensity of the game.
"Coaches need to practice their team hard. Concentrate on speed," Roberts advises. Just because an athlete skates quickly doesn't mean he can play the game quickly. You still have to handle the puck, and the defense with the same speed.
When it comes to practice drills, Roberts likes to stick to the basics. "Practices and drills are similar to real games," he says. "That way intensity carries over to the real games. Make the players practice with quicker players so they have to adjust. They will find the quickness in themselves to keep up with them.
"My theory is that I use the whole ice so that people who are playing a good offense can switch and try to play a good defense. Using the whole ice gets them to use their speed more effectively.
Coach Roberts considers his most important job to be that of motivation. "The big thing that I find missing is consistent intensity. It's all mental. You have to learn how to handle the ups and downs. It's about being able to use your God-given skills on the ice, but then carry your emotions off the ice."
No master plan
Unfortunately, Roberts doesn't have the master plan to bring players to the appropriate level. "Every player is different. You have to be honest with them about their strengths and weaknesses. You have to motivate each one differently. Knowing your players is important. Know what they can do. Know how to handle them. It's a tough game. Players have to be at a mental peak. If they're not, your team won't be as good. If it's happening, correct it any way you can. Some players you can sit down and read the riot act. Others you have to baby along. It can depend on how young the player is, of course."
Roberts believes that motivation can also elevate players who are not as talented to get to another level. To help these players along Roberts suggests: "Simplify their game. If their capabilities don't let them do certain things, concentrate on what they do better. If a guy is only going to get three or four goals a year, you don't want him rushing the net. You might try to put him in a position where he can be a safety valve on the rush and check defensively. You have to know who your players are and where they contribute the most." Roberts says these role-players can concentrate on the things they do well and work on weaknesses. Even if the other skills don't come around, they can still do their jobs.
Coach Roberts summed things up by hitting on the importance of motivation again. "My general philosophy is you have to practice hard to play hard. You also have to stick to your team strategy. Other than that, you have to have your players ready to play. Getting the fever is a big deal for some players and not others. For those who have trouble, it's my job to help them find it."
— Mike Neuman
---
This first appeared in the 01/1997 issue of Hockey Player Magazine®
© Copyright 1991-2010, Hockey Player® LLC and Hockey Player Magazine®