Off the ice they are pretty much the same guy—quiet, family oriented and friendly. On the ice they may seem different as night and day—one is aggressive and charges up the ice while the other prefers to stay home and keep an eye on the net—but in reality, they are still the same guy. They are the guy that clears the front of the net and keeps opponents from getting on the scoreboard.
Keith Carney and Scott Niedermayer are two of the top defenseman playing in the National Hockey League today. With his three Stanley Cup rings and his All-Star game appearances, Niedermayer is on everyone's radar. Meanwhile, Carney slips under it and is one of the NHL's most underrated players. Whether or not fans are aware of his defensive prowess, few forwards in the league will doubt Carney's ability to keep them from putting the biscuit in the basket.
"Keith's success comes from his mobility and his excellent hockey sense," says GM Brian Burke. "He plays a simple game and stays home." Over his 13 year NHL career Carney has never had more than 5 goals in a season (2001-2, Anaheim) nor greater than 24 points (1999-2000, Phoenix) but his worth is not for his ability to score, but rather his ability to prevent the opposition from doing so.
Carney(3) and Neidermayer (27) on defense against the Phoenix Coyotes.
Carney does the things that never make it to the stat sheet but can help turn the tide of a game. He may be holding the puck in the offensive zone one minute and seconds later be skating back and breaking up a 2-on-1 attack.
"Carney has so much poise and confidence," says Mighty Ducks radio play-by-play man Steve Carroll. "The Ducks don't make too many mistakes with him on the ice. Carney can definitely get you out of trouble."
Then you have Niedermayer. He has been tagged as being an offensive defenseman—which he is. But many are so focused on his offensive skills that they forget that he is the reigning Norris Trophy winner.
"Scott came up in the New Jersey system," says Burke. "So that means that he plays exceptional defense. He seldom gets beat 1-on-1 and he takes away the passing lane from opponents."
Niedermayer is a proven winner. He is the only player in NHL history to win the Stanley Cup, Olympic Gold Medal, World Championship, World Cup, World Junior Championship and Memorial Cup.
Part of what makes Scott so exciting to watch is not the fact that he scores goals. It is that he scores timely goals. Niedermayer has more overtime goals than any defenseman in NHL history with 8—and he shows no signs of slowing down.
Anaheim Head Coach Randy Carlyle knows a thing or two about patrolling the blueline. He won the Norris Trophy is 1981 as the league's top defenseman. "The thing about these two," he said. "Is that they both do things right. They keep things simple and they take care of their end." Any team in the NHL would be happy to have just one of them, but the Ducks have them both in their flock and that's just fine with Anaheim fans!
So how did these two get to be so great? Both learned the right way when they were young and both apply those same principles they learned as kids to the game they play today.
"The main thing is to have fun," Carney said after a morning practice at the Pond. "You need to enjoy every chance you have to get out on the ice. You have to stay patient and play your position. Most goals are scored from in front of the net so you have to watch that area and keep it clear."
"Communication is something that really goes a long way," Carney continued. "It is simple and it helps not only yourself but your teammates. If you want to stay in front of the net and you want your defensive partner to go to the corner you need to let him know that. Simple communication goes a long way."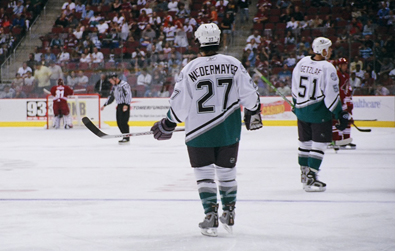 Neidermayer prepares for a faceoff.

Niedermayer is on the same page with his teammate but had a few other things to add. "Skating is obviously an important part of hockey, even for defenseman. And, I know that it sounds simple, but positioning. If you stay between your net and the puck, then you will be in a good spot to make it harder on the opponent to score a goal. If you let them get behind you then obviously they have a free chance at the net."
"When you have five of your players and five of their players all skating around in the offensive zone it can get a little crazy. If you communicate then there are no questions. You know what your partner is doing and then you can go from there and make a decision on what you are going to do."
After all their years of experience and the early morning practices, it all really comes down to the same lessons their pee-wee coaches taught them—positioning and communication.
To some observers these two may look like the Felix and Oscar of defense, but be assured that this odd couple can co-exist and one can compliment the other—making for a great team defense.
Jason Reed is a freelance writer based in Long Beach, CA. A native Southern Californian, he started getting into hockey by watching Los Angeles Kings hockey games back in the purple-and-gold days. He has worked for the Western Hockey network since 2003 serving in various capacities and has been a co-host on the Power Play and Hockey Talk radio shows on CRN Digital Talk. He writes a regular column for www.hockeytalk.biz and his work has been seen across Europe in Face Off, where he has been a regular contributor and across the U.S. in newspapers such as Cincinnati Enquirer, Fresno Bee, Anchorage Daily News, Long Beach Press Telegram and OC Register. He is a regular contributor to OC Metro magazine Jason lives with his 8-year-old daughter Cameron and their dog Lucy.
---
This first appeared in the 10/2005 issue of Hockey Player Magazine®
© Copyright 1991-2010, Hockey Player® LLC and Hockey Player Magazine®