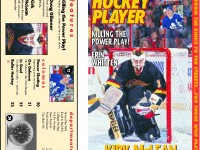 ON DEFENSE
with Stu Grimson
When you watched Stu Grimson play hockey, you don't usually reflect on "The Grim Reaper's" mental approach to the game. But the 6-foot-5 former Chicago Blackhawk insists that pre-game preparation and on-ice concentration are the key ingredients to success for a defenseman at any level of the game.
"Preparation is a huge part of my game," says Grimson, who early in his career earned the aforementioned nickname because of his physically intimidating style of play. "It's very important to know what the opposing teams like to do and what their style is. You have to know your opponent so you're not taken back by anything they do on the ice during a game."
Grimson acknowledges the obvious: that he gets into his share of scuffles. But Grimson is quick to point out that he does not take to the ice looking to pick a fight.
Part of the game
"Those confrontations have evolved and are just part of the game," Grimson says. "My first priority is always to go out and play solid defense and do whatever I can to help the team win. That's all part of preparation, getting yourself with the right attitude, the right frame of mind.
"If your success comes through a physical style of play, well, some guys take exception to that."
Another aspect of Grimson's game is the ability to do more than just bang people. He has worked hard to improve his puck-handling as well as maintaining proper positioning in his own zone. No matter what you're specific style is, he notes, you must be able to accomplish these two fundamentals of the game.
"No one wants to be one-dimensional," he adds. According to Grimson, the most common mistake he sees NHL rookies or other inexperienced players commit is, again, regarding the mental aspect. He sees defenders giving recognized scorers too much respect.
"I see a lot of inexperienced players that play in awe of some guys," Grimson explained. "A certain amount of respect for their capabilities is okay, but during the game you have to put that aside. Otherwise, it takes away from your aggressiveness.
Play with a purpose
"You always have to play with a purpose, regardless of who you're facing." An example of Grimson's approach was evident during The Mighty Ducks' 2-1 overtime loss to San Jose on Halloween Night in 1994. Whenever the Sharks moved into the Ducks' zone with momentum, Grimson led a quick assault (sometimes outside the blue line) to knock the San Jose forwards off the puck before they could set up. While that aggressive approach isn't uncommon, especially for Anaheim, it was especially important against a team with only one recognized offensive gunner — Pat Falloon.
"We felt it was important to keep him screened away from the puck by trying to take them out of their rhythm before they could ever get set," Mighty Ducks head coach Ron Wilson said after the game. "We did that pretty well… When you give up only two goals in about, what, 64 minutes? You should have success.
And most of the time, you will. Especially when your defensive game plan begins originating well before the first faceoff.
Bob Cunningham a freelance writer based in Southern California writes for various hockey publications.
---
This first appeared in the 1/1994 issue of Hockey Player Magazine®
© Copyright 1991-2010, Hockey Player® LLC and Hockey Player Magazine®