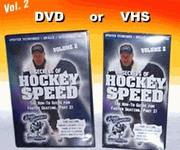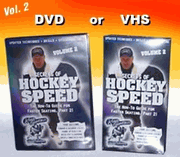 With the same techniques and innovative camera angles, Volume 2 picks up where Volume 1 left off, concentrating on speed with one and two hands on the stick, lateral mobility, pivot stops, quick feet, edge work and much more… And Vol. 2 will show you how to reach top speed with the puck on your stick: breakaway speed, change of direction, power moves, puck protection and stick handling.
Vol. 2 Highlights Include:
• Advanced techniques and drills
• 1 & 2 hands on the stick
• Backward skating techniques
• Forward and backward stops
• Gretzky-type tight turns
• Quick feet and edge drills
• Breakaway speed with the pucks
• Power moves
• Puck protection
• Stickhandling
About Robby Glantz Robby's resume includes: Power Skating Coach for the NHL's Los Angeles Kings and Atlanta Thrashers. Robby has worked with players in the Chicago Blackhawks organization … and Swedish Champs Malmo, the German National Teams and numerous pro and youth hockey teams worldwide. He is the first power skating coach ever hired by the hockey associations of Germany, Norway and Switzerland, and is the power skating expert for Hockey Player Magazine. Robby specializes in teaching and motivating youth hockey players worldwide to skate quicker, faster and stronger.