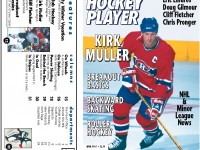 By Mitch Korn
Oct 29, 2001, 19:39
On my long seven-hour drive from Miami University in Oxford, Ohio to join the Buffalo Sabres, I thought back to all the goaltenders I have had the pleasure of working with since I began my coaching career in 1979.
My interaction with all the collegiate, professional and youth goaltenders has taught me a lot about the position (both physically and mentally); helped me develop or reinforce existing philosophies; and taught me valuable lessons which are important both on and off the ice. I also realized that no one—even a coach—ever has all the answers, and that I could not have had coaching success without their help.
In return, I hope that I managed to provide input and feedback that helped make their game better as well.
This column, the first of two, will focus on the lessons I have learned during my career, and who I have to thank for them.
Fundamentals are not enough
While the fundamentals of goaltending are critical, experience has shown that they alone will not guarantee success. Tom Draper (now with the IHL Minnesota Moose) was a classic stand-up, patient goaltender. But he relied too much on the fundamentals, the technical aspects of the position. Together, we worked to make him less patient, less fundamental, with more ability to scramble and deal with quickly changing situations.
Former Miami University goaltender Richard Shulmistra (now with Quebec's AHL affiliate Cornwall Aces) not only had size, speed and fundamentals, but he constantly challenged me with his cerebral, analytical approach to the game. We discussed every "what if" possible. He developed a "system" for himself as he analyzed his moves, every possible situation, and the shooters he faced.
Some goalies just like to play the game. Richard not only plays it, but he thinks it, too.
Statistics can be misleading
Alain Chevrier, who had a fine NHL career with New Jersey and Chicago, and Steve McKichan, who played minor pro (plus one game with the Vancouver Canucks), were both at Miami University in the early years of Division I. Back then, Miami's teams were not very good. Both produced goals against averages that were high, and save percentages that were low.
But the high number of shots they faced, and the many good scoring situations against them, helped both goalies develop mental toughness and great skills. While others were getting headlines, these two were getting better! And their statistics were not solely a reflection of their individual performances.
Conversely, current Sabres prospect Steve Shields played his college career at Michigan. He posted great numbers, won all the awards, and faced an average of 22 shots a game on a fantastic team. But despite his college success, Steve—great stats and all—was perhaps less prepared for pro hockey than the other two guys.
The moral of the story, it seems, is that in developing your skills, it's better to stay busy.
Have confidence and persevere
You must persevere, work hard and believe in yourself—even if nobody else does.
It's easy to give up when things do not go your way. But hard work and the ability to overcome a negative situation demonstrates to everyone a player's special qualities.
I met Olaf Kozig in 1992, when he was playing in Rochester of the AHL. Olaf was Washington property "on loan" to Rochester because he was the last guy on the Capitals depth chart, and was playing out the remainder of his contract. That year he took the Americans to the AHL finals, and now he is in the NHL with the Capitals!
Charlie Thuss is a senior at Miami University and one of the top goalies in Division I hockey. What is special about Charlie is that he never played one minute until his senior year! But he never quit, worked very hard, and beat the odds.
And how about the Buffalo Sabres Dominik Hasek, last year's Vezina Trophy winner? When he was with Chicago he was sent to the minors before eventually being traded to Buffalo. Then, after half a season (and an injury in Buffalo), the Sabres traded for Grant Fuhr—in essence telling Dominik he wasn't good enough to be their Number One. But Hasek never quit, worked very hard, and has now emerged as one of hockey's premier netminders.
Leave your feet
David Littman, a former AHL all-star in Rochester, and Dominik Hasek are perfect examples of the style of goaltending required today. They seem to have it down to a science.
In today's hockey, a goaltender must leave his feet to make most saves. The key is when to do so. If you drop too early, then the shooter will go over or around you; if you drop too late, pucks will go under you. Timing is so important. How to leave your feet is another key element. The "how" refers to the position of your arms and legs, and how they move together to close holes while making the save. Too many times a goaltender opens up holes while moving to make a save because his arms are sloppy, or his back leg plants or slips.
Catch more of the lessons I've learned in coaching in next month's issue!
Mitch Korn is the goaltender coach for the Buffalo Sabres of the NHL. In addition, he is an administrator at Miami University (Ohio) and directs the 8-week Summer Hockey School. Miami has Division I ice hockey in the CCHA.
This first appeared in the 05/1995 issue of Hockey Player Magazine®
© Copyright 1991-2011 Hockey Player® and Hockey Player Magazine®