By Hockey Player Staff
Oct 29, 2001, 19:25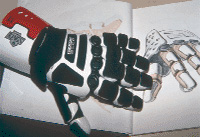 Design by Hoon Chun.
What will hockey equipment be like in the next decade?
To find the answer, we turned to the creative minds at Pasadena's world famous Art Center College of Design. Art Center graduates have been responsible for designing such cultural icons as the Apple Computer logo, the Mazda Miata, and numerous cuddly little Muppets—among other things—so we figured they'd have an interesting take on puck in the year 2000.
The mission for students of Product Design instructor Gaylord Eckles was to design hockey equipment that was both functional and aesthetically striking. He wanted gear that dared to inject a little personality into the game's hardware; gear that was "as dynamic as the sport of hockey itself."
With the assistance of professional advisor and former NHL defenseman Rick Chartraw, the students analyzed current equipment and found some problems to overcome; high weight, bulk, and limited flexibility in some cases, insufficient protection in others. Then they went to work on the future of hockey.
Here's a sample of what they came up with.
— Alex Carswell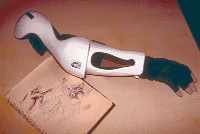 Design by Gregg Luconi.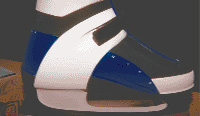 Design by Jason Hurst.
Design by Tom Jung.
Design by Nam Cho.
Design by John Frye and Minho Joo.
This first appeared in the 05/1995 issue of Hockey Player Magazine®
© Copyright 1991-2011 Hockey Player® and Hockey Player Magazine®