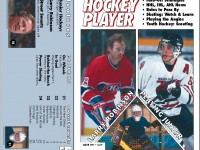 By Wayne Anderson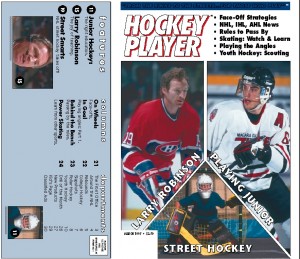 If goaltending is a coach's most forgotten aspect of the game when running a practice, face-offs are the second most neglected. Face-offs happen throughout the game, giving coaches a stoppage of play and time to organize a plan of attack. So why do we so often forget about this important item during our practices?
Maybe we just assume because it does happen so often, players already have proper face-off techniques ingrained within them. More often than not, however, especially in roller hockey, that is simply not true.
Face-off Techniques
First the center, or whoever is taking the draw, should move the lower hand down on the shaft of the stick. This provides maximum strength, and lowers his or her center of gravity, offering more stability. Next they must position their feet in the strongest balanced position, which is usually slightly wider than shoulder-width apart. It's important to use your whole body on a face-off, not just your arms, in order to control as much surface area as possible. Once you step in to take the face-off, you should only concentrate on the puck (or ball) in the official's hand.
Set your team up before you step in to take the face-off, not while you're waiting in the circle. After the face-off it is important that you do not let the opposition center jump through (past you), especially on a defensive zone draw where, if he gets by you, he's alone in front of the net.
Three Ways to Win a Face-off
Basically, there are three ways of winning a draw. First, you can win by being quicker and stronger than your opponent.
Second, you can concentrate on playing the opposition center's stick and then, if you can take him out of the play, by playing the puck or ball. A common way to employ this strategy is to lift your opponent's stick and then go after the rubber.
The third option is to tie up the opposition, then use your skate to direct the puck or ball. Each of the above methods should be practiced not only in scrimmages, but also by and against different players in specific face-off drills. All players should practice face-offs because there are times when we prefer to have a left-handed player over a right-handed player taking the draw. And quite often the original face-off person gets tossed off the draw by the official. That's when it pays to have wingers practiced in the art of taking face-offs—especially if the other side does not.
How Do We Line Up?
Teams should practice specific face-off formations, and attempt to control the puck off the draw. There are countless formations and set plays possible off of face-offs. You can see literally dozens in almost any pro game. This is where we, as coaches, can have some fun. Try different things, because you might be surprised at the outcome, and you'll never know if something will work in a game unless you try it first in practice.
There are some variables to consider. In the offensive zone, we must be aware of the side of the rink we are on and who is taking the face-off. For example, is the player a right-handed shot on the left-hand side of the rink? Will he be trying to push the puck forward or pull it back? Try to know your opposition's strengths and weakness. Learn from your past face-off experiences.
In the defensive zone, we don't want to let the center slip around us and get a good position in front of the net. We also want to be aware of the opposition trying to crash the net. We want to look for opportunities for a quick break out of our defensive end (with an intercepted pass and a maybe a breakaway), especially if we are playing short-handed.
One little trick that may make your opposition to tip their hand as to their strategy is to start to skate into the face-off circle as if you were getting ready, and when your opponent starts to get ready, back out and take a look at the set up. Most teams will not realize what you are doing, and will stay in the same set up. It is not only important that you know what you are doing, but your teammates should be aware of what's going on around them as well. Keeping your goalkeeper informed during defensive zone face-offs is also very important, because they are the final line of defense.
Practicing
As a team you must practice, practice and practice face-offs. Try different line-ups in both ends of the rink. In the defensive zone, every player must know their responsibilities (goalies included). Remember to always try and draw the puck away from the net—playing to your strengths rather than your weaknesses.
Another important aspect of the face-off is the statistics that result from them. Coaches must keep track of the offensive and defensive zone face-offs won and lost by all of our players. Looking at the stats, you might be surprised who your best face-off man is, but in a clutch situation you'll be glad to know.
Remember, never go into the face-off circle until you check three things; your team's set up; your goaltender's readiness; and your opponent's position (center and teammates).
One last important factor to be aware of is that you want to have your two best face-off players out on the surface when you are taking the defensive face-off—especially when you are up by a goal late in the game. Once the play develops you can always have that "second" face-off specialist come to the bench, but you're wise to have a back up out there in a clutch situation.
Practice hard, and have some fun with face-offs.
Wayne Anderson is Managing Director of Huron Hockey's roller hockey schools based in Matawan NJ.
This first appeared in the 03/1995 issue of Hockey Player Magazine®
© Copyright 1991-2011 Hockey Player® and Hockey Player Magazine®