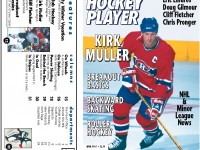 By Paul Chapey
Oct 29, 2001, 19:21
Technically, roller hockey isn't much different than ice hockey. While we've talked about the differences between skating on blades and on wheels, the fact is that shooting, stickhandling, stick checking and most of the other technical hockey skills are the same for roller and ice hockey.
Tactically and strategically, however, roller and ice hockey can be quite different. Here are some effective tactics and strategies for roller hockey—some of which are obviously different than those that work in ice hockey.
Offense
Roller hockey should be played something like European ice hockey. Since roller is played with four skaters and a goaltender, there's more skating room and generally less congestion. NHL hockey is more linear, with attention to skating lanes. Roller hockey is more a game of wheeling and dealing, weaving, interchanging and curvilinear skating. Quite a bit of man-to-man defense is used in roller hockey, and non-linear skating does a good job of offsetting that kind of coverage.
In ice hockey—particularly the North American game—penetration of the zone is often accomplished by sacrificing possession. A solid roller hockey strategy is to never sacrifice possession. In top-level amateur roller hockey there are no line calls, so it's much easier to regroup and not risk zone attacks without an offensive numerical advantage. Whacking the puck into what would be the offensive zone is rock-head strategy.
Don't over pass in roller hockey. If you're in a bind and need to get rid of the puck, put it on goal. The puck is lighter and easier to shoot quickly in this game. Goaltender is the most challenging position in roller hockey because lateral movement on wheels is difficult. Also, many roller rinks aren't too well lit, and this adds to the goalie's disadvantage.
"Lots of shots" is a strategy to remember.
Defense
The most effective defensive strategies in roller hockey are man-to-man systems. Zone defenses are loose, and allow for too much shooting. One of the few times that zone coverage is advisable is during the first few shifts of the game; it's a good idea to see how you match up against the other team. There will be certain match-ups that you'll have to avoid, and you'll want to identify them before going man-to-man.
Three-on-twos in roller hockey quite frequently transition into two-on-ones the other way because players fail to do a hockey stop and get back. Players tend to coast around the goal instead, and by the time they get to half floor, the other team has already had a scoring opportunity. If you're involved offensively in a two-on-one, or any numerical advantage attack, remember to think about getting back quickly if the play is broken up.
One of the golden rules of roller hockey is not to over pursue the offensive puck carrier. Body checking isn't allowed, and if you skate towards the puck carrier you're easy to burn. This is poor defense in ice hockey, but in roller it's an even worse mistake because you just can't stop and recover as quickly on in-lines as you can on ice.
Special Teams
The average roller hockey game is about two 17-minute running time periods. Smart leagues play three minute minor penalties. That means one minor penalty is almost nine percent of the game. It should be obvious that taking a lot of penalties is a fast track to a losing season. In RHI, power play conversion percentages are more than double what they are in the NHL. Combine the goalie disadvantage and the wide open room to move in a four-on-three power play and it's easy to see that penalty killing is much more difficult in roller hockey.
Your best strategy: cut down on those penalties.
If the other team is going to give you a power play advantage, then you've got to seize the opportunity and put the puck in the net. Design a good power play and execute well. One problem I see over and over in power plays is the lack of discipline in setting up. Teams seem to panic, rush and force the puck. There are very few set plays in hockey. But the power play is one of them that can be accomplished with repetitive practice.
Improving your special teams play is the quickest way to get better results on both sides of the scoreboard. If you successfully kill one more penalty per game and convert one more power play each game, that's a two goal differential. This is particularly important to teams that are competitive, but seem to lose close games.
There's one aspect of roller hockey and ice hockey where the game plan should be identical: the undetermined possession part of the game, where neither team has the puck. This demands a very simple strategy—get those loose pucks! This is the time to never hold back. If you win every race to a loose puck, it's yours, and the offensive gates are open It doesn't get any more basic than that.
Paul Chapey is the coach of Team USA and will coach the US in the FIRS World Championships.
This first appeared in the 05/1995 issue of Hockey Player Magazine®
© Copyright 1991-2011 Hockey Player® and Hockey Player Magazine®