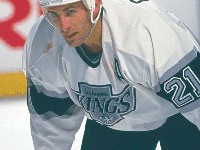 By Bob Cunningham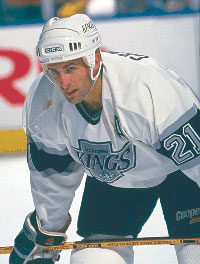 ©BBS
Let's face it: there are quite a few pretty good hockey players in North America. Literally thousands possess the basic skills to be effective scorers and defenders, and a precious few even have the privilege of being recognizable by single-name monikers.
Mario. Jaromir. Gordie. Gretz.
But for most of us, there's little hope that we'll ever become a one-word household name. So, as sub-superstar players, what can we do to increase our value in the big picture?
The answer is that there is no single answer. And that all the answers might be summed up in a single word—versatility.
That characteristic seems to be especially true at forward. Forwards often have several things demanded of them simultaneously. Over a single 10-second stretch, a winger can be called upon to take control of an attack, get off a shot or a pass, switch gears and forecheck, and then play a defensive role in attempting to regain possession of the puck.
A taste of everything
One NHL player who has become adept at that kind of gear-shifting is Tony Granato of the Los Angeles Kings, who will be into his eighth season at the game's top level when and if the owners' lockout ends.
The best way to summarize the 5' 10", 185-pounder's career is to note that he's had a little taste of just about everything. But what sets him apart from most is his ability to play whenever and wherever he's required.
"That's the definition of being a team player. No one's a hero for it," he says.
Granato has played almost equal stints as both left wing and right wing for the Kings, and also earlier in his career for the New York Rangers. He's even dabbled at center.
For the layman, it may sound fairly routine to bounce back and forth between opposite sides of the lineup, but the truth is that hockey is a very one-sided sport.
"I'm not going to say it's something you can't do, but it's more difficult than most people think," Granato said following a workout at The Iceoplex, in North Hills, CA. "You get used to playing on certain sides with certain guys, and they get used to you being in one spot, and it takes some adjustment (to switch)."
In reality, very few NHLers are asked to bounce back and forth on the wings. Coaches realize the sacrifice required, and usually resort to such maneuvers only when teammates are lost to injury or, occasionally, when a high-profile player is obtained.
"Not every player, even at this level, is capable of playing effectively on both sides, but Tony has proven himself able to do so," says Kings head coach Barry Melrose.
Granato's secrets to success are more mental than anything else, and he actually builds flexibility into his attitude.
"I try not to get too comfortable doing any one thing, because then it makes it harder to adjust when you need to," he says. "In practice, I work out whenever possible on both sides, and with as many of my teammates as possible."
Learn to get "off"
Although the course of a hockey game requires players to cover the entire ice countless times, Granato recommends becoming as proficient as possible with your "off" hand, regardless of your position.
"It can really help you in a lot of situations if you can get comfortable going either way (right- or left-handed)," says the 30-year-old Illinois native.
Granato maintains that it is not just he who needs to be able to demonstrate flexibility. Teammates accustomed to seeing a certain teammate on the left must make the mental adjustment when that player comes down the ice on the right instead.
"You have to be aware every time out there, or it results in turnovers and missed chances," Granato says. "When you play with certain guys long enough, it works pretty well."
Granato has been one of those fortunate ones to spend some time on Wayne Gretzky's line during his five-plus seasons in L.A., but the player he has skated with most often in his career is no longer a teammate.
Tomas Sandstrom played with Granato in both New York and Los Angeles, before being dealt to the Pittsburgh Penguins last season.
"That kind of thing is never easy, but it's part of the business. You can't afford to get too caught up in it," says former-linemate Granato.
Which brings up another aspect of versatility; not just varying sides, but varying teammates as well. And even teams.
"That just means you have to keep things basic and fundamental," Granato says. "Hockey is still hockey, regardless of where you're playing or who you're playing with. It's better to be in a familiar situation, and I've been lucky to find that here in L.A., but it's not required."
It doesn't seem to be for Granato, anyway.
This first appeared in the 02/1995 issue of Hockey Player Magazine®
© Copyright 1991-2011 Hockey Player® and Hockey Player Magazine®