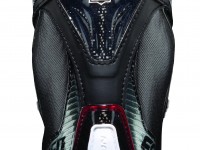 The other day I came home to a box on the porch. It was square. It was wrapped. And I think it was glowing from the inside. I hoped it would be from Easton. I had started to see YouTube clips of the skates and really wanted to check these skates out. I've been using the same pair of Micron ice skates for over ten years. They've been very reliable, but I've been looking out for a new pair of skates for a while.
I removed the skates from the box and put them on. Wow, they are sure comfortable. The design is intriguing. At first, the space between the Elite runners design throws you off, but after staring into its eyes for a while, I'm excited to see how they go. The other aspects of the design are around to make your skate stay light through a heavy practice or game. That excess heat should leave through the dry flow area, below the foot.  Overall the design has much more to offer than your typical ice skate.
Very soon I will be taking these skates out, videoing my discoveries. After taking a look at the EQ50 skate by Easton, what are some of the questions you have about the skate? With a hefty price tag, the EQ50 isn't going to be a first choice for someone just starting out, but the price for hockey gear usually correlates directly with how long it will last. Skates can last for a playing lifetime.
Come back to HockeyPlayer.com to see videos on the EQ50 skates, find answers to your questions and followup reviews on the skates along with other products.