Take five
By Fred Pletsch
Oct 30, 2001, 07:26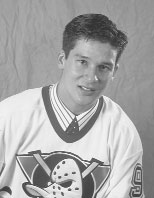 Kariya: The best story.
The Stanley Cup Playoffs should be watched and savored, says Shawn Walsh. The Coach of the University of Maine Black Bears does precisely that each spring, and encourages youth hockey parents to do the same. Not just for the great hockey, but because it's in the best interest of their hockey-playing children.
"There's no doubt kids need breaks so they can get recharged, and I think the months of April, May and early June should be targeted as times off," suggests Walsh, whose Black Bears are coming off their second appearance in three years in the NCAA championship game. "Hopefully by the time July rolls around the kids are excited about the sport again and ready for hockey school."
And he practices what he preaches. Returning in late March from Providence, RI—scene of their 6-2 NCAA title-game loss to Hockey East rival Boston University—Maine players found the doors to their weight room locked.
"A break is so important to us that I don't even let my players near the weight room for one month after our season is over," adds Walsh. "I want them away from all physical activity for that long, and I like to see them away from the ice for two to two-and-a-half months."
Walsh, rumored annually to be headed to the NHL as a head coach or associate coach, won't come right out and say it, but he intimated that spring and summer hockey leagues for youngsters are of questionable value in the development of players.
"I don't think you're going to find a kid that's going to benefit that much from playing continuously. I think the benefits are going to be far outweighed by the negatives," argues Walsh. He cites Paul Kariya, his 1993 Hobey Baker Award winner at Maine and current Anaheim Mighty Ducks Calder Trophy hopeful, as a prime example.
"There's no question Paul would have been burned out as a player by now if he had played every April, May and June as a youngster," says Walsh of Kariya, who in a span of 15 months captured an NCAA championship, an Olympic silver medal and World Hockey Championship gold medal. "Paul is a guy who is just in love with the game of hockey, but even he has to monitor his time during the year.
Summer school?
Summer hockey school has a number of developmental advantages over competitive summer leagues, according to Walsh.
"It gives you a chance to do two things. Hockey school lets kids play without the restrictions of the coach and the game situations that they get during the regular season. They really get to freelance, and it's the closest thing to pond hockey that they're going to get in this day and age. Secondly, you can usually put yourself against people in your own skill category. The one stifling thing about youth hockey today is that the best players all too often dominate—and Paul Kariya is the best story."
Walsh asked Kariya early in 1993 why he had enjoyed such an outstanding collegiate season, becoming the first rookie in history to lead the NCAA in scoring and be named Most Outstanding player.
"He told me it was because he was always playing against older players, and (his freshman year) really did a lot for his development because he has never been the best player," relates Walsh.
The best hockey schools evaluate a player's skill level beforehand (or on the first day) and, regardless of age, group him with players if similar caliber. That way, every kid will have an opportunity to shine, providing youngsters with renewed confidence and a joy they might not get to experience in their winter youth league.
So enjoy what's left of the NHL playoffs, and remember these summer hockey thoughts from Shawn Walsh—an extraordinary coach whose teams rarely take a game off during the season.
Fred Pletsch is a veteran OHL and AHL broadcaster who currently covers the Cornwall Aces for CJFS radio.
This first appeared in the 07/1995 issue of Hockey Player Magazine®
© Copyright 1991-2001 Hockey Player® and Hockey Player Magazine®