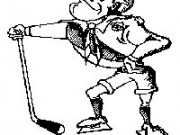 Scout's honor — Scouting has become
an integral factor in the growth of the sport
By Bob Cunningham
Oct 31, 2001, 15:40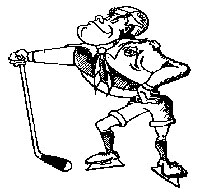 Cartoon by David Simpson
He sits alone, clipboard in hand, binoculars at the ready. A chart with diagrams and specific player characteristics is strategically lodged behind the seatback in front of him.
He's ready to go to work.
The life of a hockey scout can be lonely, hectic, even detrimental to a so-called normal life. But it can also be a most rewarding profession. The love of the game, along with the satisfaction of accurately analyzing an individual player's attributes, or those of an entire team, is what keeps these soldiers of other people's fortunes marching to ice rinks year after year.
"It's hard work a lot of the time, but there's a tremendous amount of self-gratification in seeing a player advance to the next level, even if the part you played in that transition is relatively small," explains Dan Delaney, head scout for the Portland Rage of Roller Hockey International and a veteran of junior ice hockey circles.
There are two main types of scouting in most sports, and hockey is no exception. There is the scouting and analysis of an individual player, and there is the scouting of an entire team, usually, an upcoming opponent.
Delaney, a former junior coach, has been scouting hockey since 1989. The Simcoe, Ontario, resident has started his own company, Premiere Hockey Services, which places young hopefuls throughout the country into tryout opportunities. Delaney's firm placed over a hundred players in the last year.
He points out the need for his service, noting that as a coach in the youth ranks, "you're almost your own scout as it is."
Juniors are big business
Major junior hockey, the minor league level for those talented enough to have a future in the sport but not astute enough to earn a college opportunity first, has become big business in developing players into NHL material.
Delaney explains: "Generally, there are two different types of players — the type that fits the bill for major junior hockey, and the type that fits the bill for college hockey. The two don't necessarily mix.
"Because of the NCAA's lack of physical play, colleges generally focus on finesse players, those with good hockey fundamentals than can handle the puck well, shoot well, skate well. Those that are highly skilled. Those that go on to major junior hockey (from high school or perhaps even prior to graduation) generally are bigger kids, tougher kids. They don't necessarily have all their hockey skills polished, but they're aggressive, easy to coach."
The bottom line, however, says Delaney, is that scouts ultimately look to fill positions.
"It's a matter of deciding on a team's style and approach, then finding players to fit that bill," he said.
Delaney's approach to scouting is accomplished by ranking players in a series of key categories. First, he observes a prospect's skating ability.
"I want to know if he makes fast pivots, if he can stop quickly and get started again, if he can get back into a play quickly after being taken out," Delaney says. "If he can't skate, he can't play the game of hockey."
Next is the charting of a prospect's overall hockey fundamentals.
"How does he handle the puck? Does he shoot well? Does he have good vision, and when I say that I mean split vision, peripheral vision? Does he see the whole ice well?"
The "P" word
Delaney doesn't necessarily expect the players he scouts to have all the skills already in place. What he seeks, instead, is the 'P' word: P-O-T-E-N-T-I-A-L.
"The blue-chippers are the ones that have shown the basic instincts to play the game at all levels," Delaney said. "Generally, there are no late bloomers in hockey. They might develop skills while they're playing major junior hockey, but the basics have to be visible, or a kid simply won't get the chance."
Next in Delaney's series is what he calls "other little things," the intangibles that go toward a player's mental makeup, a factor more important in hockey than in most other sports.
"I want to know about his temperament. Does he skate away from a fight or does he attempt to get involved? How does he get along with his teammates on the bench? Does he stand up for his teammates? That kind of thing."
Lastly, Delaney desires to meet the prospect directly to gauge his character.
"Is he clean, well-mannered? Does he present himself well? All these factors play a part. If you've got a guy who can play but he appears uncooperative or uncoachable, most coaches and general managers would rather have a guy with a little less natural ability whose willing to be taught the game."
Delaney notes that the early years of a player's potential career are vital because they are his "developmental years."
"Major junior hockey, and college hockey, is the time for players to develop all their skills and get prepared for the next level. Beyond that, there aren't a lot of second chances because there's too much competition. Too many good players are waiting to step in."
Delaney feels major junior hockey is often better for prospective NHL players because of its close association with the league, as well as some other factors.
Prepared for the ride
"Counting playoffs, major junior teams play as many as 80 games a season," he notes. "College teams barely play more than 30. And they fly to a lot of their away games. Junior hockey players have to endure the grind of long bus trips.
"I just believe they're better prepared."
Delaney admitted, however, that some of that kind of stereotyping ends up costing deserving prospects a chance to advance. Some of the true blue-chippers do manage to evade that hurdle, though.
"The first example that comes to mind is Paul Kariya," Delaney says of the diminutive, highly-touted Mighty Ducks draft pick. "Here's a kid that had proven he could play at the top levels, playing for the Canadian National team that won the world championship. But many wrote him off because of his lack of size (5-11, 175). He had done everything he could to prove what his attributes were, and there were still doubters who were questioning Anaheim's decision to pick him (first)."
Scouting of hockey prospects, Delaney attests, has become big business, especially in the major junior hockey ranks, where each team employs as many as 30 scouts.
A typical college program has maybe six scouts, and that includes the three-man coaching staff.
"There seems to be a need for the type of service my company provides. Getting the young talent headed in the right direction is critical to the growth of the sport."
Team Scouting:
A whole different puck game
It was the last week of the regular season. The Calgary Flames were in Los Angeles to play the Kings at the Great Western Forum. But on this particular night, Flames assistant coach Jamie Hislop would be absent from his customary spot behind the bench. In fact, Hislop wasn't even at the game.
Why? He went to another game.
As the NHL playoff matchups began to unfold, Calgary head coach Dave King sent Hislop to neighboring Anaheim to watch the Mighty Ducks host the Vancouver Canucks. The Canucks would eventually finish the regular season seventh in the Western Conference, making them the first-round opponent of the second-seeded Flames.
Despite having faced the Canucks six times during the regular season, Calgary wanted to assure itself that Vancouver was playing the same style of hockey that earned them their third straight playoff appearance. It was Hislop's job to observe and to report.
To scout.
Although the term 'scouting' is a common one, the responsibilities of a scout sent to watch a specific player is completely different from one assigned to monitor a whole team.
Confirm what you know
"Going into a game, you have a pretty good idea of what a team does so you're just looking to confirm it," said Hislop, who positioned himself in the top row of the press box, isolated from anyone who might contribute an subjective or unsolicited opinion. "In addition to playing them, we've also watched a lot of video tape on them, so it's really just a question of confirming that they have the same general tendencies that they've had previously."
Among the facets Hislop looks for are how the Canucks kill penalties, how they try to convert power play opportunities and if they're keeping previous line combinations relatively intact.
Some less general aspects are closely watched, too.
"We look, for instance, if they're forechecking aggressively or if they're playing tired," he notes. "Do they send everyone down hard on the defensemen or do they set a forechecking wedge like Anaheim utilizes? How do they forecheck in the neutral zone? How aggressive are their forwards on the defensive end? How do their defensemen react?
"You look for these characteristics and then you can assess what strategy could best counteract their style."
Scouting an individual rarely consists of monitoring a whole team's style, but often team scouting can include individual reports on key players. In Hislop's case, scoring phenom Pavel Bure garnered a lot of attention.
"You look to see if they're utilizing new ways to get the puck to him for quality scoring chances," Hislop said. "You also want to keep an eye toward strengths and weaknesses of individual players. You're looking for something you can exploit."
The game doesn't matter
Hislop said he won't pay much attention to a team's success, or lack of success, on a given night. Instead, he focuses primarily on systems and strategies.
"If you're not careful, you can be misled by what happens in that particular game," he said. "We want to know what they're most likely to do, all things being equal."
One thing Hislop will note is the style of play of Vancouver's opponent, in this case the Mighty Ducks. He knows that the Canucks will handle situations differently against Anaheim than they would against Calgary.
"For example, (the Canucks) have been playing back in a box most of the night in their penalty-killing, not being real aggressive," Hislop notes. "Against us, we know they're a lot more likely to come out and attack our shooters. We've got guys who can one-time it effectively if not pressured, so they'd want to take that away."
Hislop took his information back to King and, along with recent videotape and experiences from previous meetings with the Canucks, the coaching staff used it to develop a game plan for the series.
Of course, the scouts don't play the game.
The Flames were ousted by the Canucks in a seven-game thriller, and Vancouver ended up playing the Rangers in the Stanley Cup Finals.
So while scouts observe everything, and establish a system to study the trends, habits and routines of the opposition, the game is still decided on the ice.
Bob Cunningham is a Southern California-based writer who contributes to several sports publications throughout the U.S. and Canada.
This first appeared in the 10/1994 issue of Hockey Player Magazine®
© Copyright 1991-2001 Hockey Player® and Hockey Player Magazine®