Power in transition
By Robby Glantz
Nov 6, 2001, 06:52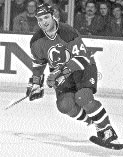 Stephane Richer. ©BBS
After having watched the Stanley Cup Finals between New Jersey and Detroit, it became even more obvious to me that transition moves may be the most vital skating element in modern hockey. You only have to watch Paul Coffey or Stephane Richer to realize how often the players (both forwards and defenseman) are required to turn from backward to forward, and vice-versa. Also, I have coached many European teams on power skating who have for years utilized the trap defense made suddenly famous by the Devils.
And because the trap system is predicated on forcing the other team into mid-ice turnovers, the system can only work if it has players that can make explosive transitions the other direction, in order to create quick outnumbered attacks. The following is an outline on how you can improve your change-of-direction maneuvers.
Forward to Backward
Key Points:
• Bend your knees deeply so that they are covering your toes.
• Keep your back straight, head up and eyes forward.
• Make sure that you turn your hips 90° from the direction that you were originally traveling, with both skates turning the same way at the same time.
• Your upper body must remain centered directly over your skates, if you lean too far in either direction, this will throw off your balance.
• The outside skate is planted firmly on an inside edge, and pushes a "half- moon shape" going up and out, and cutting deeply into the ice.
• The inside skate trails the outside one, and is on an outside edge. This is the leg that will get you going in a straight line backwards, as it pulls underneath the body extremely hard and to full extension, forming a big letter "Y".
• Continue to pull the crossunder leg to accelerate, and also to straighten out your line of travel.
Skating Imagery:
Picture the fact that when you are facing one direction, you obviously have to make a 360° turn to get all the way around and back to that original position. With that in mind, your first and only pivot should be 1/4 of that (90°). It is vital that you make your turns as direct as possible. Too many players, professionals included, first turn their skates 90° in the wrong direction and then have to swing the hips a full 180° just to get going in the correct direction. This is a totally wasted movement which will decrease the directness, balance and speed of your turns.
Backward to Forward
Key Points:
• Bend your knees deeply so that they are covering your toes.
• Keep your back straight, head up, eyes and chin forward.
• Make sure to center all of your body weight over the pushing or turning skate. This skate will turn automatically if it is planted firmly on an inside edge.
• Return the other skate (the foot you will land on) directly under the body, slightly off the ice, forming an "Arrow Tip" position.
• The pivoting foot is your pushing skate. Counterbalance against it to maintain the grip to get power and speed from the first push.
• Once you find your balance point and begin to get your momentum going in the other direction, pop up on the toes of your skates to get that quick start forward.
Skating Imagery:
Try to picture this maneuver as a 1/2-turn. This is because if you let your hips turn too far, for example 3/4 of the way around, this will really slow you down and you will not be able to make a quick start forward. Plus, you are not facing the play anymore.
Likewise, I see many players who make the mistake of jumping off of the inside edge (the pushing/turning foot) too soon, before it pulls your hips around. Making this error will cause you to lose all your momentum because you will have to put the other skate on the ice and you still are not facing in the direction that you need to go.
Work on your transition moves and you may find yourself bearing down alone on the opposition goalie!
Robby Glantz, power skating coach for the Los Angeles Kings, Swedish champions Malmö, and the German National Teams, conducts skating programs throughout North America and Europe.
This first appeared in the 10/1995 issue of Hockey Player Magazine®
© Copyright 1991-2001 Hockey Player® and Hockey Player Magazine®