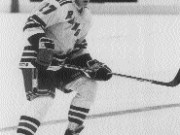 2nd Annual Book of Lists (1994)
By Stan Fischler
Nov 6, 2000, 07:26
Biggest dissapointment.
©BBS
The most exciting thing about watching — or playing — hockey is arguing about the ice sport.
NHL arguments take on an infinite variety of forms because hockey is such a contentious sport.
So, in the spirit of furthering solid disputes, we have decided to provide you with our 100% guaranteed Lists for 1993-94. If you have any objections, don't hesitate to write.
Top Six Players Play-off Teams Can't Afford to Lose
1. Mark Messier — Rangers: If Messier goes down, the Rangers' goose is cooked. Messier is the Rangers' only play-making center and undisputed leader of the team. Sure, Adam Graves and Kevin Lowe can step into the leadership role but a Messier-void in the middle can not be filled.
2. Patrick Roy — Canadiens: The Conn Smythe Trophy winner last year means more to his team then any other goaltender. The champs are only average without Patrick between the pipes. The acquisition of Ron Tugnutt strengthens the No. 2 spot considerably but if the Canadiens have to rely on Tugnutt the chances for a second straight are slim.
3. Curtis Joseph — Blues: If Roy is the most relied upon goalie then Cujo is a close second. Nobody faces more rubber then Joseph on the defense-weak Blues. Jim Hrivnak has only played in a handful of games this season and has not overly impressed. A Joseph-less Blues squad wouldn't win a game in the playoffs, no matter how much Ron Caron pays his Peter's, Nedved and Stastny.
4. Jeremy Roenick — Blackhawks: Even with Roenick, the Hawks won't go far this post-season. Without him the closest Chicago would get to the playoffs is a bar-side stool at their favorite Rush Street pub. Roenick is the Hawks only threat on offense and if he doesn't play spectacular, the Hawks don't win.
5. Pavel Bure — Canucks: Bure is to the Canucks what Teemu Selanne was to the Jets. Maybe Vancouver wouldn't fall quite as far as the the Jets did but they would be struggling for a play-off spot without him. Bure is the only gifted offensive player on the Canucks and they need his speed to take the pressure off a slow and immobile defense.
6. Dale Hawerchuk — Sabres: Ducky is playing his best hockey in years. Alex Mogilny may be wearing the captain's "C" but don't let that fool you, Hawerchuk is as much the leader as Mogilny. Without Pat LaFontaine, Hawerchuk assumed the top spot in the middle and has led the team to the top of the league.
Six Players Who Unexpectedly Will Contend for Post-Season Awards
1. John Vanbies-brouck — Pan-thers: Enough can-not be said about Florida's savior. The erstwhile Ran-ger is having the best season of his career and if the Panthers make the playoffs, he should win the Hart (MVP) Trophy. Beezer has played in more one-goal pressure games than any goalie in the league and is in the top five in GAA and save percentage.
2. Martin Brodeur — Devils: The 21-year-old Frenchman has had a stellar rookie season. Little was expected of him entering training camp but Brodeur quickly progressed and has become one of the NHL's top goalies. The Calder Trophy candidate has seemingly taken the No. 1 spot from Chris Terreri and looked good doing it, recording big wins in Montreal and Quebec this season.
3. Sergei Zubov — Rangers: The season started poorly for the second year Russian. He reported to camp overweight and almost played his way to Binghamton. Now he is the best defenseman on a team that sports former Norris Trophy-winner Brian Leetch. Zubov trails only Ray Bourque in defenseman scoring and ranks among the league leaders in assists.
4. Jason Arnott — Oilers: Nobody expected this 18-year-old to make the team much less lead it. In a draft that saw such potential superstars as Alexandre Daigle, Chris Pronger, Chris Gratton, and Paul Kariya, Arnott has made the biggest splash, improving as the season has worn on and may prove to be the steal of last year's draft He certainly should get plenty of Calder votes.
5. Dominik Hasek — Sabres: When all hope seemed lost for Buffalo — in stepped the Dominator. When Grant Fuhr went down, Hasek stepped up. He recorded four shutouts in two-and-a-half weeks, he was twice named player-of-the-week, and once player-of-the-month. His GAA has been at or below 2.00 all season and he single -handedly saved the Sabres sinking ship. Hasek is also among the league leaders in wins and save percentage and should be a finalist for the Vezina.
6. Sergei Fedorov — Red Wings: At the beginning of the 1993-94 season if somebody told you that a Red Wings' center would be second in the league in scoring how fast would you have said Steve Yzerman? Fedorov has proved he is one of the best two-way players in the NHL. We knew he could check and now we know he can score, maybe all the way to an Art Ross Trophy.
Five Biggest Disappointments
1. Alexei Kovalev — Rangers: The nifty Russian winger was supposed to become a star this year. After netting 20 goals last season, 40 was not out of the question for this campaign. Kovalev started slow and has regressed to a point where he was the subject of trade rumors. To reach 20 this year Kovalev must get hot.
2. Mike Ricci — Nordiques: The Nordiques have been desperate for leadership and Ricci was supposed to be the leader. Last season Mike played a tough game and netted 78 points to boot, but '93-94 has been anything but productive for the Scarborough, Ontario native. His unhappiness in Quebec affected his play both physically and on the score sheet.
3. Markus Naslund — Penguins: The former No. 1 pick was given a fat salary and a spot on the No. 2 line but failed to produce even adequate. He scored two goals before being demoted to Cleveland. He hasn't put up the kind of numbers Craig Patrick would like to see so he still toils in the minors.
4. Kevin Hatcher — Capitals: Last season he led all defensemen with 34 goals. This season he has struggled offensively amid trade rumors, which have followed him for years. When Alain Cote began playing the best hockey of his career Hatcher became expendable
5. Ron Hextall — Islanders: When Don Maloney acquired Hexy last Spring experts thought it was a brilliant move. Actually Hextall has played inadequately — with the exception of one strong mid-season stretch — and was benched in favor of rookie Jamie McLennan for big March contests.
Top Five Power Forwards
1. Cam Neely — Bruins: Neely is having the best season of his career just when it was questionable whether he would even be able to play. He is a tree in front of the net and nobody takes more abuse in that spot. Neely is impossible to knock off the puck when it's on his stick and has a soft touch around the crease.
2. Brendan Shanahan — Blues: Last year was a breakthrough season for Brendan and he has done little to disappoint this year. He doesn't fight as much as past years but don't dare ruffle his feathers. Shanahan is on pace for a 50 goal, 50 assist, 200 penalty minute season.
3. Adam Graves — Rangers: Graves has emerged from his role as Mark Messier's bodyguard to the complete hockey player. He's one of the best NHL hitters and plays in all situations (power play and penalty killing). When he breaks the Ranger record of 50 goals by Vic Hadfield, expect the roar from the Garden faithful to raise the roof.
4. Kevin Stevens — Penguins: Coming off the terrifying facial injury in Game Seven of the 1993 Patrick Division Finals Stevens resumed his intimidating style. He's back to where he was in seasons past and should come close to the 50-goal mark for the third straight time in his career.
5. Keith Tkachuk — Jets: The 21-year-old Winnipeg captain has quickly become one of the NHL's most feared hitters. Hitting was never in doubt with Tkachuk. What came as a surprise to NHL observers was his ability to put points on the board. In only his second full season with the Jets, Keith will finish with 40 goals, 40 assists, and close to 200 penalty minutes.
Five Players Teams Miss Most
1. Owen Nolan — Nordiques: All season the Nords have been lacking toughness and leadership. Those are elements that the brawny, fiery Nolan could provide them. His 40 something goals wouldn't have hurt either.
2. Teemu Selanne — Jets: Winnipeg was a play-off team and a borderline Cup contender with him. Without him they are not much better than the Ottawa Senators.
3. Brian Mullen — Islanders: Early in the season the Isles lacked unity and heart. While Mullen lacks superior skills he is a team player in every sense of the word and would have kept the Isles together.
4. Petr Nedved — Canucks: His demands may have been outrageous off the ice but there is no denying his skill on it The Canucks have lacked a play-making center all season and Nedved would have fit the bill to a tee.
5. Marty McSorley — Kings: Could Marty McSorley been the reason the Kings went from finalists to flops? He was one of the more popular Kings and The Great One's Guardian. He never reached the Penguins' lofty expectations and may have been reclaimed by Bruce McNall after too much damage had been done.
Five Best Coaching Jobs
1. Roger Neilson — Panthers: Captain Video has made hockey fashionable in South Florida. His defense-first style might not be exciting to watch but you can't argue with success. If the Panthers make the playoffs, he is a lock for Coach-of-the-Year.
2. Kevin Constantine — Sharks: The fiery coach of the Sharks took over a team that tied Ottawa for worst in the league with 24 points. This season the Sharks stand to make the greatest point improvement of any team this year. Constantine has his Sharks playing disciplined, smart hockey and headed towards their first play-off berth in franchise history. If the coach of the year isn't Neilson, it has to be Constantine.
3. Ron Wilson — Ducks: Fans laughed when they heard the name "Mighty Ducks", but they laugh no longer. The Ducks have gone into New York, Montreal, and Toronto and won. Wilson has a good hockey mind and is one of the brightest young coaches to come into the league in a long time. The Ducks have less talent than any of the other expansion teams but no coach has gotten more out of his players than Wilson.
4. Jacques Lemaire — Devils: Lemaire has guaranteed the Devils their best regular season in franchise history and should lead them to a 100 point season. He has done so without a bona fide superstar and a team first attitude. Players respect Lemaire who is teaching them what it takes to become winners.
5. John Muckler — Sabres: First Pat LaFontaine went down, then Grant Fuhr. Everyone expected the Sabres to go down as well. Early in the season Buffalo was in last place going nowhere fast. Muckler sold the Sabres on the team-first concept and they bought it. With a little help from Dominic Hasek and Dale Hawerchuk, Muckler has the Sabres challenging for first place in the Northeast division when they should be challenging Hartford for the cellar. (Ottawa doesn't count)
Franchise Players at Each Position
1. C — Eric Lindros — Flyers: A no-brainer. Eric has it all: size, speed, and skill. His critics tend to forget this hulking superstar is only 21-years-old and when he matures he will be a combination of Mario Lemieux and Cam Neely.
2. G — Felix Potvin — Maple Leafs: Every great team needs a top notch goalie. and Felix the Cat is the best young netminder in the game. At 22, Potvin is ready to take the torch from Patrick Roy and become the next French super goalie.
3. D — Brian Leetch — Rangers: The 26 year-old Leetch has still not yet reached his prime and already has a 100-point season and a Norris Trophy under his belt. Leetch has improved his defensive play this season under Mike Keenan and still is the most skilled offensive defenseman in the league.
4. RW — Jaromir Jagr — Penguins: The Czech sensation was drafted fifth overall in 1990. If it was done over again there is no doubt JJ would be first. When Jagr gets the puck, fans sit on the edge of their seats and goalies shake in their skates. Jagr came into his own when Mario went down in the '91-92 Playoffs and is on pace for his first 100-point season.
5. D — Chris Pronger — Whalers: More then one NHL general manager was overheard at last summer's draft saying that Pronger was either better than Alexandre Daigle, or, the best defenseman drafted in the last 10 years. The next Larry Robinson is only 18 and will lead the Whalers into the next century.
6. LW — Adam Graves — Rangers: The captain of the team. Graves is a 30-goal scorer who will get 50 on hard work The oldest forward on the list at 26, Graves would be the leader of this team on the ice, but more importantly in the dressing room.
Stan Fischler writes regularly for several major sporting publications.
This first appeared in the 05/1994 issue of Hockey Player Magazine®
© Copyright 1991-2001 Hockey Player® and Hockey Player Magazine®