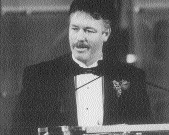 You've got a friend: The goalie coach
By Sam Laskaris
Nov 6, 2001, 19:36
Hall-of-Famer Smith. © BBS
Not too long ago, all National Hockey League clubs had one coach, who obviously called all the shots. As the game became more technical, however, squads began hiring assistant coaches, some with specific duties, such as working with forwards or defensemen.
Netminders though, for the most part, continued to be ignored. Sure, they received some words of encouragement from their coaching staff. But it must have been difficult to pay attention to such advice, considering it was in all likelihood coming from someone who had never donned the pads and faced bullet-like slap shots between the pipes.
These days, however, many NHL teams help keep their goalies razor-sharp by offering them support and coaching from some very knowledgeable sources — former goalies. The list of former stoppers currently tutoring NHL goaltenders includes Rick Wamsley (Toronto Maple Leafs), Greg Millen (Dallas Stars), Mitch Korn (Buffalo Sabres) and Billy Smith (Florida Panthers).
Wamsley
Wamsley is one of the few NHL goalie coaches employed full-time. He joined the Toronto coaching staff in January 1993, bringing plenty of experience with him. His 12-year NHL playing career included stints with Montreal, St. Louis, Calgary and Toronto.
During his own playing days, Wamsley received some netminding advice from three eventual Hall of Famers: Ken Dryden, Jacques Plante and Glenn Hall. All three worked with Wamsley on a part-time basis.
"Back then, many didn't think of it as a full-time position," Wamsley says. "We were always considered a rare breed. And nobody could understand what we were all about. The position is still as demanding. But now more of the progressive organizations are finding the benefits of having a goalie coach."
Though he has a full-time position, Wamsley doesn't spend all of his time in Toronto. He also works with the franchise's goalies in the minor leagues and junior ranks. Wamsley's also involved in scouting, traveling across North America to inspect draft-eligible puckstoppers.
Wamsley couldn't be happier with all his responsibilities. And he's thrilled to work closely with Leafs' president and general manager Cliff Fletcher, one of the most respected executives in the NHL.
"I've always wanted to stay in the game," Wamsley says. "When I was traded to Toronto (in January 1992), Cliff offered it to me right away. He said if I wanted a position like this when I was done playing, it was there for me."
Wamsley adds he's eager to move up hockey's administrative ladder. "I'm being a sponge and taking it all in now," he says. "I have three elements working for me — having been a player, developing players through the coaching and the scouting work. Where it will all lead to, though, I don't know."
Millen
Like Wamsley, Millen also enjoyed a lengthy playing career in the NHL — 14 seasons, including stops in Pittsburgh, Hartford, St. Louis, Quebec, Chicago and Detroit.
Millen joined the Stars as a goalie consultant for the 1992-93 season, when the franchise was based in Minnesota and called the North Stars. Unlike Wamsley, though, he doesn't do any scouting and is employed as a part-timer.
"Guys don't want to have you around every day," Millen says. "You're not as effective that way. It's much more effective to pop in and have a rap session once in a while. I don't think it has to be much more than that."
Millen, who also works 30 games a year as a television color commentator for the Ottawa Senators, monitors the play of the Stars' netminders via a satellite dish. Then he'll travel to Dallas every couple of weeks, hoping to provide a few pointers which might end up making a bit of a difference.
Millen says his trips to Dallas and Kalamazoo, where the Stars' International Hockey League affiliate is based, provide goalies with a change of pace.
"When I broke in, you always did the same thing in practice," Millen says. "You worked on three-on-twos and two-on-ones. And you didn't do any fitness."
Individual drills and/or chats might correct a few minor points, but major overhauls or adjustments are rare. "All the athletes in the NHL are like in the top of their class," says Millen. "And with goaltenders, there's little to be done. As far as going in and changing somebody's style, that's not going to happen."
Korn
Though he's also a former goaltender, Korn never played in the NHL. He reached the pinnacle of his playing career Ohio's Kent State University in the late 1970s.
After taking up coaching at Kent State in 1979, Korn spent the past 13 years as a coach/administrator at the University of Miami (Ohio).
Korn's lack of pro experience was a sticking point at first. Korn recalls that a couple of Buffalo players initially questioned his abilities after joining the Sabres organization three seasons ago. When forward Rick Vaive asked him about his background, Korn replied he had spent 15 years playing and working at the collegiate level.
"It took you 15 years to get out of university?" marveled Buffalo goalie Clint Malarchuk, who is known for his sarcastic sense of humor. "Then you must not be that good."
Korn, though, insists he has earned his paycheck since joining the Sabres.
"I don't ever want to overshadow the players," says Korn, who also writes the In Goal column for Hockey Player. "But you like to feel, one way or another, you've contributed. And I feel I have. If I wasn't making a contribution, I wouldn't be here."
Korn adds that goalie coaches are more effective if they come across more as a friend than a coach.
"You can't be a hammer and you can't be a bad guy," he says. "You want to be overly positive. You have to want them talking to you."
More importantly though, one wants to see their protégés experience success on the ice. "Winning is still the bottom line," Korn says. "I'd rather have our goalie give up four goals and win than give up only one goal and lose."
Smith
"Battling" Billy Smith, who was inducted into the Hockey Hall of Fame last year, racked up his share of victories during an 18-season NHL career that ended in 1989. In 680 regular-season appearances, he chalked up a record of 305-233-105 and boasted of a goals-against average of 3.17.
He was even more impressive during the playoffs, picking up 88 wins in 132 games, while registering a sparkling 2.73 GAA. Smith retired having earned four consecutive Stanley Cup rings with the New York Islanders, the last one coming in 1983.
When he hung up his pads, catching glove and blocker, Smith remained with the Islanders as their goalie coach. He held this post for four years before joining the expansion Panthers in the same capacity for their inaugural season.
Smith isn't taking any bows over the splendid play of the Panthers No. 1 goalkeeper John Vanbiesbrouck,even though Beezer received his share of consideration for the Hart Trophy, awarded to the NHL player deemed most valuable to his team.
"I'd love to take credit for it," Smith says, "but with Johnny I haven't done much work with him. I've just more or less talked to him. If things are going so well, you want to leave it at that."
Smith also spends some time working with the goalies for the Cincinnati Cyclones, Florida's IHL affiliate. And like Wamsley, he too earns plenty of frequent flier miles, checking in on junior players the Panthers have drafted or are considering drafting.
Smith believes this is the area in which he is probably most useful. "The league has gone to such young goalies," says Smith, who was the first netminder to score an NHL goal (Nov. 28, 1979 against the Colorado Rockies). "The way the draft is going, you have to make quick decisions on players."
And the way the science of coaching is evolving, you can bet that more and more teams in the NHL, as well as at other levels, will soon realize the value of having a goalie coach on staff.
Sam Laskaris is a Toronto-based freelance sportswriter.
This first appeared in the 08/1995 issue of Hockey Player Magazine®
© Copyright 1991-2001 Hockey Player® and Hockey Player Magazine®