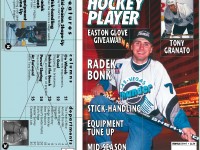 It is said that a team "plays as it practices," and Shawn Walsh believes a coach must be thoroughly prepared for practice if he expects his players to be properly prepared for games.
"The key is to prepare when you've got quality time," says the University of Maine coach, who recorded 200 NCAA Division 1 hockey victories faster than any bench boss in history. "I've found I can't even prepare my practices in the office anymore because there are just too many distractions. Just to give you an idea, and we were only too glad to sign every one of them, our team (once) had 17 requests in one week alone from different charities in the area (asking) for autographed sticks. So I try to stay at home for at least a half hour—sometimes an hour—and just sit there and plan my practices."
The inspiration for good practice ideas should come from your most recent game action.
Make notes, improve thinking
"The key to developing a good practice is to watch situations that are happening on the ice and, when you see them happen, make a mental note or physically write them down," says Walsh. "Then, when it's time to plan your next practice you know what you have to do to put your players in those same situation."
It's important to place young players, especially elite players, into thinking situations.
"I think we're all doing a pretty good job in North America of trying to improve our physical skills," Walsh notes. "There are plenty of handouts available on what drills can improve agility, what drills can improve shooting and what drills can improve stick-handling. But what drills are there to improve thinking?"
Can't you tell he's a college coach?
Walsh says coaches (and players) should look at NHL games and watch how an Yzerman, or a Lemieux, or a Gretzky thinks. Study the really intelligent players and try to glean something from them that will help your players think a little quicker, anticipate things a little faster and, in the big picture, understand the game better.
From a team perspective, practice must be as challenging for the best players on a team as it is for the least-skilled.
"Kids love competition," says Walsh. "The only thing you've got to watch with competition is that it has to be structured so that the worst players aren't always losing. You know who is constantly getting beaten on your team, who's not scoring goals and who's playing the third line. So set up a drill that almost guarantees that those kids are going to have success."
For example, take your two best forwards and match them against the other seven. Let the bottom seven guys feel good about themselves.
Draft, play games
Walsh also likes to see situational zone play made into a "game within a game" at practice.
"Face off scrimmages are always fun," says the coach who knows a strenuous workout has been successful when he sees smiles on his players' faces when it's over. "You take ten guys in an offensive zone face off and the squad that's on defense gets one point for carrying the puck, not shooting the puck, out over the blue line. The offensive team gets two points if it gets a shot on net and five points for a goal. At the end of the drill, or end of practice, see how many points the groups have accumulated.
"Many youth hockey teams consist of three units of five players," Walsh adds, "so maybe you could have a draft before practice. But set it up so that some of those lesser players will be rewarded, and watch how hard they will work when they have an incentive in mind."
Walsh uses a similar system at Maine, and the incentive there is that the losing five some has to clean up the locker room after practice. Walsh adds his players love the challenge, and if he can get his Hobey Baker Award candidates picking up used tape and soda cans, youth hockey coaches should be able to get their star players doing it, too.
Walsh says he constantly has to remind himself that hockey is a game of mistakes—although there's a consensus among opposition teams that Maine makes fewer than most. He's been a head coach for 10 seasons, but is just beginning to learn about the ratio of positive-feedback-to-constructive-criticism when dealing with players.
"All of us that coach, whether you're a volunteer or (someone) coaching an
NHL club, want to see your guys do well, and the natural tendency is to point out the things they don't do well. We pat them on the back, but I wonder if we do it enough. We've got to make sure we try to improve that end of it by just staying positive. Don't jump on your guys too much, and just let them play through it. It helps."
---
This first appeared in the February/1995 issue of Hockey Player Magazine®
© Copyright 1991-2010, Hockey Player® LLC and Hockey Player Magazine®
Posted: Feb 13, 2008, 18:31