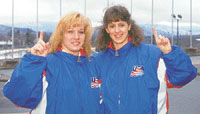 By Bettina Young Prochnow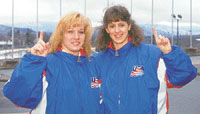 Erin Whitten and Cammi Granato at the 1994 Women's World Championships. ©BBS
There's a 20-year-old photograph in Valerie Tuomie Sanberg's home that captures her and her teammates the year they were the Minnesota Pee Wee State Champions. In it, all of the girls except one wore figure skates. "The one in hockey skates," recalls Valerie, "must have had more brothers than the rest of us!"
But oh, what a difference a few years can make. Kelly Dyer, a three-time goalie for Team USA Women's Hockey in the International Ice Hockey Federation (IIHF) World Championships, says, "When I started, there were no Worlds, no scholarships. It was something I did for pure fun!"
She too started out with a pair of figure skates. But they quickly got traded for goalie skates when the older kids in her Boston neighborhood "threw me in the net—and I liked having pucks thrown at me ever since." At age 28, Dyer is one of only three women in the world who has broken the professional barrier in ice hockey, and now plays for the West Palm Beach Blaze. The other two trailblazers are Manon Rheaume, who plays for the Las Vegas Thunder, and Erin Whitten, who is with the Utica Blizzard—all teams that are three notches down from the NHL.
No limitations now
"Now that the top threshold has just opened up, and with women's ice hockey being a full-medal sport in the 1998 Olympics, this is a huge factor for girls," continues Dyer. "Women have sights in mind. There are no limitations for them in hockey, and (there's) more opportunity out there at the grassroots level."
The number of girls playing the sport has been going off the charts. "We had 150 teams in the United States before the 1990 World Championships," says USA Hockey President Walter L. Bush, Jr. "It grew to 220 in one year. That's 70 teams. That's incredible growth."
And it did not stop there. With history-making Manon Rheaume in goal for the NHL's Tampa Bay Lightening in 1992, the number of teams swelled to 352 by 1993. That's a growth of 57%!
There are approximately 13,000 females currently playing hockey this season in the US—up 1000 players from last year. The largest number are participating in the 13-to-22-year-old age group. Compare this to the 1980's, when only there were only 3,000 participants. That's when Lisa Brown, 25-year-old head coach for Princeton Women's Hockey, and a center on the US National Women's Team, started playing.
"I played hockey starting at age six, and back then I was the only girl in the youth program." She played with the boys until she was 13-years-old, when she went to a girl's program in Royal Oak, MI. From the coaching perspective, "girls have an edge if they play with boys through the peewee age," says Lisa. "You have to prove you're good enough to be there, and that produces a player who is tougher mentally and physically."
Which is good news for girls, since all-girl teams are still the exception rather than the rule around the nation. This is due in part to several factors; the lack of numbers, the lack of ice and, sometimes, an old-fashioned attitude. Bob Stockman of Princeton, NJ, found this out two years ago. That's when he formed the Princeton Tiger Lilies, a team for 10-to-14-year-old girls, in order to offer them a forum to continue playing hockey.
"I went to rinks that rented thousands of hours of ice to boys' teams," he says, "but wouldn't give us any because they would tell me, 'hockey is a boys' game'."
Stockman, a youth hockey coach, former college player and the father of four daughters ranging in age from 3 to 12 years, quietly continued on until he found the ice he needed. The team finished their second season with an impressive 18-2-2 record playing against East Coast girls' Prep schools, private day schools, and local club in-house girls' teams.
Girls in the Garden
The highlight of the Tiger Lilies season, however, was the history-making match up against the Greenwich (CT) Wings in front of 18,000 people at Madison Square Garden on January 31, 1994. This was the first ever all-girls hockey game in the history of the Garden. They played an exhibition game prior to the scheduled NHL Rangers-Penguins game, and held a 3-minute scrimmage during the break between first and second periods before the sell-out crowd.
"There are two elements to this story," says Stockman. "One is that the attention the game is getting is a great boost for women's hockey. I'm hoping that the places that rent ice will be more open-minded and rent ice to more girls' teams, because there is no reason why they shouldn't."
"The second thing is that, with a little effort and a little luck, any kid can fulfill a dream of playing in a place like Madison Square Garden!" Regardless of sex.
It comes as no surprise that a match-up between two girls teams occurred in this nation's northeast corner. Private college prep schools for girls have long offered hockey as varsity sport to their students. Many also have their own rinks, thus easing the ice crunch. Throughout the country, New England boasts the largest number of registered girls' teams.
Right behind them, however, is Minnesota, with its rich heritage of winter sports and scores of successful high school, junior, college, pro and international players to its credit. Women's hockey there goes back to 1925, when the University of Minnesota first fielded a women's team. Fast forward to the 1970s, when girls' teams in the peewee and Bantam ages were formed, state championships were held, and a Senior women's team got its start.
A woman on the board
The explosive growth in the 1980s led to more divisions in the Senior league and the formation of the Minnesota Women's Hockey Association (MWHA) in 1986. By 1987, over 150 girls' and women's teams were registered with USA Hockey. With those numbers, a new position—Section Director, Girls/ Women—was added to USA Hockey, and MWHA's president, Lynn Olson, was tapped to become the first woman on the board in the organization's 52 years. Olson was re-elected to that position in 1992.
In the 1990s, Minnesota is making history once again with the Minnesota State High School League's official sanctioning of girls' ice hockey as a varsity sport for the 94/95 season.
"No other state has done this," according to John Bartz, the league's associate director, "and while initially 24 schools in the Minneapolis/St. Paul area are involved, we're looking at probably doubling in the next two years."
If this high school program progresses similarly to those programs on the East Coast—where prep schools feed into the college level—then the stage is set for more Minnesota colleges and universities to declare it a Division I varsity sport.
"If 40 institutions sponsor women's hockey as a varsity sport for two years," says Donna Noonan, Director of Championships for the NCAA, "then legislation can be drafted to establish a NCAA championship."
The push for NCAA ranking—with its national ranking, funding, and acceptance—has a way to go. Out of the 40 institutions that have women's hockey, only 15 currently offer Division I. Those include the schools in the Eastern College Athletic Conference—Bowdoin College, Colby College, Middlebury College, University of New Hampshire, Northeastern University, Providence College, Rochester Institute of Technology, St. Lawrence University, and Wesleyan University—and six Ivy League schools—Brown, Cornell, Dartmouth, Harvard, Princeton, and Yale. This support of women's hockey dates back to 1984 when the ECAC first started hosting championships. Prior to that, the six Ivy League schools were competing annually for league championships since 1976.
Having competitive hockey for girls from the youth level on through high school and college is now more important than ever, since women's ice hockey is headed to the Olympics in 1998.
Playing "their own game"
"Half of the women on the National Team came out of girls' programs—they didn't play with boys," says Karen Kay, head coach of the 1994 United States Women's National Team and head coach of women's hockey at the University of New Hampshire. "It produces good players."
"Our objective is not to develop a professional athlete in a man's game," she continues. "Women want to play their own game, their own way."
The fluid style of play found in women's ice hockey emphasizes the skill elements of the sport.
"Our non-checking status creates much more of a finesse game," Lynn Olson explains. "There's an emphasis on good passing, skating, and shooting in women's ice hockey."
"Girls are like sponges," says Princeton's Brown. "As a coach, I see that they are more attentive, eager to learn, and want to know how to get better."
"As a player," she adds, "I enjoy the camaraderie of playing with the same sex."
There's one aspect of the game that doesn't change at all however, and that's its competitiveness.
Keeping players competitive at the highest level, and giving them an opportunity to train in a competitive environment after college, is a big concern. Kay is a member of the newly formed USA Hockey Olympic task-force charged with looking into possible solutions. One of these could be the formation of a 14-team women's league for national caliber players. Until this or another solution is in place, some players have opted to attend women's competitive programs in Switzerland and Canada, or that other old stand-by, playing with men.
"You can't equal them," says Brown, "But you have to work harder just to keep up with them."
"I like playing with men," fellow teammate Kelly Dyer adds, "because it keeps me sharp for when I get together with the women's team."
Opportunity & role models
For younger players, USA Hockey sponsors annual development camps for females 15-17 years of age and 18-21 years of age. Eighty participants are chosen through a state and regional try-out process, all in the hopes of identifying possible national team members. That team will need to be ready for the 1997 World Championships, and will also be direct qualifiers for the Olympic team. Look for the first round of try-outs in March and April of 1995.
The exposure that the Olympics will draw to women's hockey will only spur on the development of quality training programs at all levels. Not to mention the role models it will provide for future female athletes.
"Besides having a real opportunity in the sport," says Kay. "Girls of today have women like Cammi Granato, (Team USA captain) Cindy Curley, and Manon Rheaume to look up to. In my day, we had to look up to Bobby Orr."
That hockey offers so much to so many at all skill levels is also shown in the growth of the "over the hill gang." Senior women's teams are being registered in numbers never seen before. California doubled its numbers, going from four to nine over the past season alone. There's a 68-year-old grandmother playing in Minnesota, and a 55-year-old one playing in Oregon. The age and number of older players will only increase as the base of young players progresses through the years.
Whether one plays recreationally or competitively, the future of women's hockey is crystal clear. Women have developed a passion for the game, and their numbers are only going to increase. Now the infra-structure has to keep up—more ice, more programs, and more collegiate scholarships are needed.
There's not a female hockey player in the world who would disagree with Kelly Dyer when she says, "Ice hockey is the greatest game in the world, and girls just want to have fun too!
SIDEBAR
100 YEARS OF WOMEN'S HOCKEY
©BBS
With women's ice hockey set to be introduced as a medal sport at the 1998 Olympics, we thought we'd reflect back on the history of the game, and peer into its near future. The following timeline highlights some of the key moments in the development and evolution of women's hockey.
1892 The first recorded all-female hockey game is played in Barrie, Ontario.
1910s Local & provincial women's championships held in Canada.
1916 International women's tournament in Cleveland, Ohio, features Canadian & American teams.
1920s College teams forming in both US & Canada.
1930s/40s Depression & World War II slow growth of women's game.
1967 Inaugural Dominion Ladies Hockey Tournament held in Brampton, Ontario. The Dominion is now one of the world's largest women's tourneys, fielding over 150 North American teams.
1970s Teams forming in Sweden, Finland, Japan, China, Korea, Norway, Germany, and Switzerland. Canadian provincial & college organizations starting; US college varsity & club teams form in Midwest & East. Special chest pad and pelvic protector gear designed for women.
1980s National tournaments held in US & Canada.
1987 First World Invitational Tournament in Ontario, Canada. Groups lobby the IIHF for creation of a Women's World Championship.
1989 IIHF president attended European Women's Championship, and plans drawn for future IIHF Women's World Championship.
1990 First bi-annual IIHF Women's World Championship held in Ottawa, Canada: hosts win Gold, Team USA takes Silver.
1991 European Women's Championships continue during IIHF hiatus.
1992 Second IIHF Championships held in Tampere, Finland. Canada takes Gold again, USA wins Silver.
1993 US Olympic Festival in San Antonio, Texas. Team USA wins Gold medal, Canada wins silver.
1994 Third IIHF Championships held in Lake Placid, NY. Canada wins third Gold medal, USA takes third Silver.
1995 Inaugural Pacific Rim Tournament, featuring USA, Canada, China & Japan to be held in Spring in San Jose, CA.
1997 Fourth IIHF Women's World Championships scheduled.
1998 Women's Ice Hockey debuts as medal sport at Olympic Games in Nagano, Japan.
This first appeared in the 01/1995 issue of Hockey Player Magazine®
© Copyright 1991-2011 Hockey Player® and Hockey Player Magazine®