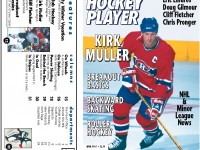 By Wayne Anderson
Oct 29, 2001, 19:44
The beginning roller hockey player often falls prey to some basic mistakes that not only hamper him or her in excelling at the game but, more important, in their enjoyment of the game. While I said "beginner," all players can benefit by reading through this column and seeing what they can do to improve, and enjoy the game, a little more.
Skates that fit
One of the most common problems is the improperly fitted or tied skate. And don't think because you have buckles that you can't fit into this category. A common mistake made by parents is to buy their kids skates that are several sizes too big, so that their children "grow into" them. This will hamper their skating ability and could cause physical damage to their feet. The general rule of thumb in buying skates is that they should be about one half size smaller than the actual shoe size, and once the foot is in the boot, there should be enough room to fit an index finger behind the heel. Once the boot is laced snugly, you should not be able to lift your heel, and your toes should not be touching the front of the skate.
Improperly tied skates are another of the most common problems I see. Most of the time players are so enthusiastic, and want to get onto the surface so quickly, that they do a hurry-up job in tying their skates. Sometimes, however, the player just lacks the physical strength to do an adequate job. The buckle-type closures have solved the latter problem, but they create their own. Buckle closures often pop and open up; often because they are not properly closed, other times because the puck/ball or a stick hits it.
Take your time and make sure your skates are secured properly before trying to go end to end.
Stick length
The next most common mistake made is in the proper length of your stick. Most younger players use a stick that is just too big for them to effectively stickhandle with. When a player is on their wheels, the butt end of the standing stick should come between their nose and chin. If you have a stick that is too long, draw a line even with your mouth and simply cut the stick. If you are an ice hockey player playing roller hockey also, you need to remeasure your stick on the wheels. You will most likely find that your ice hockey stick is a little too short. Also, if you go to a new frame, or change from a set of 72 mm to a 76 mm wheels, you need to remeasure.
Bend, bend, bend
There are three joints that need to be "bent" or flexed when skating, and two of them are usually ignored by beginning skaters. Most people have no problem bending at the waist. It's the knees and ankles that we have to be forced to bend in the beginning. Ideally, a 90° knee bend and a 60° ankle bend should be achieved. Realistically, a 60° and 30° angle can be achieved at the start.
One ritual that creates problems with the ankle bend is wrapping our skates and ankles too tightly. Many a time I've seen young players take an entire roll of tape and wrap their ankles over and over again. This is the worst thing a player can do! It not only cuts off your circulation, but does not allow you to bend.
Keep your head down. You might be missing out on all the fun because you are looking for it in the wrong places. We all need to keep our heads up more—even the seasoned professional. With a fast and unpredictable game like hockey, we must be able to see and react quickly. If we constantly skate with our head down, we see nothing but our own skates and the dust on the floor—and that won't make you a leading scorer in any league. More importantly, if we are carrying the puck/ball, we need to know who's open, what lane is open to skate to, where the defensive coverage is weak, etc. So to get into the play, keep the old noggin up.
Stick position
Do you want to score more goals, get more passes during a game, make better defensive plays? If the answer is yes, make sure the blade of your stick is on the surface and in position to accept the puck/ball. That's right, that's all it will take. Put your stick down on the surface and you will be a better player.
The other big problem with the stick is the hand position. This is not golf, so we need to separate our hands on the shaft of the stick. The easiest way to figure out where to put your hands is to take your top hand and keep it near the butt end of the stick. Then take the elbow of your other hand and place it directly on top of the thumb of the hand that is nearest the butt end. Next, allow the forearm of your bottom hand (the one with the elbow resting on top of your thumb) to rest lightly on the shaft of the stick. Grasp the stick with this hand where your palm meets the shaft. That hand now becomes the bottom hand in your grip.
Money problems
The major factor in many of these situations—especially the improper fitting or sizing of equipment—is the cost factor. In the long run, however, you may end up spending more by buying the wrong new equipment than if you bought good second-hand equipment. For example, an improperly fitted skate can wear out twice as fast as a properly fitted one.
The most practical answer may be purchasing gear in either a second-hand store (like Play It Again Sports), or the used equipment section of your local sporting goods store. You might inquire with your organization about an equipment swap. There are a lot of people out there in the same boat as you, and if we all do the rowing we might get where we want to go and spend a little less money along the way.
Hope your swap meet is a success, and keep on rolling!
Wayne Anderson is Managing Director of Huron Hockey's roller hockey schools based in Matawan NJ.
This first appeared in the 05/1995 issue of Hockey Player Magazine®
© Copyright 1991-2011 Hockey Player® and Hockey Player Magazine®