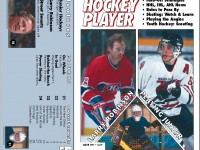 By Bettina Young Prochnow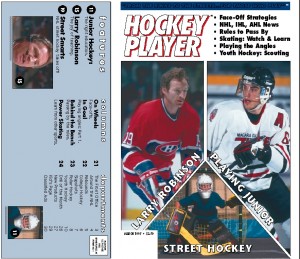 Their home away from home is an airport. They watch over 300 hockey games on the ice, and scores more on videotape. They take an up-close and personal look at 250 players a year. Are they the world's best hockey fans? You could say that, since a professional scout lives, breathes, walks and talks hockey.
"For us, hockey is a way of life," says Chuck Grillo, vice president and director of player personnel for the San Jose Sharks. "It's an avocation, not just an occupation."
Chuck has been on the road for the past 15 years, traveling to all the countries of the world where hockey is played. During the off-season, he helps his wife run a hockey training camp.
Scouts not only know the game, they also know the players—both their assets and their liabilities—and how each fits in the organization of the individual clubs they scout for.
"We draft real people, not real players," says Grillo, "because real people are going to get better."
Pyramid power
All of this is found in the scout's Holy Grail, what Grillo calls a "CP": a Complete Player. To find this kind of player he has devised a template to follow, something he envisions as the "Pyramid of Success." Imagine a triangle divided into four horizontal layers. Each layer builds upon the one below it and when you stack them one on top of the other, it all adds up to a CP.
At the base of the pyramid is a player's personal make-up. This includes the kind of person he is, his emotional stability and mental toughness, his physical fitness, and how he gets along with both his peer group and adults. A scout will dig to find this information, by talking to the player's coaches and trainers, and even his opposition.
The next building blocks on the pyramid consist of "bottom-line" qualities of a player. Grillo looks at how the player protects the net, how he gives up his body, whether he is strictly a perimeter player, and whether he wins or loses battles for the puck—either against the boards or during face-offs.
"You have to come to play, whether it's a practice or a game," says Grillo. "And you also have to be a 'grit' player, someone who is hard to play against." Part of being that kind of player is the ability to play above your size, and he cites players like Jeff Odgers and Rick Tocchet as on-ice examples of that quality.
The next to last level consists of the technical and tactical aspects of a player's game. How is their team play with or without the puck? Are they unselfish?
At the apex of the pyramid is a player's focus level. A player needs to be able to critique himself and, seeing his flaws, be willing to improve. "This is where we look for players with goals and dreams," says Grillo, "The ability to overachieve in your asset category will give you the means to succeed."
Just because a player might need improvement in one or more areas is no reason to pass on him if all the other elements are right.
"After all," says Grillo, "you draft a player for what you do like about him."
Testing son, two, three…
Part of the testing process of his "Pyramid of Suc-cess" has come from watching Dean, the youngest of his six children. "He has been the guinea pig as I have gone along," Grillo says.
Now a 22-year-old player with the IHL Kansas City Blades, a San Jose affiliate, Dean was once cut from his travel team as a bantam. Not happy with the in-house team he was on, and wanting to grow as a hockey player, he looked for another avenue.
"We talked about whether he was willing to pay the price to get better, the degree of his love of the game and if he enjoyed working hard," recalls pop Grillo.
The upshot was that Dean moved 600 miles away from home to be billeted in Warroad, MN. There he learned to hunt, fish, and play better hockey. He would see his father only in the summer, when he attended the family training camp. But he later went the University of North Dakota on a scholarship, and is now living proof that a hockey player who was never invited to attend a USA Hockey National Camp, or even made the Maroon & Gold (top 40 high school players) in his home state of Minnesota, can wind up on a pro roster.
Dean, needless to say, scores high in the goals and dreams category.
Top 5 List
Here are Chuck Grillo's 5 keys to success.
1. Keep your aspirations high and dare to dream.
2. Train more and more as you get older, especially after age 13 when physical development starts. Do pliametrics—bounding, wind sprints, and other anaerobic exercises. Follow a safe weight-lifting program.
3. Go to a hockey camp where you can spend more than just a week. "The day is gone when you took the summer off; use it to get bigger, quicker, stronger and to learn the game."
4. Learn to enjoy hard work. "The harder you work, the better you feel, (and) the more success you'll have. Basically, you have to out-work everybody else."
5. Find a template to follow. Set a standard for yourself, and then raise it.
Bettina Young Prochnow is a hockey player with the NCWHL and has two sons in hockey. She is a columnist for a newspaper in Livermore, CA.
This first appeared in the 03/1995 issue of Hockey Player Magazine®
© Copyright 1991-2011 Hockey Player® and Hockey Player Magazine®