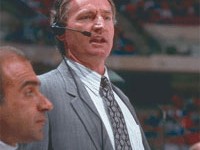 By Stan Fischler
©BBS
Ranked among the greatest NHL defenseman of all time, Larry Robinson is now attempting to duplicate that achievement in the coaching realm. During the 1993/94 season, Robinson was an effective assistant to New Jersey Devils coach Jacques Lemaire. When the lockout forced suspension of NHL play this fall, Larry moved up to Albany where he has worked with young Devils prospects on their AHL River Rats farm team. And his tenure there has been an unqualified success.
"He teaches me the little things about the game," says young defenseman Chris McAlpine, "they're actually big things, but they're little things. Everything that my game is right now is attributable to him."
Why do the future Devils respect Robbie? There are many reasons, not the least of which is his championship pedigree.
Robinson was an integral part of the Canadiens glorious run of four consecutive Stanley Cups (1976-79), and, despite his advanced age, he also played a major role in Montreal's surprise Cup win in 1986. "That last one," Robinson recalls, "was the most satisfying to me, and the most fun simply because we weren't supposed to win.
"Having played on six Stanley Cup-winning teams, starting way back in 1973 and coming all the way up to 1986—that's a span of 13 years—is not bad. I'm proud of that, and of my longevity. The fact that I outlasted almost all the draft picks higher than myself—with the exception of Marcel Dionne—is, in my mind, a great accomplishment."
Though not the prolific scorer that some of his contemporaries were, Robinson established his ability as a strong, rushing puck carrier. And his ability to lug the rubber and engineer the offense in clutch situations made his offensive contributions most timely. "He took quite a few games and broke them open with an end-to-end rush," said ex-Bruins defenseman Mike Milbury. In time, Robinson reached NHL maturity and ranked with Denis Potvin, Kevin Lowe, and Rod Langway as one of his decade's best defenseman.
"Skating always was my most valuable asset," Robinson explains. "The fact that I've been able to combine my size with my skating has made a difference, particularly when you consider that there have been a lot of guys in the NHL who were big but didn't have the quickness or anticipation that I had. To be over six feet and more than 200 pounds and still be a mobile defenseman are qualities that helped me stay around for a long time."
In the following interview at Albany's Knickerbocker Arena, home of the River Rats, Robinson expounded on his new role.
Tell us about some of the Devils prospects at Albany. Start with Brad Bombardir.
Bombardir is right out of college, an excellent skater. They said he had great potential. He's probably been the most consistent and the best defenseman on this club so far.
What have you tried to do to make him better?
Learning his position. College players have a tendency to clutch and grab a lot. They play a lot of man-to-man. In the game today there's so many guys picking, there's so much more movement in the game than there is in college, so you can't get tied up as a defenseman. You can make contact, but you've got to make contact and release, so you can react to different situations.
What about Cale Hulse?
Cale has im-proved a lot over the last year. He is a big strong kid and like most youngsters he has got to learn when to pinch, when to stand up, when to back off, (and) his reactions around the net. Right now the difference between him being here and being in the NHL is foot speed and his reactions around the net.
How do you make him better with foot speed?
You do little drills. We're trying to get him to work on his foot drills. Hand speed, too; doing things with the puck, without the puck. He has all the tools. It's just to get him working on them away from the game, so that in the game he doesn't have to think about it.
What about Chris McAlpine?
Chris is going to be good, too. He's another throwback from college. Right now he's pinching when he shouldn't and hanging on to the puck instead of moving it up quickly. He's a big, strong kid and he can work on his foot speed as well. A lot of these things that I'm talking about are things that come with experience as well.
Who is your pet project?
I don't really have a pet project. I try to give everybody equal time. Some need a little more work than others. I'd like to see Cale Hulse and Bombardir get up there. They both deserve it. If half the guys on the club had the heart and determination of Geordie Kinnear they'd be even better hockey players. His problem is he's not overly big and sometimes he's over-aggressive. He wants to do such a good job out there sometimes he's over-aggressive and takes some foolish penalties. He can move the puck well; he's a good skater.
Why did you want to be here working in the American League?
I thought it was a good opportunity. We weren't doing anything at home. The easiest thing would've been to say to Lou Lamoriello, 'Hey listen, we'll go home and call us when the [lockout] is over.' My first thought when I was coming down here was that we'd come down for two or three weeks, see how it went, see what went on with the [lockout]. But as it carried on, I got along so well with (Albany head coach) Robbie Ftorek and he welcomed us with open arms. Basically, I'm doing the same things down here that I was doing in New Jersey. I want to learn and the only way I'm going to learn is to participate and to be active doing the things I was doing up there. I've learned a lot.
What have you learned in Albany?
I've run a few practices. I'm finding out what that is like. I'm giving a few talks to the boys, when Robbie is involved in his meetings. In New Jersey, when Jacques Lemaire calls a meeting he does his thing and all of our input as coaches is prior to that. In Albany, I've been involved more in talking to the guys, just learning to communicate.
What would you tell the guys on the River Rats?
Different things, it depends on what we're talking about. Certain guys it's about positioning or for defense, making sure not to get caught. Little things to do, what to watch for on the ice. I'll bring those points up. Maybe some of things that we're doing on the power play that I think we could improve on. Things like that.
Do you expect guys to play as well as you did?
I don't expect anyone to play like I did. I have a style, same as Cale Hulse has a style and Brad Bombardir, but I don't expect Brad to go out there and play like Cale, same as I don't expect Cale Hulse to play like Bobby Orr and so on. At first, and at times I still do, get frustrated inside because I see things happening out there that, deep inside, I just want to go out and show them exactly how I'd like it done. But you have to channel those thoughts of what you'd do it and try to get it across to the kids. That's where the challenge comes of being a coach. You try to get your point across in such a manner that they'll understand what you want them to do. Then when they do it, you feel just great. That's the joy of teaching.
What did you learn from Jacques Le-maire?
I'm always learning from Jacques, the way he handles different situations. He'll give me little tidbits; what I should say in certain situations and what not to say—how to think. He involves me in a lot of his decisions. I feel very fortunate to work with him. He is one of the great hockey minds in the game today.
What is your target date for becoming an NHL head coach?
I don't know. I haven't really set a target. When I feel that I am ready and that I could do a good job. A lot of it is going to have to do with the right situation, as well. I don't want to step into a can of worms and really put myself into a hole. I don't want to throw everything I've worked for over the years out the window just because I got into a bad situation. It's not something I'm going to just jump into. I want to think about it and talk to the right people before I make that decision. Most of all, I have to feel comfortable with what I'm stepping into.
How much did your former coach Scotty Bowman communicate?
Scotty was different. Scotty always kept you off balance. He was prepared really well. He had us prepared at the top (of our game) all the time. He knew what buttons to push at the right times. He was a tremendous motivator for that time. A lot of things that he did in that era I don't think you could do with hockey players today. You can ask a player to do something, but you can't threaten them like in the old days. (Back then) you would say to the guy 'you are either playing here or you are going to the minors.'
Was Scotty the best coach you ever played for?
One of the best. Jacques Lemaire was a hell of a coach, although he only coached me for one year. He has a great mind. I also got along really well with Pat Burns. He was a great motivator. He did a lot while I was in Montreal.
What is the difference between coaching these kids in Albany and when you were a player in Montreal?
I find these kids in Albany are just terrific. They all want to work hard. They are all great listeners. If you ask these kids to stay out late or come in early, they are there. I couldn't ask anything more of the kids. There isn't too much of a difference when I first started and I was happy to make thousands of dollars, let alone millions. The salaries have gotten a little out of whack. Our sense of what is right and what is wrong, what is a good salary and what's a bad salary has been blown out of proportion.
What is the difference between working with the Devils and with these kids in Albany?
Not much difference at all. A difference in talent. You have more work to do down here with the little things, and that is why the kids are here. So you work on those things here rather than on the big club. If you ask them to do something they are right there. The Devils organization can be proud of the people it's got as far as drafting good character. They've got character kids in the organization.
This first appeared in the 03/1995 issue of Hockey Player Magazine®
© Copyright 1991-2011 Hockey Player® and Hockey Player Magazine®