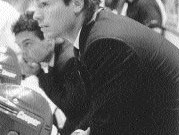 Coach Chris McSorley builds winners
By Janet Del Tufo
Oct 30, 2001, 07:03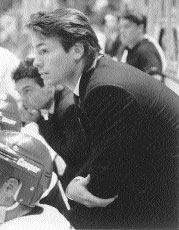 (Photo courtesy Anaheim Bullfrogs.)
Coaching a team to a championship is an adventure that most men who stand behind the bench will only dream about. It's a dream highlighted with handshakes and pats on the back, and dazzling photogenic smiles next to a prized piece of hardware called the trophy. Some may catch a glimpse of this dream by way of coaching a son's or daughter's team, or through neighborhood youth centers and public schools. They will celebrate their winnings with hot dogs and root beer, and for a fleeting moment perhaps understand what an individual who coaches for a living might one day experience.
But few professionals realize the championship dream. They rarely hold the hardware and taste the champagne. But from the shadows of minor league hockey, comes a man—an intense man with an intense presence—who, over a two-year period, has seen, felt and lived the dream not once, but four times. Four times. His name is Chris McSorley, and he has impressed the hockey world with his ability to win championships.
At 33 years old, McSorley has surprised people with his coaching abilities, especially those who remember him from his short-lived professional playing career. A gritty and tough player—reminiscent of his younger brother, Marty, of the Los Angeles Kings—the older McSorley has no regrets about his career as a player, years spent traveling the American and International hockey leagues. At age 22, then a steel company employee, McSorley had a pro tryout, and has been thankful to have stayed around as long as he did.
"To have played five years of professional hockey, to me, I've considered myself the luckiest man alive. And to be able to move on and contribute in a non-playing capacity is truly the greatest privilege that anyone in sports can ever ask for," McSorley says. "(Going from) not contributing as a player to contributing as a non-player is truly the greatest movement any athlete can make."
His transition from player to coach was not planned, yet it has been an outstanding move for the sport of hockey. After upsetting various neighborhoods throughout the hard-fought "lunch box" leagues, his presence was beginning to tire the rank and file. McSorley then secured a position as coach with Winston-Salem (NC) of the East Coast Hockey League.
"The real story is that, Rick Dudley—whom I had the opportunity to play for in Flint, Michigan—was coaching New Haven, which we were going to see 14 or 15 times over the course of the season. Rick didn't want me to be playing anymore against his teams, so what he did was to get me an opportunity to coach at a lower level. His motivations were purely—well, maybe a little selfish—but at the same time they were truly beneficial for me," McSorley says. "So, it was Rick that obtained the opportunity for me to coach at Winston-Salem in 88/89."
Those who can't do…
Still, his success continued to puzzle some, as he was not a skilled player and did not appear to possess the makings of a coach—let alone a championship coach.
"They say sometimes that the worst players make the best coaches, which means that I should be one hell of a coach some day," laughs the light-hearted McSorley.
Throughout his transition, he has crossed paths with individuals whom he once played against. Some were on opposing teams, others he has coached directly. He recruits players based on merit and personal nature, and has never let past playing experiences get in the way of assembling the most competitive individuals he can find to get the job done.
Terror was often be the main ingredient in McSorley's on-ice responsibilities, and he has found a way to maintain that aspect of his style in the coaching ranks. But his self-confident and in-control aura has enabled him to develop players he once squared off with at center ice.
"As a coach, not many people have really taken an attitude with me. Fear is still a great motivator to keeping people silent, and it's worked well within my career."
After his stay in Winston-Salem, coach McSorley moved on to Richmond, VA, and then to Toledo, OH, where in 1993 he and the Storm took the ECAC's championship title. While all this was happening, an observant Ralph Backstrom—who himself has more than 50 years of hockey experience under his belt, along with six Stanley Cup Rings—was waiting in the wings.
He and Dennis Murphy, founder of the old World Hockey Association, were on the lookout for talent to supply a new professional sports league called Roller Hockey International. RHI sought to develop the sport of hockey in a whole new way, and needed individuals with the ability to develop talent. Enter Chris McSorley, who was brought on board to spice things up and be part of something new.
"I was approached by commissioner Ralph Backstrom, and Ralph recommended me to Maury Silver of Anaheim," McSorley says of his introduction to roller hockey. "Anaheim, being a flagship franchise for Roller Hockey International, Ralph felt that Maury might need someone of some experience with him. I had just won my first title when I took the opportunity with Maury. Coming off a championship, I took quite a gamble by taking on 16 individuals who had never participated in inline hockey before."
Backstrom could see the things in McSorley that had been hidden deep in the South-Easterly corners of the US—a far cry's from the hockey Mecca Ontario, Canada, where you will find McSorley's roots. And if Backstrom's hockey smarts weren't demonstrated well enough from having taken home the sport's biggest and grandest prize—the Stanley Cup—then they are now, for having recruited one of the most productive individuals the sport of roller hockey has known.
He didn't disappoint
"I felt that Chris was the type of coach that we would like to attract to our league—guys that had good foresight, that could see the potential of the sport," Backstrom says of his early observations of McSorley. "Chris is very knowledgeable of the sport of hockey and I felt that his qualities as a roller hockey coach would be just as good, and Chris did not disappoint us. He is certainly one of the most outstanding coaches in our (league's) short, short career."
McSorley won the first ever RHI championship while coaching the Anaheim Bullfrogs, and then scurried back off to Toledo so that he could resume his coaching duties with the ECHL Storm. After another winning season, McSorley once again tasted champagne. After a back-to-back championship efforts (and a combined third in a row), people started thinking and wondering just where Chris McSorley had come from.
"When I think of Chris McSorley," Backstrom says, "I think of an outstanding coach, both in ice hockey and in roller hockey. He's an inundator; a very aggressive type of coach, one who truly has done an outstanding job in both sports."
As soon as the champagne in Toledo dried from his lips, McSorley said yes to an offer in Buffalo, NY, where he would start from scratch—with an entirely new lineup—and guide the Stampede to RHI's second championship. McSorley proved that a winner can win, wherever he or she may go, and the uninterrupted string of four championship celebrations left everybody in the hockey world wondering about the secret of McSorley's success.
His greatest gift is his ability to assemble teams. To start with, he recruits his own players, and his last two summers began in both Anaheim and Buffalo with 16 individuals per team who had never inline skated before. Who makes the grade? Well, certain criteria must be met before one can gain membership on one of McSorley's clubs.
"I look for individuals who are, number one, hugely competitive; skill level—average to about above average; and committed to physical play—100%," McSorley says. He compares the roller game to that of a driving experience. "Roller hockey," he says, "is a game that puts players on wheels with no brakes—on a collision course—and it's the biggest vehicle that is going to win the collision. That's been my formula to success for roller hockey."
A secret formula?
After winning back-to-back RHI titles, with different players, it would appear that McSorley has a great playbook, or a gift for complex strategy. But that's not the case. The strategy has been a simple one.
"I say: drop the puck and let's play some hockey. Because until each hockey player is comfortable on his inline skates, which takes about a month, (set) plays are non-beneficial," McSorley says of the training camp period. "Once they obtain a comfort level on their wheels, strong man-on-man coverage and passing skills take precedence."
If a player wants to join one of McSorley's championship teams, he better have something significant in his background that will attract the attention of a man with strong coaching instincts.
"I don't take players on tryouts. I research my players thoroughly enough that I bring in my team; I don't bring in camps," McSorley says of his recruiting techniques. "It's unfortunate for individuals hoping to have the chance to play for my roller hockey team, but I only bring in 16 individuals who are going to stay. The conversion period is about a month from ice skates to inline skates, and training camp is not a fair assessment of individuals attempting to tryout."
It has been asked what happens to ice hockey players after they have spent the summer months on wheels. Ice skates and inline skates resemble each other in appearance and style, but the new "boys of summer" are often shocked to find their skating legs in far different condition after a season on Sportcourt, than before it.
"The first week back on the ice, the players wonder if they have ever skated before and amazingly, it's very tough for them to re-convert back," McSorley says, having watched players re-enter the winter work force. "They act as though they have never before skated on the ice; it's that crazy."
Obviously the coaching transition is a little easier, at least for McSorley. After winning his fourth championship, McSorley is getting the type of attention and respect that goes with being a proven winner.
"Respect is given to individuals as players, or individuals as coaches, if they compliment your position, and if you're consistent with your authority," McSorley says. "I mean, there is no such thing as two roosters in a hen house, and the boss is always boss. If there is a problem, you kill the rooster and get new hens."
Spoken like a man who spent his childhood tending farm animals, and his adult life making players do it his way.
While McSorley's career forges ever present, so should the championships. He is continuing his hectic pace, and when be concludes his current duties in Las Vegas, where he is associate coach of the IHL's Thunder, he will be back to work with the Bullfrogs—this time as Head of Player Personnel.
The new position represents a much-needed rest for McSorley, who will watch from the sidelines while Grant Sonier—a coach that McSorley describes as "excellent"—runs the Bullfrogs stage show. His desire to remain part of the growing sensation of roller hockey is evident in the fact that it was he who approached the Anaheim group with the idea for his new position.
With McSorley as part of the organization, the Bullfrogs should have a leap-frogs chance of reaching the championship plateau once again. He brings with him a winning attitude and a burning desire to taste champagne.
"My greatest memory in regards to roller hockey was my first championship in Anaheim, with Maury Silver and Grant Sonier," McSorley says, his voice peaceful and calm. "We had great ownership, a good staff and a close knit team."
It's the thoughts of Anaheim that bring a smile to Chris McSorley's face—the people, the place, and that prized piece of hardware called the trophy.
Janet Del Tufo is a freelance writer based in Southern California.
This first appeared in the 07/1995 issue of Hockey Player Magazine®
© Copyright 1991-2001 Hockey Player® and Hockey Player Magazine®