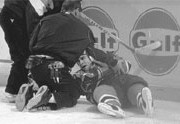 The care and feeding of a groin injury
By Bill Ferguson
Oct 30, 2001, 10:59
A groin injury can stop you cold, as Randy McKay found out. © BBS
Certainly anyone who has played ice or roller hockey has felt a "twinge" in the large muscle area of the thigh at one time or another. Often it's something that one can "play through" while the muscle recovers. But what differentiates the minor groin pull from the major injury that causes one to miss week after week of games?
Sometimes only the victim's unwillingness to listen to his or her body. Case in point: me.
I recently went through eight weeks of physical therapy after trying to "play through" an injury that went from bad to worse. The most frustrating thing was that I have played competitive hockey for more than 20 years and had never had a knee or leg injury severe enough to keep me off the ice.
The first sign of things to come happened on the ice, in a play without contact where I merely stepped to my right and felt a "tear." In mulling over the injury, I recalled a play perhaps a week prior when I was playing roller hockey and extended my leg more than I meant to. While I noticed enough discomfort to think, whoa!, it seemed like no big deal at the time—and I finished the game. Looking back, this may well have been the start of the injury.
A week later, when I felt the tear on the ice, I immediately went to the bench—yet still returned to finish the game.
I took it easy the entire next week, spending most nights lying on the couch. I felt well enough to play that week, but when I took my first shot in warmup I felt a big pop in my groin that scared the heck out of me. Nonetheless, I played the game without any problems, although skating gingerly. Another week's rest, and a morning skate with the kids I coach, led me to believe the worst was over. But the worst was actually yet to come.
That night the leg felt great. While killing a penalty halfway through my game, I raced to tap the puck past an opposing defenseman. One stride short of the biscuit, while fully extended, I felt a pop that sent me through the roof. I knew I was done for the night. The following morning my thigh was rather blue, as the muscle tear had produced some internal bleeding.
Tricks or treatment?
A doctor friend of mine, who also plays, recommended rest. But in lieu of that—which I had been fighting tooth and nail already—he suggested a rubber thigh wrap made by Body Glove. The wrap helped me to play the next week without any further popping.
But the next morning my thigh was blue from the crotch to the knee, and from halfway through the front to halfway through the back of the leg. It was ugly, aside from being painful, because the internal bleeding causes soreness in whatever areas the blood flows to. So by this time my knee was hurting, too.
I knew it was time for my groin injury to receive some professional treatment. My family physician sent me to the physical therapist who would become my medical advisor and coach for the next eight weeks.
My first session consisted of heat, stretching, ultrasound and ice. Nothing more. The second week we added some light stationary bike work, exercise not intended to work the groin muscle. When I questioned the therapist about this, he explained that most of the treatment for this type of injury consisted of strengthening the supporting muscles, rather than the groin itself. Over the next few weeks we added leg presses, knee extensions and curls—but still nothing for the groin.
We were at least four weeks into therapy before we ever added a groin exercise, and even that was a very light one. While it was nice to know that my leg was getting better, I knew I wasn't yet ready to return and desperately missed the ice.
By the time we hit week six of therapy, we were adding weight and reps to each exercise, and we added a slide board, which I had never done before. The therapist told me I was one of the worst patients he had ever seen at learning how to use the thing. "I'm not a goalie," I told him. "We stride forward, not sideways." A smart aleck, even in rehab! Over the next couple of weeks I had it down to where I felt I pretty much owned that board.
Finally, after eight weeks of therapy, I heard the magic words: "Now just a light skate…no hockey."
I've never been so happy to skate in a public session with 250 kids. Of course my 7-year-old, who will be a mite this year, was very supportive—saying, "Ha-ha daddy, I'm faster than you!"
My therapy continued at home where we have both a stationary bike and a weight bench with the leg machine. By this time I was walking 18 holes of golf twice a week in addition to exercising. The next week I skated a pick-up game, although I followed my therapist's advice and didn't wait until my leg started hurting to quit for the night. The idea, he drilled into my head, is to quit before it starts to hurt.
As always, I continued to ice my leg for 20 minutes after each exercise until I was fully recovered.
It could have been avoided
By this time it had been at least 10-11 weeks since I first felt the muscle tear, and what became apparent in my weeks of therapy was that this could all have been avoided simply by keeping my legs in shape. That doesn't mean playing ice or roller hockey two or three times a week, as I had been doing. It means exercising regularly.
A bike, swimming, and/or weight training are all effective means of conditioning your legs. Especially as we get older—and demand at least the same level of performance we are accustomed to getting from our muscles—the more important it is to increase our conditioning, to offset the natural effects of aging.
I now work out 2-3 times per week, incorporating the stationary bike and "lunges" into my usual routine of weight training. I believe that if the desire is there to improve your game, it can always be accomplished through hard work, regardless of age. It's also nice to know I am now realizing something from my investment in all the equipment that had been sitting in the garage gathering dust! All that equipment, or your membership in a gym, does no good if it doesn't get used.
I was of the mindset that I didn't need that stuff, until this injury showed me otherwise.
The other most critical way to avoid this type of injury is by stretching before the game. For all my hammering the kids to arrive at the rink early to give them time to stretch properly, I wasn't following my own advice! While I do a lot of skating in warmup before ever touching a puck, it clearly wasn't enough to avoid a groin pull. Today, I will not play a game or even practice without fully stretching either on or off the ice.
The lesson I learned is one you'd think the pros would have learned long ago. Why so many injuries in the 1995 season? In the past, players had a preseason schedule and 40 games under their belts before the games ever became so important that they "couldn't afford to lose." This year, they had such an abbreviated schedule that every game was part of the "playoff run."
Always be prepared
When players demanded more performance from muscles that weren't prepared to deliver, something had to give. Many pros missed weeks of important games due to groin pulls this year. And weren't there a lot of NHLers who, when the lockout was ended, said they had been playing golf for weeks—never expecting to play this year? I guess whatever the situation, the old Boy Scout Motto of "Be Prepared" still applies.
How can you stay in game-shape year round? One word: exercise. And here are some things to consider.
Jogging. It's been said that if you run three miles per day on the days you don't skate, you will never lose your conditioning—even over the summer months. Of course, you will lose some puck-handling and other skills, but you lose that anyway—even in mid-season—if you're off the ice. It's much better to come back with good legs, ready to work on the hand-eye stuff, than to start from scratch. Even during the season, running on days off won't hurt you. In fact, conditioning the legs will give you added third period strength. Late in the game you might find you can go around players who you previously couldn't beat. So what if you can't beat them early in the game? If you can stay with them early on, then excel in the third period, this can be the edge you need to improve your status in your league.
Stationary bike. For those of you who are concerned about the detrimental effects jogging may have on the ankles, knees and back—or if you simply don't like to run—the stationary bike is an excellent alternative. This type of exercise is not only helpful for the legs, it also improves the entire cardiovascular system. It will help your stamina and, if done at the start of a workout, is a great warmup. Many pro players, in fact, return to the bike even after games to further increase their stamina.
If biking is all you intend to do, break it up into segments. Start out with 10-to-15 minutes at between 50 and 70 rpm. Then add some resistance. With the heavier drag, try some sprints. Add weight until You're getting the "good burn." Then finish with a lighter-weight cooldown.
Weight training. Weight training is not for everyone. There are some who feel it reduces flexibility, resulting in stronger yet slower skaters. However, if done in conjunction with an overall workout, I believe it can do a lot of good. What's the harm in being stronger? Cardiovascular exercises like running, biking or even aerobics can offset any harm done by building muscle mass.
The chair. This is an exercise that is more designed to strengthen the knees than the groin, yet it is one of my favorites for increasing overall leg strength. With your back straight against a wall, lower your butt until you have a 90° knee bend. Hold this position as long as you can. Remember to keep your head back against the wall, and don't support yourself at all with your hands. Initially, you may be able to hold this position only for a count of 50. But work on it gradually until you can hold it for a count of 100. Then 200. Then do two sets. Feel good while your knees are burning, knowing you are greatly reducing your risk of knee injury.
Remember, exercising isn't something you do for a while, then quit. It's a lifetime commitment. Don't do so much when you first start out that you are too sore to work out on your next scheduled day. Start out light, then add weight, then reps. It's much more important that you continue your workouts than that you kill yourself every time out. And, as they say, consult a physician before attempting this (or any) exercise program.
Better conditioning means fewer injuries, and more time playing the game we love!
Bill Ferguson is a hockey player, and an occasional contributor to the magazine.
This first appeared in the 08/1995 issue of Hockey Player Magazine®
© Copyright 1991-2001 Hockey Player® and Hockey Player Magazine®