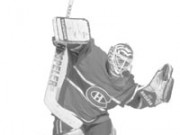 We're No. 2! 
Life as a backup goalie
By Bob Cunningham
Oct 30, 2001, 07:54
Tugnutt: "It sort of stinks." ©BBS
They don't keep any charts. They never know when they'll be called upon. There's nothing special they can do to maintain game condition and instincts. They are the men behind the men behind the mask. They are backup goalies.
The backup goaltender has one of the least talked about and most unwanted jobs in hockey. Unlike forwards and defensemen, who will usually skate at least two or three shifts a night, these stoppers typically won't see a single minute of ice time on any given night. They can routinely go six or eight, or more, games without getting the opportunity to play—other than during practice and pre-game skates, of course. It is then, while being peppered with shots from his own teammates in a virtually vacant arena, that a backup goalie is doing his number one job.
Nope, there's not much glory in being a team's Number Two goalie. And yet, there are those who end up playing a key part in a team's triumph. It's for that reason, say some of the NHL's backup goaltenders, that it is absolutely vital for these unlucky souls to stay focused and uncompromisingly prepared.
Wade Flaherty of the San Jose Sharks is one such goalie. As a backup to all-star Arturs Irbe, Flaherty doesn't get the call as often as he likes. But in the 1995 Stanley Cup playoffs, he became an integral part of San Jose's first-round upset of the Pacific Division champion Calgary Flames.
"I guess you could say I was a little rusty, as far as running things through my mind and being mentally prepared," says Flaherty, a British Columbia native in his first full season in the NHL. "You have to be mentally prepared, but not to the point where you're stressed out. You have to be relaxed."
Whatever Flaherty's formula, it worked. After Irbe looked shaky (and then was ejected) in a Game 5 loss to the Flames, Flaherty finished up. He then got the call in Game 6 at San Jose. Facing elimination, and having been thoroughly dominated by the Flames in each of the previous three games, the Sharks prevailed, 5-3, forcing the series back to Calgary for Game 7. Flaherty, the 27-year-old backup goaltender, stopped 30 of 33 shots.
"Maybe we won because it's too early for summer," Flaherty told reporters after the game.
Opportunity knocks
Most expected Irbe back in the net for Game 7, but Flaherty got the call again, and came up big again, stopping an amazing 56 shots in the Sharks double-overtime triumph.
"Game 6 was the biggest game of my life…until Game 7," Flaherty says. "That's just it. You never can tell when you're going to get the opportunity to play."
Flaherty believes he was somewhat fortunate that Sharks coach Kevin Constantine chose to use him 18 times in 48 games of the lockout-shortened regular season.
"Last year's backup, Jimmy Waite," notes Flaherty, "played only 15 games."
And surely the bigger workload contributed to his readiness when the opportunity to be a playoff hero unveiled itself.
"I work at staying ready, but the more you play the easier it is," he says. "I can't complain about this season."
Flaherty began getting more work in the season's second half. At the outset of the campaign, Waite was still No. 2, but he was dealt to Chicago a month later and Flaherty became the primary backup.
Then an odd thing happened. Irbe began to struggle. His goals-against average ballooned to the highest in the league among starters. Flaherty began getting the nod more and more, and finished the regular season with a 3.10 GAA—a fifth of a goal better than Irbe, his buddy and teammate with the International Hockey League's Kansas City Blades just two years prior.
Back then, says Flaherty, the two split time.
"There isn't any one or two specific things you can do to stay ready," Flaherty explains. "I try to stay focused on the game all the time. I watch things like an opposing team's power play. Who do they like to get the puck to for shots? I watch breakaways, too, to see if I can pick up any tendencies."
Flaherty admits, however, that when he's actually called upon to play, he goes more by instinct and feel than on any self-derived scouting reports.
"You don't always have time to think out there, but I try to pick up what I can; to put the time I spend not playing to use somehow."
Flaherty agrees that there are many circumstances when a backup goaltender can learn and benefit from non-activity, but that's not necessarily the case with his particular situation.
"Archie (Irbe) and I are so different in styles that I can't really learn anything watching him, and he doesn't learn watching me," says Flaherty. "I'm more of a butterflier, I guess, and he's upright.
"Our styles are totally different."
A career on the bench?
Montreal's Ron Tugnutt is the stereotypical backup. At Edmonton, he played second fiddle to Bill Ranford, who has pocketed a few Stanley Cup winner's checks in his day. Still, Tugnutt got enough ice time to impress the then-expansion Mighty Ducks of Anaheim, who tabbed him in the 1992 Expansion Draft.
Ah, but Tugnutt's role with Anaheim would be as a backup to Guy Hebert, the first player selected by the Ducks. And while Tugnutt got an increasing share of the workload with the Ducks, he was still just a backup.
"I never know from one game to the next whether I'll be playing or not," he said early in the 93/94 campaign. "In one respect, that's kind of fun, but in another, it sort of stinks."
In need of offense later that season, the Ducks dealt Tugnutt to Montreal for center Stephan Lebeau. For Tugnutt, it was another sentence of bench-warming, because the Canadiens boasted perhaps the best netminder in the league—Patrick Roy, who had just come off an MVP performance in the 1993 Stanley Cup Finals.
"At least I'll be in a familiar role," Tugnutt deadpanned after hearing of the trade.
As expected, Tugnutt has been the reserve's reserve, starting just seven games this season. Still, he fashioned a respectable 3.12 GAA. The punchless Habs, however, only scored enough for Tugnutt to win once in those seven starts.
At the other end of the spectrum for backups is the New York Rangers Glenn Healy. During the Rangers run to the 1994 Stanley Cup, Healy wasn't utilized a great deal. Starter Mike Richter enjoyed a phenomenal season in goal and, well, if it ain't broke don't fix it.
This season was different. Richter was alarmingly inconsistent in the early going, and Healy, a 10-year veteran, was relied upon as a stopgap. His 2.36 GAA was third among all NHL goaltenders with at least 15 starts.
In the postseason, Healy came up big again, winning twice as the eighth-seeded Rangers knocked off top seed Quebec in the first round of the Eastern Conference playoffs.
"It's not that I like not being the primary guy," Healy says. "But you have to be willing to fill that role if that's what your team and your coach want you to do. I work very hard at being ready whenever I'm called on."
Flaherty concurs. "Every so-called backup wants to start. Sometimes, though, it just isn't that way. This is my job, for now."
Of course, Flaherty and Healy have something else in common: both their squads were unceremoniously swept in the conference semifinals, the Sharks by Detroit and the Rangers by Philadelphia.
They still can lead
Flaherty says that he doesn't dwell on whether he's playing or not. It's a streaky sort of thing, so why sweat what you don't control?
"Some teams play backups more than others. Some coaches go with whoever is hot," he says. "The most I've gone without playing is nine or 10 games when Archie is playing well, but then I've (started) six or seven in a row.
"The toughest thing is going to the arena knowing that you're not going to play, and being prepared just in case you do get the chance."
Healy tries to fill the void of not playing regularly by getting involved with his team's mental conditioning. He tries to play a combination motivator/cheerleader role with the goal of maximizing the team's preparedness.
"He's a leader for us, whether he's playing or not," Mark Messier says. "That's a good type of player to have on your team. His attitude is great."
Attitude, say these pros, is key.
"I have confidence in myself and what I can do when I get the chance to play," says Tugnutt. "As long as I'm in the league, I'll always strive to be the No. 1 guy. If that's not my role, then I'll have to settle for being the best second guy."
While it's hard to say who actually is the best Number Two goalie in hockey, Tugnutt and his breed are all among the best in the game when it comes to being mentally focused and ready to play.
This first appeared in the 08/1995 issue of Hockey Player Magazine®
© Copyright 1991-2001 Hockey Player® and Hockey Player Magazine®