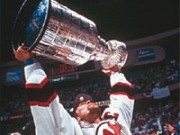 1995: Why the Devils won the Cup
By Alex Carswell
Oct 31, 2001, 16:27
©BBS
Stanley Cups don't come easily. And with the exception of a few NHL dynasties, they don't come often, either. So why did the New Jersey Devils, a team that came within one goal of reaching the finals last year, but finished the 1995 regular season just four games over .500, bring home this year's Cup? Here are 10 reasons.
1) A System
And a darn good one, at that. The much-ballyhooed and oft-maligned neutral-zone trap was the backbone of New Jersey's game plan night after playoff night. And on nearly every one of those nights, Devils opponents were frustrated by their inability to make any progress into the offensive zone. In the opening round, Boston managed only five goals in the five game series—and was shut out three times. Pittsburgh's vaunted offensive powerhouse fared little better in their five games, being held to just one goal in each of the last three outings. The Flyers, the only team New Jersey faced that had the size to bust through the trap, had some scoring success against the system, but fell short in other areas—like discipline and goaltending.
2) Discipline
The New Jersey system of clogging up the passing lanes and collapsing on the puck carrier looked simple enough on paper. But, as we all know, the game isn't played on paper—or Detroit would be the Stanley Cup champion today. Successfully executing the trap as it was designed required amazing patience and discipline on the part of the Devils, each of whom performed admirably. New Jersey's many cogs elevated the waiting game to new heights, with a "What, me worry?" philosophy that frustrated, unnerved and angered opponents for 16 out of 20 playoff tilts. In an age where everyone wants to score the big goal and be the hero, it was a truly beautiful thing to see 20 Devils hearts beating—albeit slowly—as one.
3) A Good Hotel
Or a real love of riding the dog, because a Greyhound trip out of town was almost a sure thing for this bunch. In taking 10-of-11 games on the road, the Devils became the first team since the NHL's 1967 expansion to win the Stanley Cup without having home-ice advantage in any round. Much of the road warriors' success goes to a system which frustrated the opposition's home crowd as much as it did their players. Paul Coffey lamented after the Game One loss that he had never heard the home team booed during the Stanley Cup finals. But throughout the playoffs, bewildered fans rained down boos on their hometown heroes—a cacophony that registered as sweet music to visiting devilish ears.
4) A Dominant Defenseman
Actually, two. Scott Stevens and Scott Niedermayer each ruled the ice during the run to the Cup. Stevens atoned for what many felt was a sub-par regular season by playing as if his hockey life was on the line in the playoffs—and in a sense, perhaps he believed it was. At the conclusion of the Philadelphia series, as he stood in line shaking hands with one vanquished Flyer after another, Stevens had a few extra words for Eric Lindros, whom he had handled and manhandled for six games. "Don't worry," Stevens said, "you'll get there. You've got time. I don't have that much time left." Lindros, 1995's most dominant single player, probably will get there someday, but not if he keeps running into the likes of Stevens.
For his part, Niedermayer has now officially blown his cover as the best-kept secret on the NHL blueline. His end-to-end rush past and through Paul Coffey in Game Three of the finals brilliantly demonstrated the offensive gifts that have been lurking in the shadows of Jacques Lemaire's defensive system. Niedermayer is not overwhelmingly physical, but—much like Brian Leetch—he is tactically smart, and his defensive positioning is superb.
5) Martin Brodeur
No team has ever won the Stanley Cup without a hot goaltender. Some—like Ken Dryden—have been great; others—like Mike Richter—just "on fire." Brodeur was, and is, unquestionably both. The kid who will eat Lou "Hardball" Lamoriello's heart—and checkbook—out this summer proved beyond all doubt that last year's sensational rookie campaign was no fluke. Brodeur posted a 2.45 goals-against average during the regular season, then flirted with immortality—his 1.23 GAA through the first two rounds was on pace for the best in NHL history, ahead of Jacques Plante and Ken Dryden—in the playoffs. His finishing totals of 16-4, 1.67 GAA and a .927 save percentage were nonetheless superb. And while he lost his composure a bit during the Philadelphia series, Brodeur was otherwise cool as a cucumber and always made the big save.
6) Special Teams
Not blessed—like Detroit and Pittsburgh—with an abundance of snipers, New Jersey used their special teams defense as a blanket to shut down the opposition. If traditional wisdom for road teams is that you bide your time and then capitalize on power play chances, then the Devils are New Age philosophers. Their 87.9% home efficiency on the kill was second in the playoffs but, like their overall 86.5% kill rate, was the highest of any final-four team. On the road, however, where the Devils felt right at home, traditional wisdom ruled: New Jersey was an impressive 30.8% efficient on the power play, second only to the Rangers' brief and extraordinary 47.8%. The Detroit power play that seemed to score every other time out in the early rounds? D.O.A. against the Devils.
7) Confidence
There's a lot to be said for the confidence the Devils gained with every 1995 playoff win, and with every opponent they saw frustrated by their inspiring team play. But New Jersey's confidence entering the playoffs was largely a result of their near-miss in 1994. Claude Lemieux spoke of how he "cried like a baby" watching the Rangers skate around with the Cup last year, knowing his team had come up just one, ugly, double-overtime goal short of the big show. And they knew, as a team, that they had the stuff to get there in '95. Neal Broten, a late addition from Dallas, recalled how impressed he was by the team's confidence early on. "These guys," he said, "believed all along they could win the Stanley Cup." And guess what? They were right.
8) Experience
Experience on a number of levels played a key role in the Devils championship. The players—as mentioned above—gained valuable insight on what it took to win from their efforts in 1994. But experience paid off in the executive suite, as well. Last year, New Jersey went into the playoffs as much the same team they were during the regular season, then watched as one of the Rangers' late "playoff additions"—Stéphane Matteau—sent them off to the golf course. This year, Lou Lamoriello addressed his team's needs with two prescient additions, Neal Broten (from Dallas) and Shawn Chambers (Tampa Bay). In true Lamoriello style, he gave up virtually nothing to get them (as opposed to Neal Smith's Rangers, who paid mightily—in Tony Amonte and Mike Gartner—for their playoff grinders). But wouldn't you know it? Broten was an inspired scorer throughout, an overtime hero against Pittsburgh, and actually scored the Cup-winning goal. And besides being steady on the back line, Shawn Chambers—hardly acquired for his scoring prowess—had a two-goal game in the finals.
9) Claude Lemieux
That he won the Conn Smythe Trophy as playoff MVP speaks volumes about Claude Lemieux's performance. It's no surprise that Lemieux, who had a horrific regular season, elevated his game in the playoffs—he always does. But that he pumped in 13 goals—including back-breakers against Pittsburgh and Philadelphia—while playing tenacious defense, was more than anyone could have expected. The man who is seventh on the all-time list of playoff game-winning goal scorers (with 14, just one behind Yvan Cournoyer and Jean Beliveau) had a truly blessed postseason. Some of his goals dipped and fluttered on their way in; looked "soft" to those who like to criticize goaltenders. But the self-described "most-hated man in hockey" scored when it counted, and lifted his team—along with himself—to new heights. The list of clutch NHL playoff performers is impressive: Richard, Beli-veau, Gretzky, Leach, Nystrom. Now you can add Claude Lemieux.
10) Coaching
Coaching is more than just creating and installing a system. It's getting your players to buy into the system, and getting them to sell out for it. Jacques Lemaire proved himself to be two things in this playoff year: a master motivator and a master tactician. As a motivator, he kept all of his players into the game all the time—no easy task. He kept the players into his system until they had no choice but to recognize that they were winning because of it. As a tactician, he substituted his players with aplomb—sometimes for no apparent reason—and got huge games out of part-timers Sergei Brylin and Jim Dowd. He knew when to bench Stéphane Richer, and when to unleash Scott Niedermayer. In short, Lemaire knew what it took to win a Stanley Cup, and led his players there. l
This first appeared in the 09/1995 issue of Hockey Player Magazine®
© Copyright 1991-2001 Hockey Player® and Hockey Player Magazine®