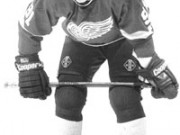 Using your head
By Bob Cunningham
Oct 30, 2001, 11:46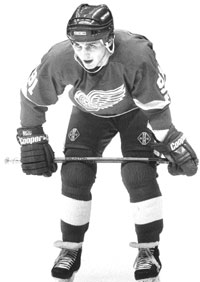 Federov: Always have a plan.
©BBS
Sergei Federov of the Detroit Red Wings said it this way during an April interview on ESPN: "I play as I think. You can have all the skill in the world, but if you don't have a plan for everything you do out there—a kind of goal you could say—then you're just another player."
Simple words, yet very telling. Federov has evolved into one of the game's top scorers, apparently for reasons beyond just his ability to skate circles around opposing defensemen or his uncanny puck-handling. He goes into every situation with a plan, and executes it.
Of course, the game of hockey is rarely that easy to choreograph. More than a game of action, some say, hockey is a game of action and reaction. But even players who are not often associated with the mental aspects of the game will surprise with their desire to think before acting.
Marty McSorley of the Los Angeles Kings and Stu Grimson of the Mighty Ducks are two prime examples. Both are revered for their physical contributions to the game. They are regarded as intimidators, protectors of their more skilled teammates. But each takes an unexpectedly cranial approach to his duties.
Cranial appraoch
McSorley admits his primary task, other than to play sound, aggressive defense, is to mix it up when the case arises. But he tries to be selective in the wars he wages. Contrary to the belief of some, there's a specific strategy that goes with every bone-crunching check.
"You're not going to see me throw my body at someone who doesn't pose a threat to our team," McSorley said shortly after being reacquired by the Kings from the Pittsburgh Penguins last March. "I go into a game knowing exactly what I should do out there, who I should focus my attention on and when I should be more of a force, as opposed to being more or less a complementary player. Every guy on the team has his role, and that includes me. The key is to know your role beforehand, and prepare for it."
Grimson, whose nickname is The Grim Reaper, also puts a heavy priority on pre-game preparation.
"Not just with specific opponents, but with the mental side of the game in general," he says. "Mental toughness is not just a phrase. It means being ready for whatever's thrown at you."
Coach Kevin Constantine, whose San Jose Sharks shocked the hockey world by reaching the Western Conference finals in '93-'94, believes that superior mental preparation and execution can more often than not overcome inferior physical ability.
Think about the little things
"It goes toward believing that you must do the little things to be successful," says Constantine. "It's the realization that the talent level throughout the league is pretty close. Execution is more a mental thing than physical, and the teams that execute the most consistently are the ones that play the longest."
For every perennial all-star, there's a player in the National Hockey League that has earned a reputation for excellence in his intellectual contributions to winning. Take Montreal goaltender Patrick Roy for example. In terms of his anticipation skills, his coverage of territory around the net and his reaction time, Roy is comparable with most NHL goalies.
What sets Roy apart, according to head coach Jacques Demers, is raw smarts.
"He's a student of the game, and that's a big reason he's had the success he's had," says Demers of the 1993 Stanley Cup Finals Most Valuable Player. "He studies diligently—hours of film on different players' scoring techniques (and) tendencies. If anyone will vouch for the (importance of the) mental aspect, it's Patrick Roy."
Roy does. "I honestly feel it's the difference between the best players, or goaltenders, and the rest," he says.
Buoyed by a talented roster, the New York Rangers followed up Roy and Montreal's 1993 championship with their first Stanley Cup in 54 years. So, other than pure talent and a winning attitude, what do Mark Messier, Brian Leetch, Mike Richter and the rest of the Rangers have in common?
"They're a thinking man's team," said Coach Pat Quinn, whose Canucks were felled by New York in the finals. "There's not one aspect of the game that they don't do well. And it's not just because they've got good players. They have smart players. Mike (Keenan) had that team ready to play, which is not only a credit to him but to their whole team, because they were under a lot of pressure. They were supposed to win, and they did."
In assessing a team's mental "health" intangibles such as fan expectations are usually a factor. Despite being heavily favored, the Rangers title is even more impressive considering the pressure put upon them by the rowdiest and most demanding fans south of Montreal.
Mental battles outside the game
Vancouver, by contrast, entered the Finals in a more relaxed setting, even if a few Canucks fans did get out hand following their team's defeat.
"We felt we could use the pressure that was on (the Rangers) to our advantage, especially in their building," said Quinn. "It was one of those mental battles that really doesn't have anything to do with the game itself."
Individually, players have an assortment of methods for bringing themselves to a mental peak in time for the opening faceoff. Everything from self-hypnosis and meditation to table tennis and Monopoly. But the one thing all these players have in common is that they are creatures of habit. Whatever works once, they'll superstitiously repeat—indefinitely.
"There are some guys that are not to be bothered, before or during a game, and there are others that crave attention to take their minds off the task at hand," explains Colin Campbell, who replaced Keenan as Rangers coach. "It's a good idea to know which ones are which."
An increasingly common pre-game occurrence in NHL locker rooms is the practice of visualization. Some teams—Los Angeles, Calgary and Chicago to name three—have even gone so far as to invite psychiatrists to give brief lectures on the art of visualizing an event before it happens. Consistent practice of this technique, they say, can have dramatic effects.
Said a member of the Red Wings, who preferred not to be mentioned: "I'll even do it when I'm out on the ice during a game. We'll get a break in the action, and I'll visualize the next faceoff. But I don't want opponents to know what I'm doing, because I probably look like I'm daydreaming sometimes."
Plan and execute
In a nutshell, the mentality of successful plays goes to making a plan and then carrying it out physically as it was perceived in the mind. Sounds simple enough, but…
'You can't go solely on instinct, and you can't solely rely on a game plan," says Shawn McEachern of the Pittsburgh Penguins. "You have to go with the flow, I guess. But if you can anticipate a situation before it comes up, you're that much better prepared for it."
The constant improvement in the technological aspects of the game has held hands with improved mental preparation. Miles of film have been reduced to brief edits that can be sped up, slowed down and reversed. And the information network spanning North America in the form of modems and fax machines better allows players and coaches alike to get even the most minute statistics instantly, allowing for more time to dissect and decipher the facts.
All of the above goes into mental preparation. But the most basic form of this necessary commodity is labeled "concentration"—an individual player's responsibility and necessity to focus his mind on what needs to be done in that instant.
"Sounds simple enough, huh?" says Kings defenseman Rob Blake. "But there are so many things to think about out there that your mind can get tied in knots.
"The key is to remain confident in whatever you're attempting to do."
It's amazing how important self-confidence is. Like a wounded seal fluttering in the Pacific among great white sharks, a player lacking confidence can be sniffed out by even the most mediocre of adversaries. On an individual as well as a team level, as the saying goes, never let 'em see you sweat.
"Regardless of how things go, I always have it in mind that the next time will be better," says Mark Messier. "For all the success you may have, one failure can be a real blow. The key is to not harp on it. Harp on the good things, because that's the best way to make more good things happen.'
Messier, a winner of six Stanley Cups in his career, should know.
This first appeared in the 11/1994 issue of Hockey Player Magazine®
© Copyright 1991-2001 Hockey Player® and Hockey Player Magazine®