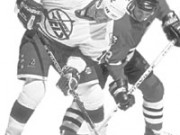 Face-off specialists: Always on the spot
By Bob Cunningham
Nov 5, 2001, 07:53
Randy Gilhen: Specialist at work.
©**ß
In many cases, an NHL team's biggest star is also its top faceoff man. In crunch time—late in the third period of a close game, or in overtime—guys like Wayne Gretzky, Mario Lemieux, Doug Gilmour and Bernie Nicholls are called upon to win draws that can often directly determine a game's outcome.
Of course, that's not always true. In Winnipeg, Teemu Selanne and Keith Tkachuk are clearly the Jets highest-profile stars. But when it comes to winning faceoffs, the Jets main man is veteran Randy Gilhen.
Gilhen, a much-traveled faceoff specialist, is not only the Jets best at what he does, but is also arguably the quickest draw in the entire Western Conference. That he has been a member of seven different NHL teams in his career is a clear indication that even if you don't score goals like Teemu Selanne, there is always a roster spot available for a dependable faceoff man.
You see, winning faceoffs consistently is an art form that few have mastered. Or ever will.
"Every player has a specialty that keeps him in the game, whether it's scoring goals or being a defensive defenseman or whatever," says Gilhen, a journeyman who's played for Hartford, Pittsburgh, Los Angeles, the New York Rangers, Tampa and Florida before coming back to the Jets (he originally played there from 1986-89) midway through the 1993/94 campaign. "Winning face-offs is a talent that I happen to have that I work on constantly."
To the casual observer, faceoffs often seem more like hack-offs; they take on the appearance of two guys feverishly flailing away at a little black disk in the hopes that someone with the same-colored jersey will gain control of it.
Strength or finesse
But Gilhen usually has specific strategy he attempts to execute when he's in the circle. In layman's terms, there's either the strength approach or the finesse approach. Each has its purpose, and each has its advantages.
Gilhen has earned the reputation he enjoys because he's learned to become proficient at both.
When strength is the chosen course, Gilhen —who at 6', 190 pounds, is not exactly a behemoth by NHL standards—isn't so much concerned with winning the faceoff as he is with not losing it.
"It's really a matter of getting down low on your stick, and bulling your way in. You want to tie up the guy and maybe kick the puck," he explains. "Or you may try to lock your foot inside his foot to get position that way."
Gilhen adds that he utilizes this more aggressive approach primarily in the defensive end.
"You won't always get the puck to a teammate, but you can at least scrum for the puck and buy a few seconds," he says.
When Gilhen opts for a more offensive approach, he relies more on timing and instincts.
"The object is to get a clean win and gain possession quickly," he explains. "A lot of goals are scored off faceoffs."
When he decides to rely on timing and quickness, usually a strategy employed in the offensive end, the game becomes more mental: more aspects come into play.
"Determining how you'll approach a certain faceoff has a lot to do with who you're going up against, and also the linesman," says Gilhen. "I compare it to a batter going up against a pitcher in baseball. If a guy throws several (kinds of) pitches, he can throw off a hitter.
"I try to know what a guy's strengths are, what he likes to do."
Knowing the traits of a linesman can also be an advantage.
"No question about it, it's kind of a trade-off," Gilhen says. "Because you get to know him and his tendencies and what you can get away with, and he knows you. Knowing the linesman can be a huge advantage."
Gilhen says that the best faceoff men in the league can effectively utilize either strength or finesse at the drop of a puck.
"(New York's) Mark Messier, he's a real power guy. Big, strong—but he also has great hands. He can do both because he's so quick and yet he's a brute," Gilhen notes. "(Pittsburgh's) Ron Francis is so good because he uses so many aspects. The one thing about him is that he's great with his feet. He always seems to get a skate on the puck. So does (Dallas center) Peter Zezel."
Use your feet, too
Which brings up the subject of footwork. The stick is only the primary tool for a player. His skates can also be equally important in gaining possession of the puck—both with quickness and as an actual director of a loose puck.
"As long as you maintain your balance, which is real important," Gilhen explains, "tying up someone inside can certainly be to your benefit, whether you can skate on the puck or just wait for a teammate to get control."
Another aspect in approaching a faceoff is in timing. The object is to avoid arriving at the circle prematurely; to time your arrival to generate somewhat of a "running start" at the puck. Quickness, rather than strength, is desired and a specific play is often called directly off a faceoff.
Many feel the best in the game at this type of draw, not surprisingly, is Gretzky. Not only is his quickness keen, but his unparalleled instincts for the game aid him; he hardly ever seems to send the puck in an ill-advised direction.
"He'll tell you where he's going to send it with a nod or a quick point with his stick, and sure enough, the puck gets there," says Gretzky's Los Angeles teammate, Rob Blake. "It's pretty amazing."
A question sometimes asked of Gilhen has to do with his left-handed feature, but he maintains that has no preference in terms of which side of the ice he takes a faceoff from.
"Some guys will go left-handed on the left side of the ice and right-handed on the right side," he notes. "Personally, I have no preference. As a lefty, I draw to my strength, the backhand side."
Although it's a specific talent not possessed by all who enter the NHL, the list of those with a reputation for faceoff proficiency is actually quite expansive—virtually every team has at least one acknowledged faceoff "specialist."
A cog for contenders
And as playoff time draws near, most teams in contention don't feel comfortable until they've added that last cog—the dependable faceoff guy—to their roster. Craig MacTavish was a key to the New York Rangers Cup win in 1994, and was quickly snapped up by the rival Philadelphia Flyers the next season. The Devils had a slew of strong faceoff men—Bobby Holik, Bobby Carpenter, and Neal Broten in particular—on their Cup-winning squad. So who did Philadelphia, perhaps in preparation for a playoff rematch next year, sign in the offseason? Free agent Joel Otto, Calgary's longtime faceoff specialist.
What do most of these players have in common, despite their sterling reputations as all-around players? They've all been at this faceoff business for a good long while.
"It's something you have work at constantly," says Gilhen.
And something that, worked on long enough, can look deceptively simple. Watch a practiced faceoff specialist in action, and what he does looks effortless.
Of course, it is not. It's a talent rooted in fundamentals and developed only after countless hours and years of repetitive practice.
So, having worked his way to near perfection on the dots, Gilhen sees two basics that must always be adhered to in order to win more than one's share of draws.
"As I said before, you have to be balanced. If you're off balance, you get knocked off the puck," he says. "Second, and most importantly, never take your eye off the puck. It's like just about every other sport.
"When you're in a faceoff, you have to watch the puck all the way from the linesman's hands. If you try to watch the circle and anticipate, and the other guy is watching the puck all the way, well…you won't win too many faceoffs that way."
This first appeared in the 10/1995 issue of Hockey Player Magazine®
© Copyright 1991-2001 Hockey Player® and Hockey Player Magazine®