Goaltending the Tretiak way
By James Baxter
Nov 5, 2001, 19:34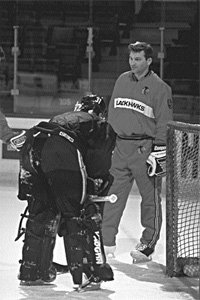 ©BBS
The following article is based on a two videotape series from the Hockey Hall of Fame's Center for Hockey Excellence. The tapes include an extensive interview with Vladislav Tretiak—the only Soviet player ever elected to the Hall—and excerpts from a Tretiak-run goalie clinic.
Vladislav Tretiak seems to believe that goalies are born, good goalies are coached, and the great goalies make themselves.
It is a strange philosophy for a man who makes his living coaching Ed Belfour of the Chicago Blackhawks, arguably the NHL's top goaltender for the past five seasons. But even one of the greatest butterfly goaltenders of the last half century admits there is only so much he can do to make Belfour any better.
"A goaltender is a special player and he must be his own coach," says the former star of the Soviet Union's Red Army team. "Then he will be a good player.
"I would think a good time for a goalie to start is at about six years old," Tretiak says, adding that a child can never be pushed to play goal. "He must love hockey…love it. He must listen to his coach and be able to learn. And he must be the kind of player who likes to work hard."
Tretiak always worked hard, and, having been blessed with tremendous athletic ability and a terrier's tenacity, he admits one of his toughest battles was against his own fears.
"Only fools are not afraid (of the puck), and I am not crazy," says Tretiak with a deadly serious stare. "Especially in practice, as you are likely to not be paying as close attention. During a game, you can stop a puck with your bare face. If you are focused (in a game), you just don't stop to think you could get injured. You forget everything in a game. You just stop the puck. In practice, you might let down."
Two masters
Tretiak's tale is one of a diligent young man; two driven task masters; World Championships; Olympic Gold Medals, and a Canada Cup. During his tenure as goaltender for the Red Army Team between 1972 and 1985, Tretiak played for coaches Anatoly Tarasov and Viktor Tikhonov. Tretiak says Tarasov made him strong, but Tikhonov made him resilient.
As a rule, butterfly-style goaltenders—which in essence means they drop their knees inward toward the ice to make stops—do not tend to have the longevity of stand-up style goaltenders. The first reason may be that butterfly-style netminders depend on their reflexes much more than their stand-up counterparts do, and age just has a way of eroding these reactions. More visible, though, is the physical toll that the position takes on the player, especially his legs.
"For the first few years after I came up from junior, Tarasov used to make me go along the blueline jumping back and forth in full equipment," recalled Tretiak, a hint of pain flashing in his eyes. Tarasov had a belief that if you made practices excruciatingly difficult, players would have more jump for games. In Tretiak's case, it seems to have worked.
"Back and forth, first one leg then the next, for as many times as I could. After that, games were no trouble, because I didn't have to jump."
As a retired athlete, Tretiak's body tells a story.
His upper body has softened from the days when he was driven 12 months a year by the Soviet military's fitness plan. He may even have added a few pounds to his stocky frame. His legs, however, are still enormous and powerful. But while Tretiak's mother was a gymnastics coach at an elite level for the Soviet Union, Tretiak says he probably never got from her what he needed most.
"My flexibility is very bad," he says through a laugh. "I could never even do a bridge. I was strong, which kept me from injury." Tretiak, it seems, does not doubt that he could have played longer if he had been more flexible.
Two Tretiaks
Still, his lack of gymnastic prowess never stopped him from standing on his head in some memorable international contests. While Tony Es-posito, Ken Dry-den and Bernie Parent dominated the NHL, none were as consistent or lightning quick as Tretiak. The difference? His concentration.
That is where Tikhonov comes in. While Tarasov created the physical Tretiak, Tikhonov honed the mental Tretiak.
While Tretiak is often modest to a fault about his physical abilities, he is downright boastful of his abilities to remain focused. His rationale is simple: he was born with his physical ability, but he made himself a great goalie.
"When I look at (an opponent's) eyes, 100% I can tell you if he will pass or shoot," says Tretiak with certainty. "I can always tell."
Part of Tretiak's confidence comes from "his secret," which he now chooses to share. Tretiak says he can tell what his opponent will do because he has already evaluated all of the opponent's options before the opponent has. In essence, a player has, at best, only five options that can result in a goal; shoot, or pass to one of his four teammates. By studying the opponent's options and mentally preparing a response for each one, Tretiak was always ready for anything.
"I look at the eyes," says Tretiak. "I follow the puck, but I see everybody on the ice. I look to see who is ready, their position and their motion. That way, I know what to do if a pass goes to another player.
"A goalie must see everything," Tretiak repeats. "He must be ready for all possible plays and have prepared a response. But he must also wait until the last possible moment to make his move."
Here is where the few of the good goalies graduate to being great ones.
Tretiak believes that only the goalies who think this way can ever enjoy success over a long term. He concedes that there are "reaction" goalies who can survive, but Tretiak was no mere survivor. He was a predator.
"Concentration is not only focus," Tretiak insists, "it is awareness. It is being able to use all of your senses to tell you where you are (on the ice) and where the game is at all times. All goalies practice concentration…they know it. But when they get into a game, under pressure, they lock onto the puck. They begin to look like a python stalking a rabbit—rigid."
Tretiak notes that the best predators know their surroundings, their options, their limitations and, most importantly, are constantly aware of the dangers lurking in their vicinity. And if they do, he states—with typical Tretiak confidence—the inevitable result: "Then, the puck just hits you."
This first appeared in the 11/1995 issue of Hockey Player Magazine®
© Copyright 1991-2001 Hockey Player® and Hockey Player Magazine®