Mike Keenan: Controversial but successful
By Stan Fischler
Nov 5, 2001, 19:45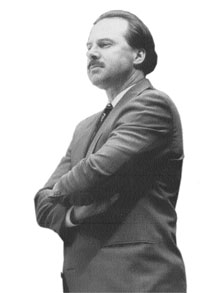 ©BBS
Controversial to a fault, but ever successful, Mike Keenan has emerged as the King of Hockey Coaches for 1993-94.
He guided his New York Rangers to the Presidents Trophy, and has melded one of the most powerful Big Apple hockey clubs since Manhattan's 1940 Stanley Cup champions.
"I practice 'tough love' with my players," says Iron Mike, who previously coached the Philadelphia Flyers and Chicago Blackhawks.
A stickler for discipline and meticulous about physical training, Keenan eschewed popular — but soft — Rangers heroes, such as James Patrick and Darren Turcotte, for more physical and diligent performers.
Although criticized by the New York media, Keenan stuck to his principles and the wins began to come. As a result, the Rangers emerged this spring as favorites to win the Stanley Cup.
In an interview with Hockey Player's Stan Fischler, Keenan offered insights into himself and the art of coaching.
Who were the first individuals to mold you into the coach you are today?
I go back to my early days in Toronto. I had a minor hockey coach named Doug Williams, who had played hockey for a very good Canadian amateur team called the Whitby (Ontario) Dunlops. And my uncle Bob Keenan, like Doug, put me in leadership roles when I was still young. Then there was a fellow, Bob Blond, my junior coach at Oshawa, who instilled confidence just by the distribution of ice time. He was a thorough teacher and had a systematic approach. The three of them were very influential.
When did you actually decide that you wanted to make coaching your profession?
It started when I was teaching physical education, geography, and history at the Don Mills School in Toronto and then Forest Hill Collegiate, where I taught at the high school level for five years. I really started to enjoy coaching (although it wasn't hockey, it was box lacrosse). I had been a good box lacrosse player at Don Mills and once went to the finals. At Forest Hill, I coached the hockey and swimming teams and then track-and-field and basketball. From there I moved to coaching Junior B hockey in Oshawa while I was still teaching.
What did you like about teaching and coaching at the time?
First of all, the contact with the children — or adolescents. I enjoyed the aspect of seeing them undertake (hockey) and enjoy the improvement. Eventually, I left teaching to coach and be general manager at Peterborough (Ontario). From there I went to coach Rochester (AHL) for three years and then back to the University of Toronto, where I taught and coached.
What's different about you now than when you were a coach at Rochester?
First of all, I'm a lot more polished than I was then. I had the raw skills when I was younger but didn't have the attributes that I've developed to this point. I've always had a strong intuitive sense for coaching and teaching — in particular the game of hockey — that is, as far as bench strategy is concerned. Over the years I developed my skills to a much greater degree than I had at the start. I'm more understanding, a lot more patient in terms of knowing the learning curve involved. It takes time and it's a hard thing to find, because there's so much pressure on you to win every night. Sometimes there's a lot left to learn on those nights that you don't win.
Some coaches believe that they must win every single game, including exhibitions. Do you feel that way?
No. The way I look at it is like this: It's either you're winning or you are losing — it's not whether you won or lost. And if you're winning, that means you're teaching and there is a learning curve being developed here. It's going to enhance your program and ultimately the performance level of the athletes. They'll be better players as a result of teaching that takes place.
Sometimes you learn valuable lessons in losses. You have to be able accept the loss in light of the fact that you may have learned a great deal.
Who do you admire most in the NHL coaching fraternity?
Scotty Bowman. When I was in Rochester and he was in Buffalo (Rochester's parent club), I had the opportunity to speak to him almost daily for three years. And just the hockey knowledge, and the aspect of preparing the team, and his bench work that are so critical at all levels — Scotty knew the league extremely well. He knew each player. He knew the schedule and how much each player was getting in ice time, what their roles were. He knew it for every team. That's incredible knowledge that most coaches don't pay attention to.
What else did he teach you?
The ability to win every night on a consistent basis. Well, maybe not every night, but more often then not. Also the ability to get the most out of personalities at the right time. Sometimes you didn't have a superstar and you had to find somebody else that would deliver. In Montreal, Scotty had great teams, no question about that, but he also had to motivate the great players and that can be as difficult — if not more so — as motivating lesser ones. He had the opportunity of coaching more great players than probably anyone else. The other thing I learned from Scotty is the ability to change with the time. You don't coach as long as he's coached without changing with new styles. You have to be able to accept change in order to adapt to the different types of players. There are different dynamics to build on different ends. The economics of the game have changed as well, which means there are different requirements and needs of the athlete.
You had other employment options for 1993-94 besides the Rangers. So why did you choose New York?
Philadelphia was one, but I chose New York for several reasons. One was the money, but it wasn't the only reason. I believed that the Rangers job provided me an opportunity to coach and have an impact on selling the game in a challenging marketplace. I feel strongly that the game has to be marketed properly in the U.S., and the greatest thing I could do in that direction would be to win a Stanley Cup for New York. By making the decision, I decided to give it a good shot.
You must be aware that the media and fan attention in New York is different than anything you experienced in Philadelphia or Chicago.
I really don't think too much of it. It bothers Neil (Smith) and Mark (Messier) in terms of their feeling about exposure more than it affects me. They're a lot more sensitive about it. The attention is part of being in New York, and a lot is going to be written.
A lot of the so-called experts picked the Rangers to win the Stanley Cup before the season even started. How do you feel about that?
I like to be the favorite. I enjoy the pressure. I'm at my best when there's pressure. The more pressure, the better. I know the media has been comparing me with Pat Riley of the Knickerbockers. Well, I don't care about the comparisons at all. Pat's Pat and I'm Mike. Pat's coaching basketball and I'm coaching hockey. I've got a great deal of respect for him and his coaching abilities and what he's accomplished. Anytime I can learn from any coach, I'm going to be receptive.
What is your biggest concern about New York, in terms of the team?
Keeping the players focused with their minds on their responsibilities. And keeping the organization focused. You can't let the media distract you. I have to do what's right for the hockey club.
Do you want to replace Neil Smith as general manager of the Rangers?
I turned down jobs as general manager and coach (in Philadelphia) this spring. I did it for personal reasons. I wanted only to coach for the flexibility in terms of summer free-time. Personal time is a priority with me right now.
Will you promise New York hockey fans a Stanley Cup?
I can't do that, but I can promise fans that we'll compete and that we'll extract every ounce of energy we can to run for the Cup. But you can never promise a Cup. There are too many factors beyond your control; injuries, the competition, etc.
Which player have you enjoyed coaching the most during your NHL career?
Chris Chelios. He loves the game of hockey. You can rely on him every night, and he really cares about his teammates. He's a very sensitive individual and he's a winner at all costs. Ronnie Hextall is right up there with Chelios. He'll win at all costs as well.
You made a video last summer that depicted the parade-celebration scene when the Rangers finally do win the Stanley Cup. What was the purpose of doing that?
There are lots of ways of lifting the confidence and expectation level of the players. It's fine to talk about goals, but they have to visualize the success they can enjoy if they are willing to see themselves in that setting. If you can't see yourself in certain situations, you're probably not going to achieve them.
Despite your success, a number of players have registered unhappiness with your tough style. Peter Zezel said he learned a lot from you, "But it wasn't worth it." How do you explain that?
At the time I was more forceful and demonstrative than I am now. But the lessons were the same: sacrifice and commitment are necessary to win. And it takes a certain amount of courage, as well, to accept that responsibility. I think Peter would appreciate them more now that he's 27 than he did when he was 19, and just happy to be in the league.
It seems to me that you, too, have to have a certain courage to be tough, both as a coach and a parent.
That's called "tough love." You love 'em. You try to do what's right. You explain it to them. Sometimes you have to say "I love you, but this time it's No." But that doesn't mean I don't care for them. I care for them a lot more then they can ever imagine. But sometimes I just have to say "no."
Some of your supporters claim you are misunderstood. Is that true?
Quite a bit, there's no question about that. But I'll take some of the responsibility for that because in my younger years I probably didn't take the time to show them that side of me, and at the same time it was part of my upbringing. I was taught that you have to be stoic, strong and be there for everyone. As a result, I didn't show them the emotional, sensitive side of Mike Keenan. The players in Chicago saw it, but not Philadelphia.
Who influenced you this way?
My mother to a certain extent. I was brought up in an Irish-Catholic home in Toronto and I went to a Catholic School. More often than not, I was put in leadership roles. I was an alter boy for eight years and went to church every Sunday for eight years. I was named captain for every team I've been associated with in athletics, so I've always been in a leadership position. I liked it and I liked the responsibility. I liked the sense of confidence that it gave me, but on the other hand I began to believe you had to be stoic and strong and not show any sensitivity, which was a contradiction in my personality because I am extremely sensitive and caring. I'm very proud of certain accomplishments I've made since I came from a poor background.
Why did you take that insensitivity with you to the NHL?
Mike Keenan came into the league as an unknown. I had never played in the big league and I had come from out of nowhere. I knew that the tenure for coaches in the NHL at that time was less then two years. It was a matter of survival for me.
What's the best way to handle the press?
Be available to them. They'll respect that and respond. I hope they take an approach that's not totally counterproductive in term of team performance. I understand that they have papers to sell, but not at the expense of the player performances.
You came within three goals of winning the Stanley Cup in 1987, when you took Edmonton to seven games before losing 3-1 in the final. What went wrong?
They were too strong for us and we finally ran out of gas. We took a 1-0 lead on them in the first period of Game 7, but we just couldn't hold them off. We kept it 2-1 until late in the third, but then Glenn Anderson blew a hard one past Ronnie Hextall, and that goal said it all. We were beat up physically and mentally after that. There was nothing left. But we can be proud of our accomplishment.
You took the Blackhawks to the finals in 1992. It looked like you had Pittsburgh in Game 1. Twice you had a three-goal lead, and then Jaromir Jagr tied it by going around three of your four Chicago players.
We were playing them well and I felt that we could have beaten them. I was very disappointed in the league because of that series. It took us four years to get to that position, and now that we're there, look what happened: on Jagr's goal, not one, but two penalties could have been called against Pittsburgh on the play. I mentioned that play to John Davidson recently and, without my saying anything, he told me, "Two penalties could have been called against them before Jagr scored." Andy van Hellemond was the referee, and as far as I'm concerned he's too veteran a referee to allow that to happen in the finals. There were penalties — holding of the stick was one — that could have been called against Mario Lemieux, but none were called. That tells me the league has an influence on who's ultimately going to win. It's a sad situation, but true, and it took the heart out of me and my team. We lost in four games, but it didn't have to be that way. It could have been different, and imagine the millions of dollars that were lost by the league because it ended in four. The league disappointed me.
How did you prepare your team in the layoff period the first and second round this year?
We prepared by making a very big commitment. It was a tremendous amount of hard work. We had a good rest but we worked very, very hard in the middle of the week. It is important to raise the intensity level. You can work as hard as possible in preparation, but it takes the intensity of competition to raise the emotional level.
Rangers fans have had suffered their share of heartbreaks during their 53 years without a Stanley Cup. Since they haven't won since 1940, do you think there's really a "Rangers Curse?"
(Laughs) That was nine years before I was born. Besides, I'm not bothered by any curse.
Stan Fischler writes regularly for several major sporting publications.
This first appeared in the 06/94 issue of Hockey Player Magazine®
© Copyright 1991-2001 Hockey Player® and Hockey Player Magazine®